Reclaiming what is yours: Vaio UX180P's hidden partition
Before receiving the UX180P, I had read on a forum that although the device is listed as having a 30GB hard drive, only 21.9GB is accessible (and only 14.4GB is actually free out of the box). I'm accustomed to missing the 2GB Windows keeps, but 8GB? My hope that the lost gigabytes was simply a typo were dashed when I booted up my system for the first time.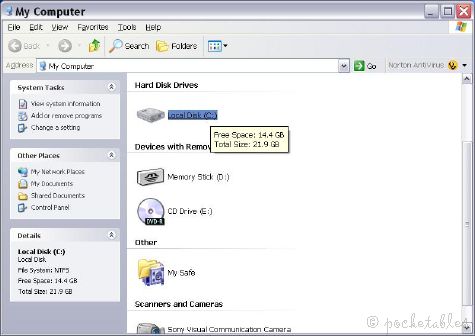 It's true. Sony keeps 6GB in a hidden recovery partition, which is alarming until you consider that since the UX is not equipped with an optical drive, the system needs to be configured to boot from itself should the accessible hard drive ever encounter any problems.
The best way to reclaim these 6GB (without a do-it-yourself clean Windows install) is by using Sony's Vaio Recovery Wizard, which comes preinstalled with about a million other programs (see photo) you will likely delete immediately. Just click on "Create Recovery Discs," follow the on-screen instructions, and in about 45 minutes you'll have 2 DVDs or 9 CDs (whichever you prefer) from which you can do just about anything, including removing the partition.
If this sounds too easy, then you're already one step ahead of where I was yesterday. Actually, if you have the right equipment, I think the process is incredibly simple. Unfortunately, it was only through 15 hours of trial and error that I learned that this "right equipment" is Sony's $400 VGP-DDRW4 optical drive. No matter how you're able to make your recovery discs (my TDK 840G failed miserably, but my husband's Sony DRX-510UL succeeded), they will supposedly not boot from anything other than the VGP-DDRW4. This came directly from the Sony Email Response Team:
We're sorry for the difficulty you're experiencing with your Sony Micro PC. The System Recovery can only be performed using the optional CD/DVD drive VGP-DDRW4 for your Micro PC. If you did not purchase the above accessory, we recommend that you contact our SonyStyle sales division to purchase it.
(Sony may actually be telling a white lie here because I've read of a few people successfully booting from older Sony models and other, less expensive drives. Since it didn't work for me on two different drives, though, I'll heed Sony's advice for now.) Outrageous and ridiculous, sure, but knowing this beforehand would've at least saved me a few white hairs and many hours of restarting, researching, holding the "Esc" key while booting, enabling external disk boots, emailing Sony, testing USB 2.0 and firewire connections, and attempting to restore from an external hard drive.
My TDK 840G DVD writer deleted the hidden partition before I could make the recovery discs, but it also somehow made the partition (EISA configuration) visible and accessible in "My Computer" later.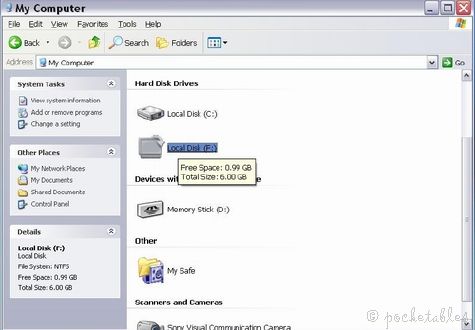 Even though this is likely a glitch, it made getting back those 6GB very easy. I just deleted all the contents, rebooted, and voila!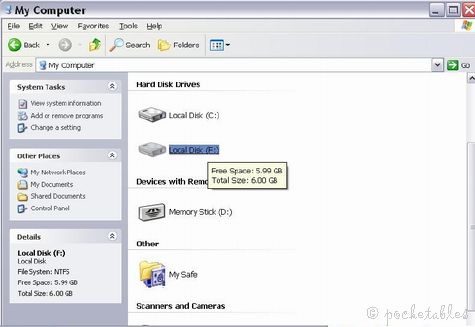 The drive icon is normal and the space is freed. I've been able to move files and install new programs into it without any problem so far as well. It may have been unwise to delete everything, but I'll need to buy the VGP-DDRW4 anyway if I ever need to completely wipe out and restore my system, so I may as well run with it while it works. And for now, the "System Restore" utility in Windows is enough to get me back to wherever I need to be.