Review: 512MB Hello Kitty MP3 player
Yes, Hello Kitty is slowly making her way through every branch of the electronics tree. Diehard fans have been able to get their paws on household appliances, stereos, CD players, lamps, and TVs branded with the Sanrio character for years, so it wasn't too much of a surprise when Bobtek Electronics unleashed a series of flash-based Hello Kitty players last year. Even less surprising is that they weren't the only ones to do it. NH Japan and other companies offer similar players, but nothing scores higher on the cuteness scale than this one.
System specifications
Storage capacity: 512MB
Supported formats: MP3, WAV
Extras: Voice recorder
Dimensions: 2.05" x 1.34" x 1.8"
Weight: 0.92 ounces
Packaging
This MP3 player is clearly designed to be a gift. Not only is it packaged in two separate pink-and-white boxes (one for the player and one for everything else), but it also comes with an additional pink gift box. (I actually was planning on giving this away as a gift – that's honestly the only reason I bought it – but I changed my mind as soon as it was delivered. What can I say? I have a weakness for pink electronics.)
Perhaps to offset the extreme cuteness, sweet and innocent Hello Kitty looks as though she's giving us the finger on the gift box!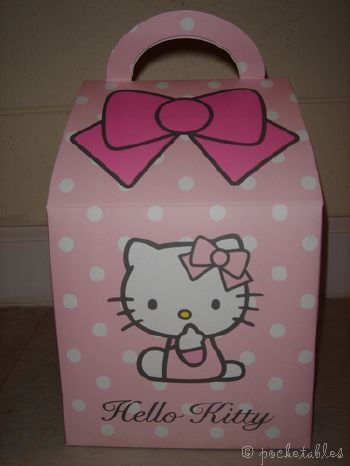 Included accessories
The accessory bundle is nothing special: USB 1.1 cable, USB power adapter, mini CD, manual, and typically substandard lanyard-style earbuds (albeit branded with Hello Kitty).
There's nothing thrilling about the USB cable and power adapter. Try not to lose the cable though. I don't think the connection is proprietary, but it may not be too easy to find a replacement. The power adapter has foldable prongs, which I like. It almost makes up for the USB 1.1.
If you're not running Windows XP, the mini CD contains the driver necessary for the player to be recognized as a removable drive in "My Computer," where transferring music is as easy as drag and drop! With XP, it only takes a few seconds before you can load up the player.
The official product manual is in Japanese, but there's also a one-page English translation that covers the basics of operation.
You may have read about the connection between iPod earbuds and hearing damage, which actually applies to all earbuds supplied with digital audio players, so take the advice of every reviewer out there who says to get rid of the included ones and invest in a good pair (ideally ones that block out ambient noise) and a 2.5mm to 3.5mm audio adapter. Yes, on the side of Hello Kitty's head is a 2.5mm headphone jack. Good thing an adapter is only a few dollars.
Controls
Believe it or not, Hello Kitty's paws are used to control the player.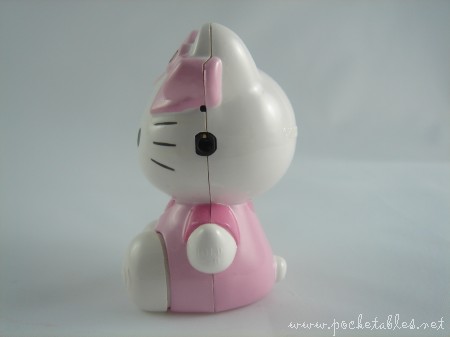 Push her right hand to turn the player on/off or play a track and her left hand to activate the A-B repeat function or put the player in hold mode.
Push and hold either foot to control the volume, and quickly press either foot to skip to the previous or next track.
The LED light in the center of her bow illuminates and/or flashes green or red, depending on what it's trying to tell you. For example, it flashes red when the player is charging and lights up green when the battery is full.
Pressing the center of her shirt starts and stops the voice recorder, which is a nice extra feature to find on a novelty player. I have no idea where the microphone is unless it doubles as the reset button on the back.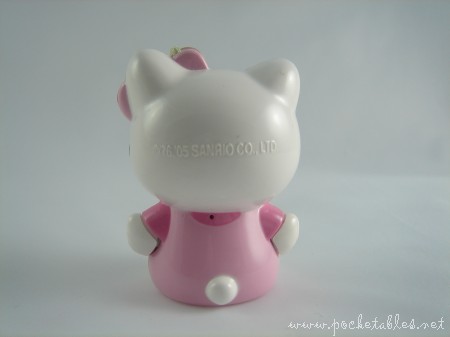 Sound quality
I'm actually quite impressed by the sound on this little player. I mentioned elsewhere that my ears are far from achieving audiophile status, but I was pleased with every song I played. I couldn't detect any hissing, crackling, or distortion using the supplied earbuds, which aren't very comfortable by the way. (I don't have an adapter for my Sennheiser CX300s; otherwise I wouldn't have tried the supplied pair.)
Since there's no LCD screen, there isn't a volume indicator. Manually counting clicks isn't an option either, as the volume is controlled by holding down Kitty's feet. All I know is that the player's top volume is much too loud. When I turned it on for the first time, I nearly went deaf! I don't know if there's an even higher level than that because I need the audio adapter, which I don't currently have, to use external speakers for volume tests.
Battery life
On a full charge, I was able to listen to 192kbps (mostly CBR) MP3s for about 8 hours at what I think was mid-volume. Nothing too impressive, but enough to get you through the day (assuming you work at Puroland, the Sanrio equivalent of Disneyland, of course).
Conclusion
This player is designed for the Hello Kitty fan, not someone who wants a terrific small capacity flash-based device. The non-standard headphone jack, lack of LCD screen, and USB 1.1 transfer are certainly valid deal killers, especially when a less expensive 512MB Creative Zen Nano Plus not only has a standard jack, backlit LCD, and USB 2.0 connectivity, but also comes with an FM tuner, FM/voice recording, and line-in encoding.
Still, it sure is cute.
A handful of online retailers sell a 256MB version of this Hello Kitty MP3 player for over $150, but I got this one brand new from eBay for $70 (plus an outrageous shipping cost, which sneaky sellers charge to offset eBay's final value fees).