Review: inMotion iM3c speakers
This is an old model but since it's still available online and in stores, here's a modified review of the Altec Lansing inMotion iM3c portable speaker system I wrote a few months ago at the height of my ZVM mania over at epiZENter.
System specifications
Size: 5.5 x 8 x 1.1 inches/4.5 inches when unfolded
Weight: 0.9 pounds
Four 28mm full-range neodymium microdrivers
Total continuous power: 4 watts RMS
2 watts/channel @ 8 ohms @ 10% THD+N @ 20 Hz – 20 kHz
2 channels loaded
Frequency response: 60 Hz – 20 kHz
Signal to noise ratio @ 1 kHz input: > 75dB
Box contents
Included with the inMotion iM3c system are a wireless remote control, 3.5 mm stereo cable, dock adapters (4 for various iPods and 1 for everything else), AC adapter with 3 international plugs, and a black Velcro carrying case with "Altec Lansing inMotion" embroidered in white thread on the front.
The remote performs all the standard tasks we've come to expect of any accessory designed specifically for use with an iPod.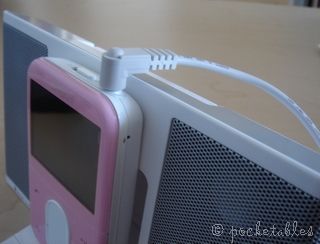 If you don't have sheep mentality, you'll need to depend on the stereo cable (I plug the other end of the cable into a line-out jack when possible; the headphone jack doesn't compare). You need to point the remote directly at the IR sensor, but you don't need to be sitting right in front of system. If you have a clear path, the remote works perfectly from across the room.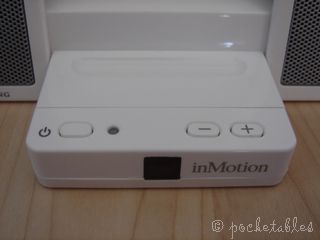 One of the great things about the "everything else" dock adapter is that just about any other digital audio player on the market can sit very nicely on it. The seat is even roomy enough to accommodate a player wearing a silicone or leather skin (a frequent gripe about most docks is that a player must be removed from its case to connect to it, which can become very annoying very quickly).
I love a product that comes with a great case, so I love the iM3c. The case is made of high quality black nylon (with a bit of sheen to it) on the outside and a soft, smooth material lining the inside.
The case has two interior compartments. The bigger one is for the speakers, and the smaller one can hold the AC adapter, stereo cable, headphones, or mp3 player.
Quite an impressive accessory bundle!
Sound
For their size, these speakers produce clear, crisp sound that does not get distorted even at high volumes. Everything I threw at it – from alternative and pop to rap and electronia – was well handled and reproduced accurately. Perhaps the sound wasn't Bose-quality, but the iM3c isn't Bose-priced either.
Without a visual volume indicator, it's impossible to discern the maximum volume, but the speakers do get quite loud (louder than is actually comfortable for personal use, I think). They are not adequate for a large party, but they're perfect for an office, kitchen, or bedroom. I took them with me on a cruise recently and they filled the stateroom with relatively full sound without being maxed out.
Design
Newer inMotion models are more modern in design, but this one has a classic appeal. The rectangular shape complements just about any gadget quite nicely.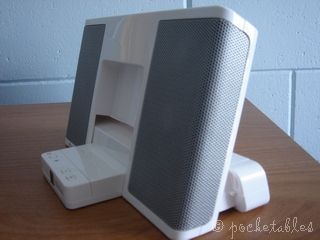 When looking at the speakers head-on, only the IR sensor is visible, which makes for a very clean and sleek design. Looking down at the system reveals the volume controls, standby button (which functions as a power button when the switch on the back of the system is in the on position), and LED (green = on, orange = low battery).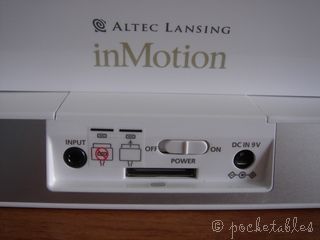 The back of the system features a remote control slot at the top, which is a lovely touch not often seen on portable speakers. At the bottom are the power switch, input jack for the stereo cable, iPod connector port for synchronization with a computer, and AC adapter jack. You couldn't ask for more!
Pocketability
The speakers are obviously not pocketable, but they're still extremely portable and easily slide into any suitcase, backpack, or bag.
One of the most unique features of the iM3c is that they fold completely flat for travel and/or storage. This foldability, the international AC adapter plugs, and the speakers' ability to run for more than 20 hours on 4 AA batteries means that Altec Lansing wants you to go on vacation!
Conclusion
While there are less expensive speaker options out there, for what you get and how it performs, the iM3c is an incredible deal. They raise the bar for what consumers should expect out of a portable audio system.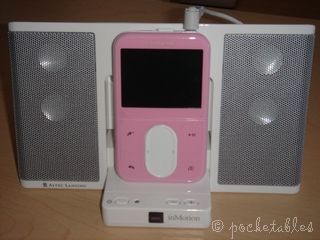 The iM3c is available in white or black and retails for about $150.
*I do not have audiophile-caliber hearing. Without instruments that can measure frequencies and other audio characteristics, sound quality is largely subjective and depends on EQ settings and other factors. What sounds great to one person may be mediocre to another.