Review: Vaio UX180P cameras
Next up in the feature-specific review series is another unique element that won't fail to impress: two integrated cameras.
It's commonplace for just about every gadget to include a camera (or at least a camera add-on) these days, but you'll be hard pressed to find anything that includes two of them. Like its international siblings, the UX180P features a 0.3-megapixel camera on the front (designed to use with the integrated microphone and speakers for videoconferencing and communication over VoIP)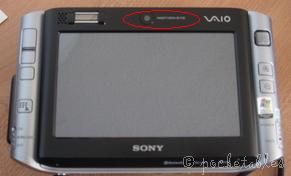 and a 1.3-megapixel camera on the back (designed for whatever you would normally take a picture of with, say, your cell phone).
Picture quality
Before slamming the less-than-perfect pictures these cameras take, keep in mind that professional photographers are not getting rid of their digital SLRs and other equipment for the UX. It's unreasonable to expect a 1.3MP camera to perform like it's packing 12.8 or even 3.2MP; with that said, these cameras take decent pictures given their resolutions and lack of flash and optical zoom lenses.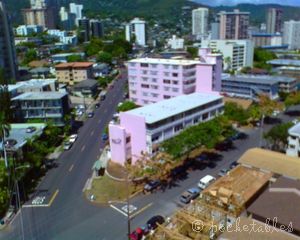 Here are some comparable shots I took with the rear camera (left) and my Cyber-shot T7 at its 1MP setting (right).
Macro mode:
Normal mode:
Clearly, the T7 takes (slightly!) better pictures, but it is a digital camera (and remember that Sony isn't exactly renowned for stellar cameras). For an add-on feature, I think the photo quality of the UX180P is acceptable for everyday use. Not the sharpest, clearest, or brightest, but everything is discernable. I would've liked at least an auto-focus feature, though. As is, there's no way to really tell whether you're in focus, which is why most pictures turn out a little blurry. And since the UX is quite heavy for a camera, it's difficult to hold steady, which of course leads to camera-shake and more blurriness.
For still photos, I can't really see a use for the front camera unless you want to take really bad pictures of yourself. And why would you want to do that?
Video quality
Both cameras are capable of recording 320 x 240 video (287 kbps bitrate at 30 frames per second).
As mentioned above, the front camera is designed for videoconferencing and VoIP. I haven't and likely won't ever do either, but those who tried it were pleased with the results. I would only use this camera if I didn't have a compact mirror in my purse or if I did but I didn't want to whip it out in public. Being able to quickly check your teeth after lunch or your hair after being out in the wind is always a good thing, and if you discreetly use your UX to do it, no one will know you're so vain!
There's no reason to ever do this in real life, but here's a horrible sample video I shot using the front camera as a "normal" camera. You'll see that the lens doesn't accurately capture differences in lighting. The weird angle is from wanting to see the screen while I was recording.
The rear camera is much better for recording naturally. Video quality is the same as the front camera, but the footage is a little better.
Check out more pictures and a short video clip I took while vacationing in New York City here.
Included software
The UX180P ships with VAIO Camera Utility and VAIO Camera Capture Utility. Hitting the "capture" button on the top of the UX launches both.
You can also manually launch VAIO Camera Capture Utility through your Start menu. The day after I got my UX, I deleted a lot from this menu so I don't know if there's a way to manually launch VAIO Camera Utility. I tried doing it from the Program Files folder after it failed to open automatically (something about "throwing an exception," whatever that means) but nothing happened. Restarting the system corrected the problem, so I haven't tried a manual launch since.
VAIO Camera Utility seems to be the only way to switch between the two cameras, so it's not an application you should delete.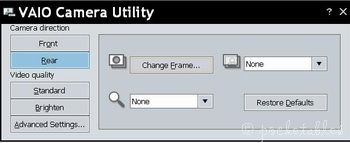 Everything is pretty self-explanatory. The "Advanced Settings" button brings up a window that allows you to customize settings and view other information.
And the "Change Frames…" button lets you choose from a selection of 17 overlay frames. They're all kind of weird, but this is one of the better ones.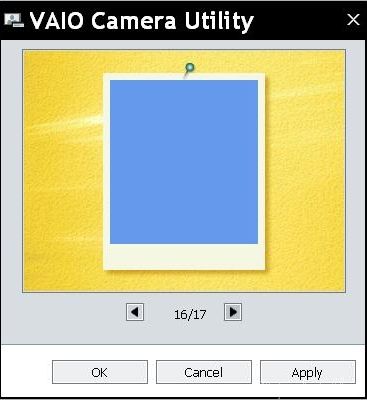 If you want to record a video with one of these frames applied, make sure you have an editing tool handy to trim off the beginning of the video that doesn't show the frame. Again, this feature is weird.
VAIO Camera Capture Utility functions as the LCD screen for both cameras when capturing photos and videos.
Hitting the "capture" button on screen (or the one on the top of the UX) will, of course, capture the image. The "Setting" button brings up a window where you can adjust a multitude of settings, including brightness, backlight compensation, and hue.
The utility also acts as a photo and video viewer.
Conclus ion
Although not without its flaws, the two integrated cameras on the UX180P enhance the "fun element" of the device and further encourage taking it with you wherever you go.
Whew! For two tiny cameras, this sure was a long post!