Review: Vaio UX180P included accessories
Since I'm still discovering and learning more about all the UX has to offer, this addition to the feature-specific review series will focus on all the extra goodies that are included with the UX180P.*
I'm a sucker for great accessories, especially when they're already included in the package. The UX180P's box contents definitely do not disappoint.
AC adapter and power cord
I can't get too excited about an AC adapter, but I'm still pleasantly surprised by this one. It's really small (about 3.25" x 2") and the Vaio logo on the front is a nice touch (the brick for my Vaio GR390 is huge and unbranded).
Rechargeable battery pack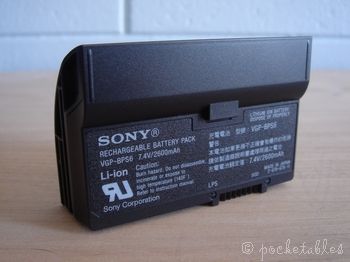 This shouldn't really count as an accessory, as it's necessary for the computer to work, but it's listed as one in all the Sony paperwork. I'm still running battery tests, but you've no doubt already read elsewhere that battery life is poor for a device designed for mobility. I'm currently averaging about 2 hours using the optimized power management system, which is definitely far from spectacular but actually on par with pre-Centrino M laptops. (I bought a universal battery a few days ago that should power the UX for about another 5 hours. More on this later.)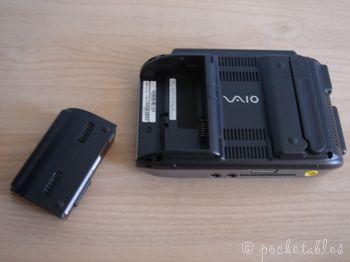 It also functions as one of the hand grips for the UX, so even if you had an alternate source of power, you'd still need it for balance.
Port replicator w/guide holder
What a terrific (and lightweight) inclusion! Depending on your processing needs and external monitor access, the port replicator could easily make the UX180P your desktop replacement. Well, okay, maybe that's an exaggeration for power users, but for people like me (whose full-size Vaio laptop houses a sad P3 1.2 GHz) it's not much of a stretch.
This replicator includes 3 USB 2.0 ports, 1 4-pin i.LINK (firewire) port, RJ-45 (ethernet) port, VGA-Out, A/V Out, and DC-In.
VGA/LAN travel adapter
Handy for when you don't want to carry the port replicator, but I could do without it. I'm not too impressed with the design either, as there's no way for the UX to stand (or be propped) up when the adapter is connected. And holding the UX in your hands isn't much better; the adapter is liable to poke you in the leg/stomach/lap/whatever as it just dangles. The rubber cord is flexible enough to allow the adapter to rest on you, but that's really beside the point.
Oh, and that yellow bit is the AV out port. I don't know why the accessory isn't called the VGA/LAN/AV travel adapter, but it isn't.
Soft carrying case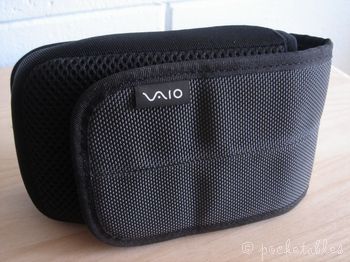 Oh, how I love cases! And this is a nice one, too. It's branded on both sides ("Vaio" on the front, "Sony" on the back) and made out of at least 5 different black materials: cotton mesh, nylon trim, stretchy fabric, soft lining, and some kind of thick, textured stuff for the outside (yes, I know nothing about fabric). Like all Sony products, the case is well crafted, with no crooked stitches or anything coming apart at the seams.
There's a belt loop on the back, where you'll also find a black ring that's useful with various clips and clasps.
The case is designed more for storage than protection, though there is a decent amount of spongy padding inside the stretchy fabric to withstand a low fall or slight bump against a wall or door.
The UX fits perfectly into the case; getting it in and taking it out is fast and easy. I would've preferred a button closure over Velcro – that ripping sound isn't exactly discreet – but at least there's no chance of the UX accidentally falling out. I also would've liked an inner pocket for storing memory sticks, business cards, and maybe a slim thumb drive.
Cingular SIM card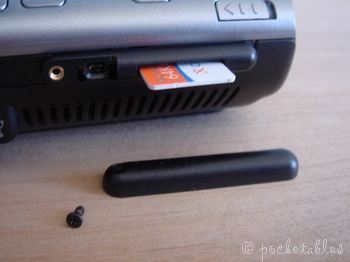 Behind a screwed-in piece of plastic is the SIM card required to access Cingular's Wireless EDGE network. Since their plans are overpriced, the only time you really need this card is when you unlock the UX to access EDGE through another carrier.
Retractable stylus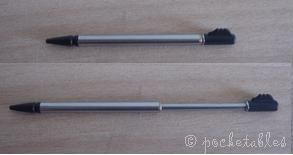 This is just your average run-of-the-mill retractable stylus. It stays in its compartment on the back of the UX pretty securely, so I don't anticipate it falling out the way the Clie ones did, especially since I rarely use it. On a side note, this is one accessory that does not bear the company's name. Unusual for Sony.
Adapter holding band
This is just plain strange. I suppose it's useful for keeping your cords tidy, but it's nothing that a twist tie can't do. I wouldn't have missed this accessory at all if it weren't included, though I guess it's nicer than keeping the AC adapter, power cord, and VGA/LAN travel adapter together in a plastic bag.
Wrist strap
I'm normally not a fan of wrist straps, but I do use this one all the time. It offers me a bit of security when I'm using the UX because it's not difficult to imagine that the computer could slip out of my hands. I don't drop things very often, but I would hate to see my UX broken because of something that a little wrist strap could have prevented. In any case, the strap isn't anything out of the ordinary (for example, it's not made out of white leather like the one that comes with the PSP).
Spare caps for pointer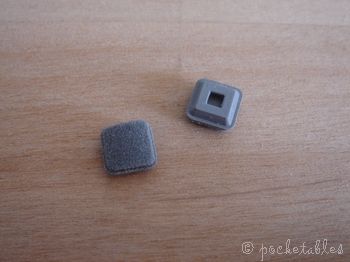 Since Sony says that the caps are consumables, it's nice of them to include a few spares. I've read a few reports of them falling off easily, but I haven't had any problems. In any case, I'm wondering if Sony sells them separately. They're so small that they're bound to eventually get lost. I don't know what the pointer looks like without its rubber cap, but it probably isn't pretty (or comfortable).
Conclusion
This is by far one of the most impressive accessory bundles I've ever seen. It may not be perfect, but it's pretty darn close.
*The accessory bundle varies according to UX model. Some offered in Japan and elsewhere include a detachable stand, but not the port replicator. (I love my replicator, but I would gladly give up the adapter holding band for the stand.) SonyStyle is currently selling a UX180P kit that also includes an extended capacity battery (retails for $349), 40GB ultra-portable external hard drive (retails for $279), and LCD screen protector (retails for $12.99) for about an additional $600. The hard drive is pretty nice and quite cute with its tiny footprint (2.48" x 3.74" x 0.83").