This is the first installment in a multipart OQO 01+ review for my new Quick Takes series. Quick Takes are based on short-term usage of various gadgets provided by Dynamism, the best place to find next-generation notebooks and consumer electronics from Japan and around the world.
The OQO 01+ handtop, heralded as the world's smallest Windows XP computer, has been available since late 2005. In early 2006, the 01+ began shipping with Windows XP Tablet PC Edition. Although a new model, the 02, is already said to be on the horizon, I have chosen to review the (now outdated) 01+ because it is currently the most viable alternative to the Sony Vaio UX180P.
Since the hype surrounding the "Which one is better?" debate began months ago, even before the UX50 was released in Japan, this won't be a review comparing the two devices. If you're interested in seeing how the units stack up against each other, check out the incredible work done by MeanSquare.
I won't be able to explore the OQO 01+ as fully as the UX180P, of course, but I will put it through its paces as much as possible in the upcoming week.
System specifications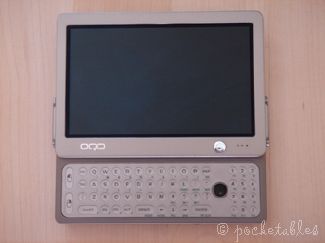 Dimensions: 4.9″ x 3.4″ x 0.9″
Weight: 14 ounces
Processor: 1GHz Transmeta Crusoe TM5800
HDD: 30GB shock-mounted hard drive
Memory: 512MB RAM
Display: 5″ TFT (800 x 480 native resolution)
Box contents
Ah, my favorite part: accessories! The 01+ isn't bundled with a particularly impressive or attractive set of accessories, but here's a closer look anyway.
AC adapter and power cord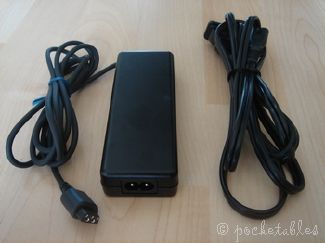 Nothing exciting to see here except a proprietary connection. The power brick seems to get abnormally hot when plugged in and charging the 01+, but I doubt anyone is in danger of a third-degree burn.
Car/Airplane power adapters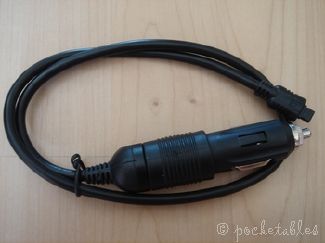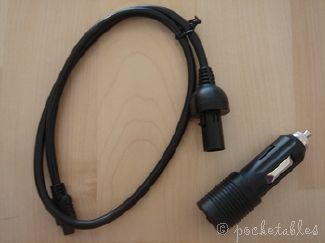 The inclusion of these adapters really speaks to the fact that the 01+ is designed with the mobile user in mind. Unfortunately, the cables plug into the power brick, not directly into the unit. The brick isn't big or heavy, but it's just another thing to pack up and carry around.
Lithium polymer battery
As far as batteries go, this one is pretty nice. It slides onto and actually acts as the entire back of the 01+, which is something I've never seen before.
Desktop stand
I think you could kill someone with this stand, or least replace your hammer with it. It weighs 11 ounces (the 01+ itself is 14 ounces with the battery) and is completely solid.
The small ledge keeps the 01+ in place and at a nice viewing angle.
On the bottom is a large strip of rubber to keep the stand from sliding around on your desk. Note: The stand is packaged upside down like this in the box, which could lead to an embarrasing mistake if, say, you post pictures of it on the web. You'll see from the comments section that I already did this! Just an FYI to save you from public humiliation.
Soft carrying pouch
This is one of the worst looking cases I've ever seen. It's made out of black neoprene, which I actually like, but I almost mistook it for a fancy disposable sleeve. It looks like something made in a seventh-grade home economics class!
Since function outweighs aesthetics (at least as far as cases are concerned), I will say that the 01+ slips very securely into the pouch and suffers from very little additional bulk because of it. And actually, the case doesn't look too bad with the unit inside it.
Stylus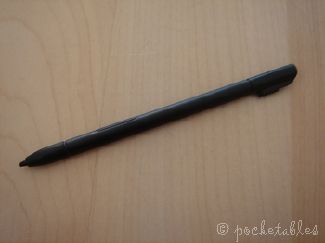 The stylus is made out of plastic and fits into a dedicated slot at the top of the system. I don't foresee the stylus breaking, but since it would be used heavily with Windows XP Tablet Edition, a spare one would've been a nice addition.
Docking cable

Who designed this? It is by far the strangest "docking" option I've ever seen. Located at various points along the cable are the following ports: VGA, USB 2.0, FireWire, ethernet, DC power, and audio out.
In case you can't make heads or tails of the cable, this handy diagram is included in the user's guide: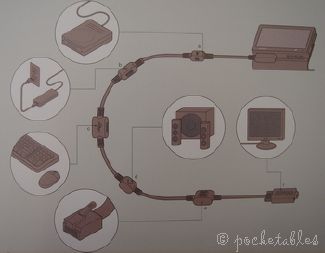 Documentation
In addition to the user's guide, there's also a recovery CD and some Windows paperwork.
First impressions
It's only been a handful of hours since FedEx delivered the OQO 01+ and so far all I've done is charge the battery, take pictures, and write this post. Based on that, all I can say at this point is that my outlook is positive. The unit is smaller than I thought it would be, but it still feels quite comfortable in my hands. Because of its slimmer design, I don't have to stretch my thumbs to reach across the keyboard or adjust the way I hold the system like I need to with the UX180P. This is a huge plus for me, as I spend more time typing than doing anything else on a computer.
Given the specs, I don't expect to be amazed by the system's performance. I understand that it will likely be sluggish in some areas, but I suspect that those areas will be of little concern to me. I don't play 3D computer games or do any video editing or Photoshop work, so processor speeds and available memory will probably not be too disappointing. I barely noticed any difference when I maxed out the RAM in my iBook.
I think you already know that I'm not a power user with top-level demands. I freely admit that benchmark tests and scores aren't in any dialect of English I can understand (if you're bilingual, you can see benchmark results here). With that said, you should know that the UMPC and handtop market wasn't created to meet the needs of someone like me. I work from home, so "mobility" means carrying something from the bedroom to the kitchen, packing it in my carry-on luggage for a weeklong vacation, and toting a gadget in my purse. My standards for what justifies the cost of an ultra portable PC, then, are comparatively low. I'm far from being a technology expert or overseeing an IT department, but I simply love electronics. That's my only qualification for running this site and writing this review. I'm a neophiliac, a technophile, and a gadget addict to my core. Please bear this is mind whenever you see a new addition to my Quick Takes series.
Read the next part of this review here.