Getting to know the Zaurus SL-C3200
The Sharp Zaurus SL-C3200 has been an overnight guest since Tuesday, and I must say that it looks quite at home on my desk. Despite its good looks, however, I'm not completely sold on the device. The Zaurus still has a few more days to win me over, but at the moment, I won't be teary eyed at the farewell party.
This is what I have to say about it so far.
Size
Bigger and heavier than a standard PDA or smartphone and smaller and lighter than a handtop or UMPC, the C3200 strikes a great balance between portability and comfortable usability.
Here it is next to the UX180P.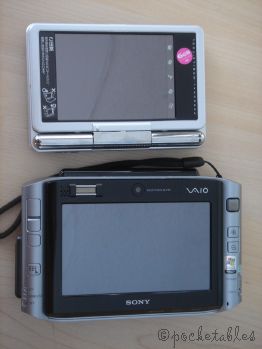 Display
The 3.7-inch backlit display, sporting 64K colors and a VGA resolution of 640 x 480, features six levels of screen brightness that can be customized according to whether the unit is running on AC or battery power.
Lowest brightness setting

Highest brightness setting

As you can see, the display is bright and crisp. Text is clear and easy to read, while photos and videos are only relatively decent. The screen won't take your breath away, but it's still incredibly viewable and moderately impressive.
Keyboard
Ah, now this is where the C3200 really shines.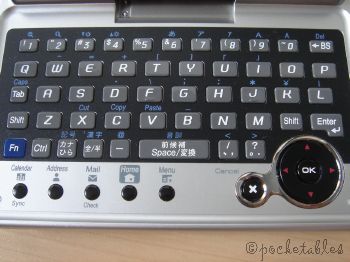 This has to be one of the best thumb keyboards ever. The keys are perfectly spaced and provide excellent tactile feedback. I haven't taken the typing test I used in my UX180P and OQO 01+ keyboard reviews yet, but the editor in chief over at MobileTechReview was able to punch out 50 words per minute! That's nearly twice as fast as I can type on the UX.
Even though the Zaurus is non-standard (for a PDA) in its design, its keyboard still includes the very standard shortcut buttons for quick access to the home screen and a handful of PIM applications. The buttons can also be remapped to launch other programs.
The large 5-way control pad is responsive and a nice alternative to relying on the stylus for performing simple tasks such as scrolling through menus or clicking on icons.
Productivity
The C3200 is preinstalled with an extensive set of tools and applications that should meet the needs of most power users.
In case you can't make it out from the pictures, the device comes with the following software: address book, calculator, calendar, City Time, clock, database, email client, FreeNoteQt, filesearch, HancomSheet, HancomWord, help browser, ImagePad, MobileMap, music player, NetFront v3.1 web browser, PDF viewer, Presentation, photostorage, terminal, text editor, text to speech, task list, translator, video player, voice recorder, and dictionary.
If you purchase the C3200 from Dynamism they'll convert about 97% of the Japanese OS into English. I came across unreadable text when launching only a handful of programs, including MobileMap.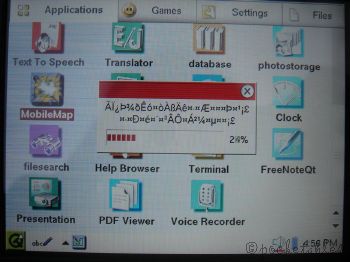 This isn't a big deal since you can search for and load up lots of other Zaurus software (6GB is a lot for a PDA). Most Linux apps are freeware, so you can download, install, and uninstall to your heart's content.
I noted last time that the Zaurus runs on Linux.
I don't have much experience with this OS, but navigating through the GUI and menus is straightforward. There are oodles of options and settings to customize the appearance and behavior of the system, which is always appreciated.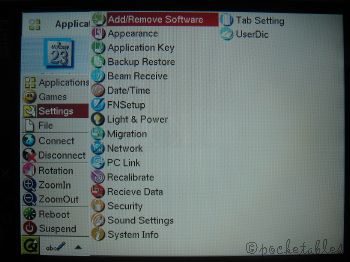 So what's wrong?
Although most of my impressions of the Zaurus C3200 are positive, there are a couple of things that I can't overlook enough to truly love the device. Aesthetically, I have absolutely no complaints. In addition to that, the keyboard is just about perfect for a handheld, the swivel screen is eye catching, and the storage capacity is huge.
What I don't like most about the C3200 is its lack of out-of-the-box Internet connectivity. The addition of an SD and CF card slot is nice but unnecessary. I would've preferred just one of these slots and the addition of integrated Bluetooth, wi-fi, or even an ethernet port. The Zaurus isn't designed with the American consumer in mind, so the exclusion of what is largely considered to be a standard feature is forgivable, but still somewhat of a deal breaker for me. Wireless SD or CF cards aren't hard to come by or terribly expensive, of course, but I don't like having to buy an add-on just to make use of preinstalled web browsing and email software.
The unit's hard drive is supposed to be automatically recognized by Windows XP for quick and easy transfer of data and other content, but it didn't show up properly on the three computers I connected with. Two of the computers didn't see the C3200 at all, and the other one only allowed me to access the SD and CF card slots. I haven't read of anyone else having this problem, so I'm probably doing something wrong (though how many ways are there to screw up connecting two devices with a supplied USB cable?). In any case, while I don't hold this against the unit itself, it didn't make for a particularly pleasant, user-friendly experience.
Another tally mark in the negative column is the price. Even though Conics sells it for $500, which is $400 less than its competitors, I still think it's a tad overpriced. It isn't unreasonable, I suppose, but it's sure to widen at least a few eyes.
Anyway, the lack of built-in Internet connectivity may not be enough for most people to write off a computer-esque device, but I'm afraid it may be enough for me. As I said earlier, though, the C3200 and I still have a few more days together. Maybe it's saving its best tricks to wow me on the last day.
Read the final part of this review here.
This article is part of the Quick Takes series. Quick Takes are based on short-term usage of various gadgets provided by Dynamism, the best place to find next-generation notebooks and consumer electronics from Japan and around the world.