More details on Intel/Yahoo UMPC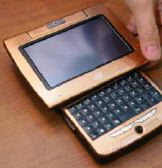 A prototype of Intel and Yahoo's upcoming joint-venture UMPC made an appearance in Taipei on Monday at the Fall Intel Developer Forum (IDF). The manufacturer? Quanta Computer Inc., who is apparently the world's largest contract laptop maker. The prototype is the same one showcased as one of several reference designs at last month's IDF in San Francisco, but according to Digital World Tokyo, it seems the copper-colored, swiveling-keyboard design has stuck.
I hate the color and am wondering whether it won't be a bit top-heavy when the keyboard is in use, but overall it looks pretty good so far. Only time will tell . . .