Official leather case for Vaio UX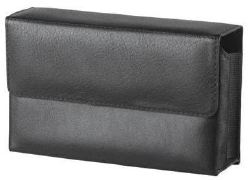 Sony recently began selling a new leather case (VGP-CCUX1) for the Vaio UX series of Micro PCs. It first appeared a few weeks ago at Sony Style with no price or indication of when it would ship. As of today, the case is no longer listed, but a Google search indicates that the MSRP is $49.99. Other retailers sell the case for less (PC Universe, for example, carries it for $33.89), but no one seems to have it in stock at the moment.
I couldn't track down additional pictures of the case either, but it's definitely a lot slimmer than the soft carrying pouch included with the UX. According to a couple of descriptions I've read, the case is made out of genuine leather and can accommodate all models in the UX series equipped with either the standard or extended battery. Even though there are already a handful of third-party cases on the market, I think I'll hold out for this official one.
I hope it has inner pockets…