Review: Gamepark Holdings GP2X
If you're one of the legions of PSP fanatics who has never seen a UMD in person, you probably already know a lot of about the GP2X, the Linux-based handheld gaming system and portable media player created by South Korean company Gamepark Holdings.
Released late last year, the open-source GP2X is designed with the homebrew gamer in mind. Unlike with the PSP, full-speed SNES and MAME emulators (to name a few), Quake, Doom, applications, and skins for the GP2X are all readily available online and even supported by the manufacturer. In fact, Gamepark Holdings has released an official GP2X SDK to encourage users to develop games and other apps.
System specifications
Operating system: Linux
CPU: 200MHz ARM920T and ARM940T
NAND flash memory: 64MB
Dimensions: 5.65" x 3.26" x 1.34"
Weight: 5.7 ounces (without batteries)
Display: 3.5" TFT LCD (260K colors, 320 x 240)
Power: 2 AA batteries, AC adapter (optional)
Included software: Music player, movie player, image viewer, text viewer
Design
The GP2X is made of matte black plastic, making it look more like a toy than anything else. It has the same classic shape and general design as the Neo Geo Pocket Color and Game Boy Advance, but with better controls and more expandibility.
Surrounding the LCD are small speakers at the bottom corners, an 8-way joypad and volume controller on the left side, and A/B/X/Y, Select, and Start buttons on the right side.  I'm particularly impressed with the joypad, which is comfortable and easy/natural to use. Out of any other similarly equipped portable game system out there, this one is by far the most responsive and the best able to reproduce the fluid motion of arcade joysticks.
At the top of the GP2X are the left and right shoulder buttons, SD card expansion slot, and standard headphone jack. Unlike the jack (and the rest of the I/O ports on the device), the SD slot does not have a rubber covering. A hinged door or flap of some kind would've been nice, as exposed connector pins seem to pose more of a threat than an exposed socket.
The power switch is located on the left of the device. I don't know why, but I can't turn it on without using my fingernail. Maybe I've just been spoiled by Sony's spring-loaded sliding switches.
On the right are the rubber-covered USB 2.0 and power ports.
And on the bottom is a proprietary extension port for the optional TV-Out cable and Breakout Board.
The back of the GP2X isn't much to look at, but you'll get to know it very well if you pop in alkaline batteries. Pick up some AA lithium or NiMH batteries if you don't want to flip the GP2X onto its face every 30 minutes.
Size
Gamepark Holdings definitely got the dimensions of the unit right. You can see from the pictures that the GP2X is approximately the same size as some of the more comfortable handhelds out there (PSP, UX180P, Nintendo DS, Game Boy Advance) and considerably bigger than the more uncomfortable units (Game Boy Micro, Game Boy Advance SP).
Accessories
The device is bundled with a meager set of accessories: USB 2.0 cable and CD-ROM containing the user's guide in English and Korean. I've read that a screen protector and AA batteries were also supposed to be included, but they weren't in the box. Instead, I got a hardcopy of an unofficial though more comprehensive manual written by Guyfawkes, which can be downloaded here.
Since the included bundle is pathetic and I actually got the GP2X for my husband, I bought all of the official accessories I could find. They, too, are nothing special, but they're better than nothing. A couple of things to note: the AC adapter ships with a European plug and the TV-Out cable has only an S-video connector (both issues are easily overcome, but worth mentioning since they're not typical for U.S. consumers).
Most of you already know about my obsession with gadget cases, so here's a closer look at this one.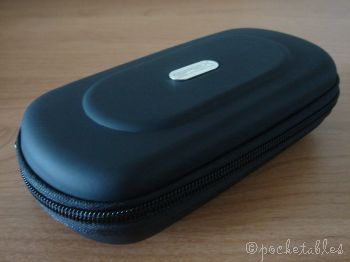 If you're thinking that the GP2X case looks exactly like the 3rd-party ones made for the PSP, you'd be right. Here it is between two PSP cases made by dreamGEAR and some other company whose logo I don't recognize. What I like about the PSP cases is that they have a soft divider and dedicated UMD pockets. Given the GP2X's reliance on SD cards, the case should've been equipped with SD pockets.
Graphical user interface
The GP2X runs on Linux, so the interface is highly and easily customizable. Better-looking skins are available online, but the one that ships with the unit is fine.
The system is easy to navigate, but certain areas are a bit counterintuitive. For example, when you select an icon from the main menu (above), you're asked to select between inter nal or external memory (files are loaded onto the device via drag-and-drop).
There is very little available memory on the GP2x itself, so you will likely always select "SD Memory Card," which will bring up a sub-menu (below) that essentially duplicates the main menu (assuming your SD folder structure is organized accordingly).
So when you want to play a game, you choose "Game" from the main menu, "SD Memory Card" from the next screen, and then "Games" from the sub-menu. The extra step isn't difficult or particularly time-consuming, but it's nonsensical. If you're in the "Game Player," the system should  show you only games. Clicking on the wrong folder just produces a blank screen anyway, so what's the point?
Minor inconsistencies within the system will also take some getting used to. For example, when playing games (in MAME only), pressing the left and right shoulder buttons simultaneously will rotate the screen in 90-degree increments. To switch display orientation when viewing photos, however, you need to press the A or B button. UPDATE: Thanks to Alex and LordFu of the GP32X.com forum, I've learned that the "inconsistencies" are due to the fact that the photo viewer was made by Gamepark Holdings, while emulators, of course, were not. Alex summed it up perfectly: "Developers usually choose the most intutitive in-game controls, rather than conform them to those of applications rarely used."
As far as I can tell, the screen can't be rotated in any other part of the system. It's something of a bonus feature anyway, but I think it would be more useful when reading eBooks than when playing games.
Images
The GP2X supports JPG, BMP, GIF, PCX, and PNG photos and can play DivX, XviD, and MPEG-4 videos at 30 frames per second with a resolution of up to 720 x 480. Photos are relatively crisp and videos are smooth and bright. The CPU speed can be changed within the movie player to reduce power consumption, but I keep it set to 200MHz for the best quality.
Here's a quick video of the GP2X in action (startup, GUI, photo viewing, and video playback). The  screen looks washed out and dull in the clip, but it's actually quite good in person. It won't take your breath away, but it's still nice and colorful.
Audio
The included music player is a bare-bones application whose "best" features are the 11 preset EQs. The player doesn't display album art, but it does support MP3, WMA, and OGG tracks. The built-in speakers crackle when the volume is cranked up, but otherwise the sound quality is okay (better with headphones).
The display can be turned off to maximize battery life and the buttons can be locked if you're going to listen to music while the GP2X is in your pocket or bag.
Games
Given its limited storage capacity, most people will not buy the GP2X solely for its multimedia/PMP capabilities. I mentioned earlier that the device is really designed for homebrew gamers (the layout and controls attest to this). And I wasn't kidding.
There are literally thousands of games out there for use with an increasing number of emulators.
Emulation on the PSP is really modeled after the GP2X, and it's easy to see why. Just about everything you can think of has been ported to the system and even the 32-bit PlayStation has an emulator.
Other features
The GP2X is equipped with a handful of extras. Among them are a file explorer for deleting, copying, and moving files and a simple eBook reader (TXT files only) that supports True Type fonts and has an automatic bookmarking feature.
You're supposed to be able to disable word wrapping, but I couldn't find the option for it.
Battery life
Gamepark Holdings estimates battery life to be about 4 hours for video/games and up to 10 hours for audio (LCD turned off). These numbers can only be achieved with high-capacity lithium or NiMH batteries. Energizer alkalines are killed within about 30 minutes, depending on usage (the game and movie players are power-hungry beasts).
Conclusion
The GP2X is not without its shortcomings, but for the price ($150 – $200) and the constant support from developers and the Linux community, it can't be beat.