Review: Leather pouch for Treo 650
I've mentioned my obsession with gadget cases before, right?
The Smartphone Experts VP7 is a slide-in top pouch made of soft leather and other materials. It's designed specifically for use with the Treo smartphones currently (and soon to be) on the market, but other gadgets with similar dimensions will fit into it just as well.
Packaging
The VP7 is packed very simply in a box with a label that actually made me think I bought the wrong case. Let's see: the style number doesn't include "VP7" in it, "hang case" doesn't sound like "vertical pouch," and I don't have a Treo 700w. (It was in fact the correct case, of course, but come on!)
Just like the CrystalCase reviewed last week, the VP7's packaging bears no company branding. This is quite the departure from what I'm used to (Sony, for example, stamps its name on just about everything), so I'm still surprised when I see it.
Design
The product description indicates that the VP7 is made out of "premium" leather. I don't know about that (I mean, you can't get true premium quality for $20), but it's still soft and supple. It actually feels a tad synthetic, which might be why the description didn't say "100% genuine leather," but the materials are of good quality and the case in general is well made.
One of the reasons I chose this pouch over countless others was the white cross-stitching. I used to have a Covertec case for my Tungsten C that featured cross-stitching, and since then I can't get enough of it.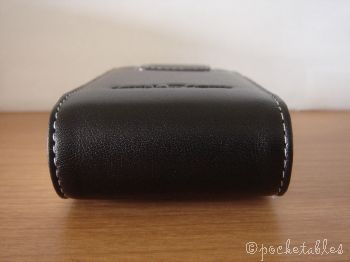 The white sides and interior on this are also a nice, stylish touch.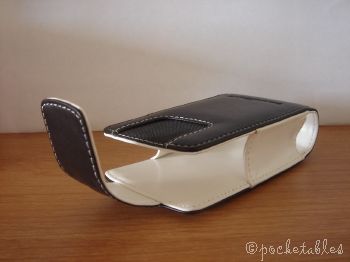 I'm not fond of buttons or snaps on cases; this one features a strong magnetic flap closure.
Another reason I bought this case was because of its removable belt clip. I can't stand belt clips: first because I don't own a belt and second because I like cases that lay flat (without have to be flipped over first).
I've seen this handled better and more nicely elsewhere, but it's not that bad.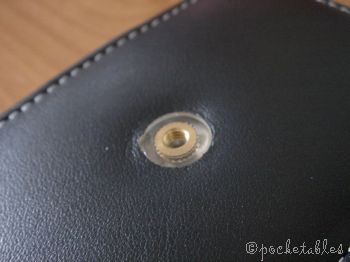 Fit
Maybe it's the added rubber/silicone, but the Black Tie doesn't slip easily into the case.
The leather stretches a bit over time (and the sides expand), but having to initially force the Treo into it doesn't make for a very good first impression. I don't know why there's a magnetic flap on this case either, as the device can't be shaken out even when it's upside down.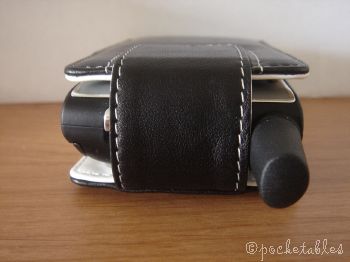 After a while, a fit I once viewed as extremely tight, I now see as very secure. The Treo can be slipped out quickly and easily, so I never have to fumble with the case. This is key when you're expecting an important call, you need immediate access to the built-in camera, or you just want to finish that game of Sudoku.
Conclusion
The Smartphone Experts VP7 vertical pouch does exactly what it should do: protect your Treo. And it does it well. The leather is cushioned to the point that I wouldn't gasp in horror if I dropped the device on a tiled floor. 
The VP7 isn't intended to enable complete in-case use of the Treo, but the volume controls are exposed so the ringer can be instantly silenced when you're in a meeting or at the movies. Personally, I would've liked a small cut-out for the headset jack, thus enabling limited in-case use for long phone calls when screen and/or keyboard access isn't necessary or when listening to music.