Vaio UX180P extended battery: Part 2
Now that you've seen the extended battery for the Sony Vaio UX series, it's time to check out its performance. Using the same parameters from my reviews of the standard battery, I ran several drain tests under various usage scenarios to determine the accuracy of Sony's claim of 5 to 9.52 hours.
Videos
Since I learned from the standard battery tests that file specs, wireless options, and where a movie is stored don't make a significant impact on battery life, I chose to run "Movie 2" from previous tests off of the UX hard drive with all wireless radios turned off.
And so you don't need to switch back and forth between pages, here again are the specs of the movie.
Duration: 1 hr, 35 min
File size: 780MB
Codec: DivX 4
Resolution: 480 x 270
Bitrate: 1005kbps
Frame rate: 23.97fps
Audio: MP3 128kbps CBR
All of my previous tests were run with the LCD set at mid-level brightness, so I wanted to find out how such settings actually impacted power consumption.
Maximum screen brightness: 4 hrs, 1 min
Mid-level screen brightness: 4 hrs, 19 min (standard battery – 2 hrs, 8 min)
Minimum screen brightness: 4 hrs, 23 min
In addition to discovering that brightness settings matter very little to battery performance, I also found out that manually selecting/playing different movies from the hard drive is the same as looping a single movie.
One movie on repeat: 4 hrs, 19 min
Three movies cued individually: 4 hrs, 16 min
Music
With the standard battery, the best time I was able to get from playing MP3s from a memory stick was about 2.5 hours. This time around, I played MP3s (192kbps VBR) from the hard drive and kept the wireless radios disabled.
Hard drive: 5 hrs, 4 min
To combat the issue I had last time (and this time) of the screen going through fits of turning on/off, I hooked up to an external monitor and shut off the UX180P's LCD completely.
Hard drive: 5 hrs, 11 min
I am now officially incapable of being surprised by the fact that differences I expect to be huge actually turn out to be virtually nonexistent.
Internet
The extended battery takes about 5 hours to fully charge, so each test takes around 10 hours to complete. This isn't really an issue when doing multimedia tests because I can just press play and walk away. Internet tests, however, require constant attention and interaction with the UX, which quickly turns into the opposite of fun. In sharp contrast to the 8 Internet tests I ran on the standard battery, I ran just 1 test on the extended battery.
WLAN/BT keyboard/USB mouse: 4 hrs, 20 min (standard battery – 1 hr, 55 min)
Word processing
You may recall that I also ran 8 word-processing tests last time. I chose not to do any this time for several reasons: 1) they verge on the excruciating (near nonstop typing for over 4 hours?!), 2) the yielded times weren't significantly different from the Internet test results, and 3) comfort while using the integrated keyboard is severely compromised by the extra bulk of the extended battery. I didn't test battery life while using the UX keyboard before because it was unreasonable, but this time it was just plain impossible. Take a look at the pictures below to see what I mean.
Using the standard battery, the keyboard is pretty usable. The circled area is where my thumbs need to stretch to reach. My left thumb naturally rests on fewer keys than my right thumb because the SIM card door adds an extra half-centimeter to the left side of the UX (each key measures about 3/4 of a centimeter long).
Here's the area I can't naturally reach using the extended battery.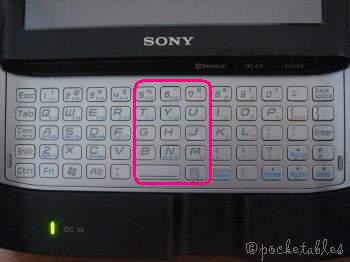 No matter how far I stretch them, my thumbs cannot reach the 6-Y-H-N column of keys. Just reaching over with the standard battery puts a strain on my thumbs, so the extended battery really makes typing impossible, even if I adjust my grip on the UX.
eBooks
I'm still using Microsoft Reader to read eBooks stored on my hard drive. This is the only time I rotate the UX180P's screen into portrait mode.
All wireless off: 6 hrs, 30 min (standard battery – 2 hrs, 45 min)
Conclusion
It's no surprise that the extended battery (7.4V, 5200mAh) just about doubles the life of the standard battery (7.4V, 2600mAh) under all usage scenarios. Anything that increases the time you can use the UX180P is worthwhile, of course, but a $350 price tag is pretty steep considering that battery life isn't mind-blowingly phenomenal. It's certainly good, but I would only call it excellent if it were yielded from the (sub)standard battery.
Cost aside (and who expects reasonable prices from Sony, anyway?), the extended battery falls a bit short of Sony's low-end claim when watching videos and surfing the web, but still turns in a more-than-acceptable performance that makes it a necessity when traveling or when an AC outlet isn't nearby. The battery doesn't aesthetically enhance the UX180P, but it does make holding the unit more comfortable provided that you don't need full access to the keyboard.
Thanks again to Supp0rtLinux for his patience and generosity for loaning me the battery.