Verizon has white chocolate for Halloween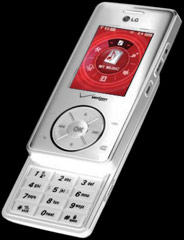 Sick of treat-or-treating around the neighborhood? Then head on over to your local Verizon shop on Halloween and pick up the new LG Chocolate phone in white. Priced at $180 (2-year contract), $230 (1-year contract), and $360 (no contract), the white slider phone is really just the old Chocolate wearing a ghost costume. MP3 player, Bluetooth, 1.3-megapixel digital camera, microSD expansion slot, speakerphone: everything's still there.
I'm still amazed that LG was the first to come up with the name Chocolate. Except for the sliding feature (isn't unwrapping more "chocolate" than sliding?), it's just another rectangular bar-shaped phone exactly like the ones that everyone used to carry around in the mid-90s (minus the antenna). I don't get it.
[
Engadget Mobile
]