When the diminutive iriver S10 digital audio player (DAP) made its debut on tech sites in September, many were disappointed (though not surprised) that it would be available only in South Korea. Most believed the DAP would eventually make it to the U.S., where iriver already enjoys a respectable amount of success, but no one knew when.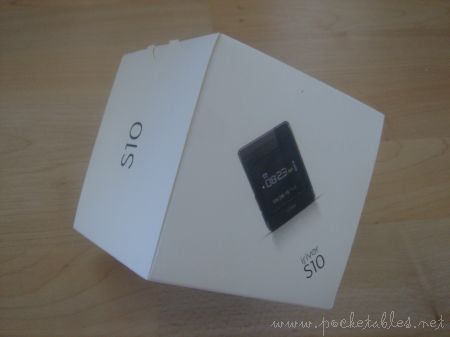 Thank goodness for Warehouse123.com! Read on to find out (in longwinded fashion, of course) why patience isn't really a virtue.
System specifications
Capacities: 1GB, 2GB
Supported audio: MP3, WMA, Ogg Vorbis, ASF
Extras: Photo viewer, FM radio, FM/voice recorder, clock/alarm, timer, removable disk
Dimensions: 1.65" x 1.18" x 0.43"
Weight: 0.61 ounces
Packaging
This is the first DAP I've owned that's commanded my attention while it was still in the box. Look at this thing.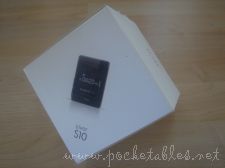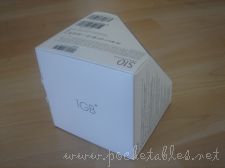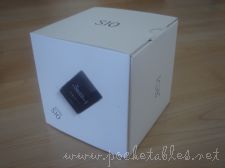 Inside the main box are two more boxes.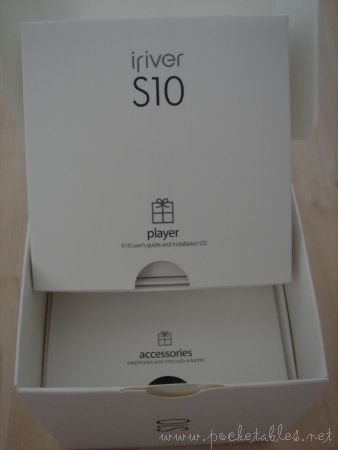 Accessories box
This one fits perfectly into the main box, so it has the same angled corner.
Player box
Nothing much going on with this one except that it features a pullout drawer instead of a flip-top lid.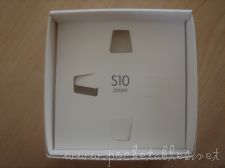 A lovely unboxing experience indeed.
Included accessories
Maybe the unique packaging inflated my expectations, but I'm disappointed by what all of those boxes were hiding.
First up, substandard earphones attached to a lanyard. The lanyard itself is thick and ugly, and there's no way to use it with another set of earphones. Verdict? A disposable item.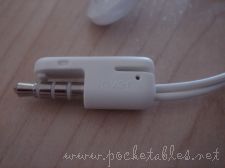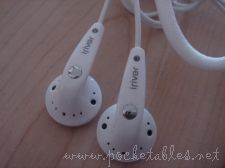 Next we have a mini CD-ROM containing iriver plus 3 music management software and a user's guide in English, Chinese, Japanese, and Russian (the player itself supports 40 languages).
The final accessory (and one you don't want to lose) is the mini USB adapter, which is required for charging the device and loading it up with content via good ole' UMS drag-and-drop or the included software. I normally complain about DAPs that charge exclusively via USB, but the S10 does it so quickly (about 1.5 hours) that I don't miss having an AC adapter.
I don't know about other places, but Warehouse123.com (where I bought the S10) throws in an odd bonus kit that includes some iriver ads, an FM transmitter with auto charger, iriver leather card holder, Nikon (yes, Nikon) soft carrying case,  and screen protector. Depending on when you're reading this, they may or may not still be doing this.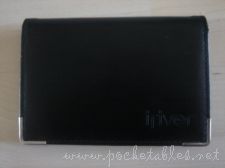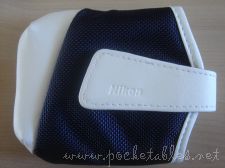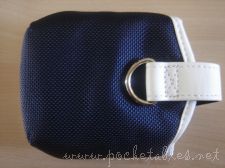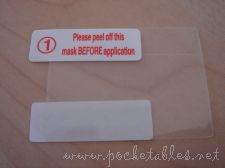 There's not much to say about this bonus kit other than the fact that it's free. The iriver ads are for last year's U10 (which has been all but replaced by the clix), the FM transmitter has only four stations and isn't packaged/boxed, the two cases are nice though at least four times bigger than the S10, and the screen protector isn't the right size. Oh well. Free is free.
What I would have loved for iriver to include are a case, screen-cleaning cloth, armband, and dock. I suppose these are unrealistic requests, but the heart wants what it wants.
Design
The design team at iriver is obviously part of the "if it ain't broke, don't fix it" camp because the S10 looks just like a mini clix. Good thing the clix is great-looking gear.
Nearly the entire face of the S10 is composed of the screen, so it has a very clean look that will most certainly appeal to minimalists.
The build quality is excellent. Even though it's made largely (if not entirely) out of plastic, nothing feels cheap or poorly made. And you can't tell from the pictures, but the white plastic actually has a tiny bit of glitter/shimmer that can only be seen at certain angles. It gives the player a hint of iridescence that's really quite nice. In short, the S10 is an all-around attractive gadget that stands out from other (indistinguishable) players in its class.
Size
The S10 is currently the smallest DAP with a screen on the market. The player is so small, in fact, that iriver Russia is turning it into a watch next year.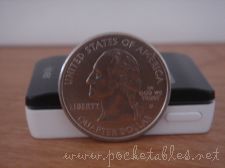 Two of its closest competitors (in terms of size) in the "DAP with screen" category are the Creative Zen V and mobiBLU Cube DAH-1500i.
You can see below that even though the Cube is shorter and more narrow than the S10, it's nearly twice as thick. One of the pitfalls of having cubed dimensions, I suppose.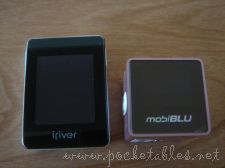 Controls
Like the U10
and clix
, the S10 uses iriver's D-Click interface, which is essentially a touch-input system that replaces a traditional directional pad. The actual edges of the screen act as the player's main controls, so the glossy plastic surface is great for aspiring detectives who need to brush up on fingerprint patterns. Arch, loop, and whorl identification aside, the D-Click system is responsive and more comfortable to use than a standard navigation pad, which on a player of this size would be very, very small.
At the top of the S10 are the off-centered headphone jack and part of the lanyard loop. (That's the disposable screen protector supplied by iriver on the face of the player, not the one in Warehouse123's bonus kit.)
On the bottom is the built-in microphone.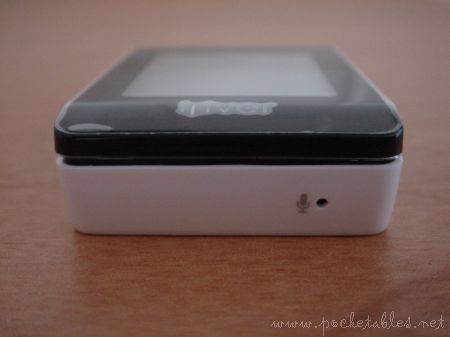 The power button and reset pinhole are on the right side of the device.
And on the left are the dedicated volume buttons. Pressing them together locks the S10 and prevents inadvertent use of the player. Pressing both again unlocks the controls. This is a nicety, to be sure, but a visual indicator of some kind is sorely missing. As is, there's no way to tell whether the player won't turn on because the controls are locked or because the battery is dead.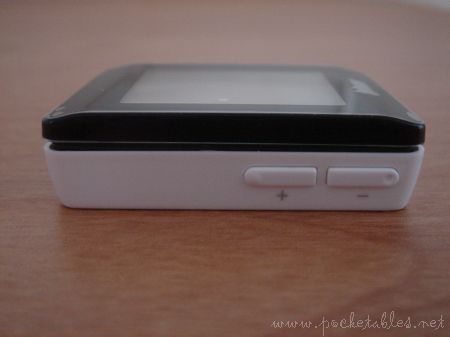 On the back of the device are the bottom half of the lanyard loop (center) and a notch designed for the clip surrounding the lanyard-earphone plug to snap onto.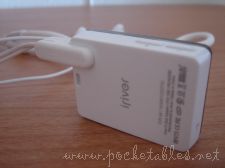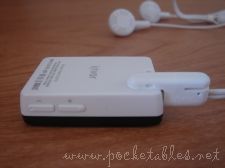 Display
I normally don't like OLEDs, but this one is pretty nice. Even though it's only 1.25 inches* (128 x 96, 65K colors), it surprisingly doesn't induce any squinting. Regardless of your brightness setting (low, medium, or high), text looks much finer and crisper than on the Creative Zen V, which sports a larger OLED with higher resolution, and images/icons are bright and colorful. I suppose the black background enhances and makes everything pop. *Official specs list the OLED at 1.15 inches, but my ruler disagrees.
The S10 includes three screen saver options: clock, visualization, and a slideshow of the photos on the player. The visualization is incredibly eye-catching; everyone who sees it can't help but say "Wow!"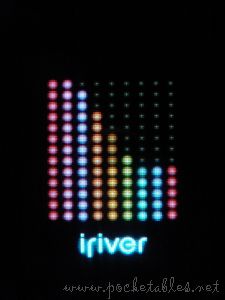 I can't find any documentation on this, but it seems that the screen savers are displayed only after 6 seconds of music playback. If there's a way to change this, I can't find it.
The screen can be flipped 180 degrees, which is a nice though useless option. Ninety-degree increments would've been better, as portrait and landscape modes are better than upside down and right-side up.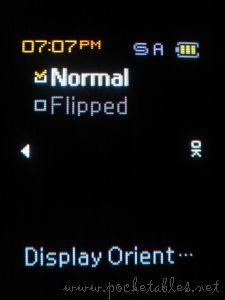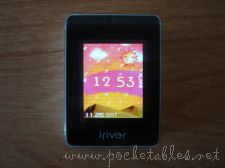 Graphical user interface
The GUI on the S10 isn't as intuitive as the one found on Creative and Apple players, but it's still very straightforward and simple. Certain areas aren't quite as polished as they could be (e.g., the music library looks rather DOS-like), but the main menu is nice and lag time between screens is minimal.
Since usability outweighs aesthetics, I still give the GUI high marks. This is largely because of iriver's D-Click system, which has a slight learning curve but is still easy to learn and use. The S10 user's guide provides a basic tutorial that will have even first-timers up and running in no time. In brief:
Directional arrows, icons, and other text appear on the display to let you know what function can be performed.
Press one of the screen's edges to perform the displayed function. For example, when viewing your music library, press the top/bottom edge to scroll through the list and the right edge to play a song.
Additional functions can be accessed by pressing and holding the left/right edge. For example, to select from 12 EQs, 9 play modes, and 4 scan speeds, press and hold the right edge during music playback.
My only grumble about the system is the way it handles longer file names, menus, and options. Rather than scroll the text horizontally like other players, the S10 splits the text and displays each portion separately. For example, "Display Orientation" appears on screen first as "Display Orie" and then as "ntation." This is a microscopic gripe, I know, but "Select Alar" and "m Type" is hardly an elegant solution.
Since I've already gone overboard with photos of the S10, here's a short video I took of the player in action for some variation. The OLED doesn't have the same refresh rate as my DVD Handycam, so the screen flicker in the video is exaggerated.
Audio
I'm incredibly pleased and impressed with the sound quality and customization options offered on the S10.
Transferring music
The easiest way to transfer media to the S10 is to drag and drop it via a USB 2.0 connection. A root directory already exists on the player, so all you need to do is drag content (loose or in folders) to its respective folder. Additional folders can be added but of course they won't be viewable on the device.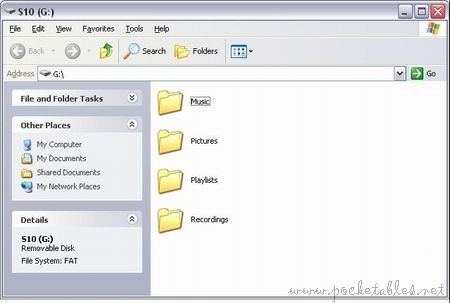 According to the user's guide, you can store up to 900 tracks in up to 500 different folders that go up to 8 folders deep. I prefer ID3-based organization but file trees are manageable on a device that maxes out at 2GB (I have the 1GB model).
Another way to load up the S10 is by using the supplied software.
I don't know why anyone would prefer iriver plus 3 over drag-and-drop, but it's a decent music management program. The interface is clean and user-friendly.
The player doesn't organize media according to ID3 tags, as noted above, but it does allow you to select between three predefined folder-creation rules.
Unlike the actual player, iriver plus 3 supports album art. The skin is nice and reminds me of the LG Chocolate phone.
The software can also be used for ripping CDs in either WMA (up to 320kbps) or Ogg Vorbis (up to Q10) format. It's unusual that there isn't an MP3 option.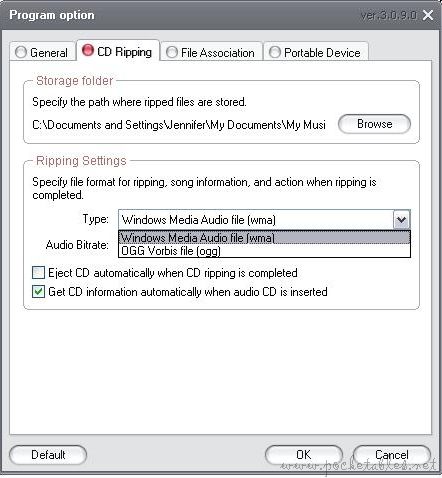 Getting content onto the player, as you can see, is very easy. Getting it off the player is even easier, as files can be deleted directly from the S10. This is a great feature that should really be as standard as volume controls on every DAP. Most DAPs are already equipped with this function, but there are still some that aren't.
Playing music
At the heart of the S10 is music playback. The GUI isn't suited for navigating through large music collections (and the player maxes out at 2GB anyway), but the device still provides an exceptional audio experience. Scrolling speed is decent and it loops around itself forever (i.e., when you reach the bottom of the list, it automatically continues back at the top).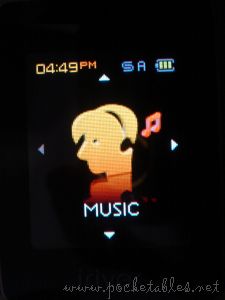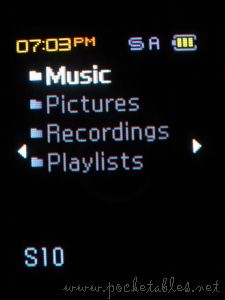 Instead of album art, the interface displays a musical note that dances and spins. It's cute the first time you see it, but it gets old fast.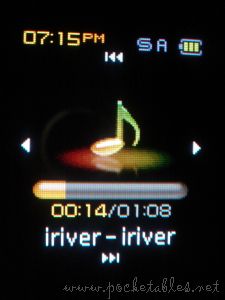 That's probably why the screen saver kicks in after 6 seconds.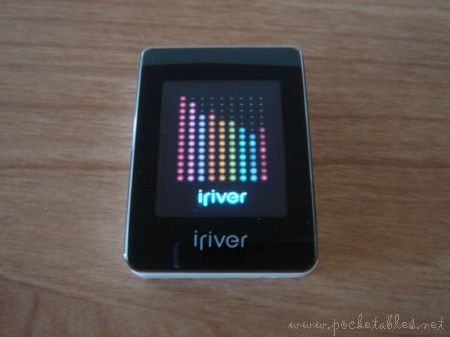 Playlists can be created in iriver 3 plus and automatically transferred to the player. A single on-the-go playlist, or Quick List (as iriver calls it), is also supported by the S10: just select a song, press and hold the right edge of the screen, and highlight "Add to Quick List."
Listening to music
My non-audiophile ears are blown away by the rich, full sound that comes through my Sennheiser CX300S IEMs when plugged into the S10. I'm nearly always happy with any DAP's sound quality, but I have honestly never been this impressed. Sound quality is definitely an area where the player soars. And I'm only listening to 192kbps MP3s.
In addition to more than 10 EQs, there are customizable SRS 3D sound effects and a fade-in option.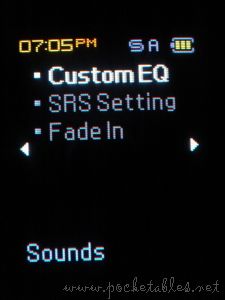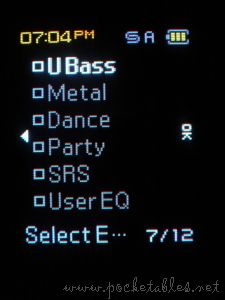 With features like these, I wouldn't be surprised if even true audiophiles praised the S10 for its crystal-clear highs, warm mids, and deep lows.
Extras
I'm amazed by the amount of extras that have been stuffed into the S10. Even full-sized DAPs with 60GB hard drives don't have all of these features.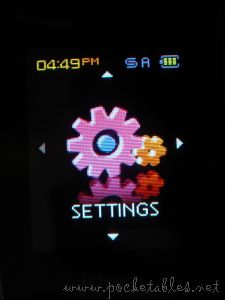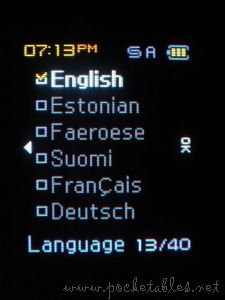 Photo viewer
Even though the device is equipped with a small screen, photos (BMP only) actually look rather nice on it. They can be viewed individually or in a customizable slideshow, with or without music. Thumbnails aren't supported, so you should probably name your pictures before moving them to the player.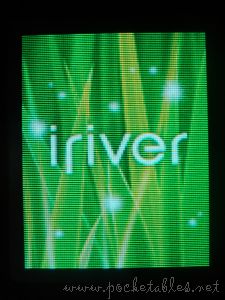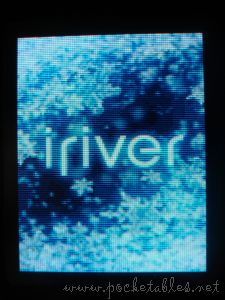 FM radio
Reception is crisp and clear here in Honolulu. Stations can be scanned manually or automatically and saved as one of 20 available presets. Negative comments I've read about the FM auto scan didn't apply to my experience with the feature at all; it picked up all the major stations with no problem.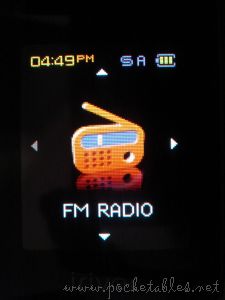 Pressing and holding the right edge while listening to the radio brings up a context menu with the following options: record, FM recording quality, save preset, stereo/mono, auto preset, and tuner region.
FM/Voice recorder
The S10 is equipped with a microphone for voice recording and can also record directly from the FM radio. Recording quality can be adjusted (voice: 32kbps, 64kbps, 128kbps; FM radio: 64kbps, 128kbps, 256kbps), but I've found the middle settings to produce more than adequate results. Recorded files are in MP3 format and can be found under "Recordings" in the main music section of the system.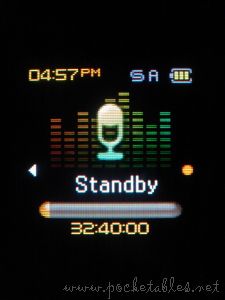 FM recordings can be scheduled in advance, which is a feature I've never seen on a DAP before. The S10 allows you to select the start time, duration, station, and even the frequency (once, daily, Mon-Fri, etc.) of the recording. Pretty amazing.
Clock/Alarm
I mentioned earlier that iriver Russia has plans to turn the S10 into a watch and it's easy to see why. The player has an alarm function as well as three different clock designs: minimalist, aqua, and day/night.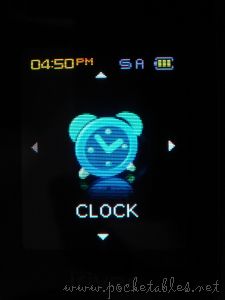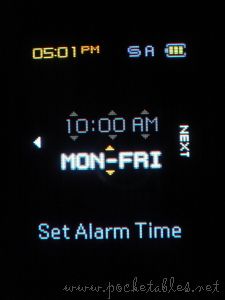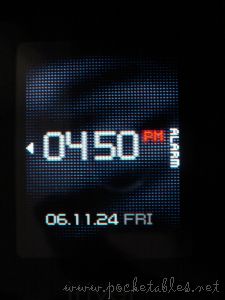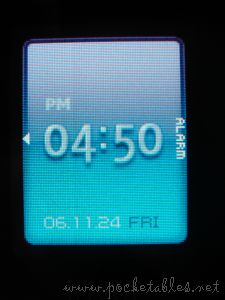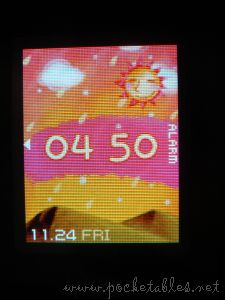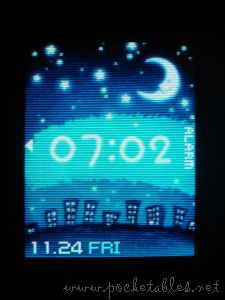 A handful of clock designs aren't major accomplishments, I know, but it's beyond typical DAP customization/personalization offerings.
Timer
A lot of product descriptions mention a timer as one of the S10's extra features. Am I the only one who expected some sort of stopwatch variation? A timer, according to iriver, is just an umbrella term for being able to set the amount of time before the "auto power off," "auto hold," "backlight," and "sleep" functions are enabled. FYI: If you want the backlight to always stay on, you need to select "off." This impacts battery life, of course, but why have screen savers if you can't see them?
Removable disk
The player is a plug-and-play UMS device, so it shows up as a removable storage device under "My Computer" when connected to a PC.
All that's missing from the S10 is video support, and I don't think anyone but a Smurf would want to watch a movie on a 1.25-inch OLED.
Battery life
How many hours you're able to squeeze out of the non-removable battery depends on (among other things) screen brightness levels, backlight settings, and audio codec/bitrate, but iriver estimates battery life at about 8 hours, which I've found to be pretty accurate. It's a pathetic number by today's standards, but there's got to be some give and take (size + screen = sacrifice). You can't expect a tiny gadget that's sporting a screen practically the size of itself to provide nonstop entertainment. And I don't know about other people, but 8 hours is more than enough for me. My threshold for constant music playback is lower than that, and a flash DAP is more of a gym/commute companion than a 60GB Zen Vision:M or iPod replacement anyway.
Conclusion
The iriver S10 is the best low-capacity flash DAP I've ever had. At the time of this writing (November 2006), what other players have that it doesn't is U.S. availability. It can currently be imported to the States from places like Warehouse123.com ($118 for 1GB, $142 for 2GB) and Advanced MP3 Players ($137 for 1GB, $177 for 2GB), but international shipping rates, which can be as high as $30, make the already high price point less than appealing. [UPDATE: Now available at Amazon
]
Personally, I think the player is well worth the extra cost. The S10 is a delectable little DAP that does so much so well. It's remarkable in sound quality, size, customization, and extra features; it's easy and comfortable to use; and my god it's lovely to look at. Longer battery life and increased storage capacity would be welcomed improvements, sure, but both are becoming such standard complaints that I don't consider them to be deal breakers.
And that's why patience isn't really a virtue.