More details on Samsung i760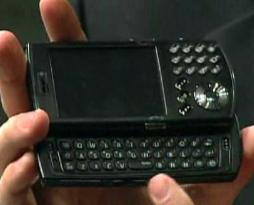 Samsung is being really secretive about its SCH-i760 smartphone. They even refused to cooperate with CNET, who just posted a video that shows Tom Merritt making the best of the little he had to go on. Tom's intonations, which sound like a cross between a magician and a car salesman, are humorous so I didn't mind having to play the video several times to hear what he was saying (he speaks rather quickly and the video isn't incredibly smooth on my end). Most of what CNET was able to get out of Samsung and some press release that isn't on the company's website confirms what has already been posted, but they did find out that the i760 is a CDMA phone (likely to be carried by Verizon or Sprint) and that the display size is 2.8 inches.
I don't think we'll be hearing much else about this device from CES, so I'll put it on the shelf until it's ready for the masses in mid-2007. I hope I'm ready for a new phone by then because I really like the look of this one.