Review: Archos 604 WiFi (Part 1)
My Archos AV420 Pocket Video Recorder and I have been together since 2004. Over the years, my fidelity has been tested when new portable media players (PMPs) sashayed out of the French company's door, but none has ever led me down the path of temptation. Not because of my belief in e-monogamy, mind you, but because the new PMPs, despite being younger and more beautiful, offered nothing new or significant in terms of features or performance. So last summer when Archos announced that five new models would comprise its upcoming 04 series, I barely looked up.
But then I heard the magic word: WiFi. (I looked up.) When it was released in November, the 604 WiFi would be the first PMP ever to feature 802.11g wireless connectivity. Internet! (My heart skipped a beat.) On a PMP! (My knees began to shake.)
Hey, I'm only human . . . and believe me, it was worth it. I hope your interest is piqued because I went a little overboard on the pictures and documentation—so much so, in fact, that I've divided this review into three parts. Aesthetics first, WiFi second, PMP features last. Feel free to skip around.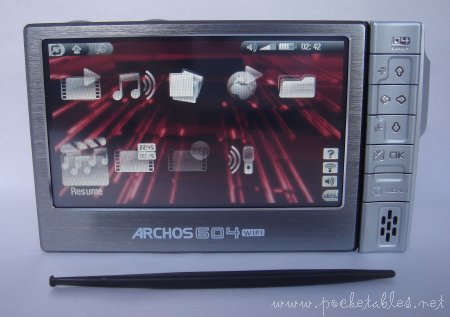 System specifications
Capacity: 30GB
Display: 4.3" TFT (480 x 272, 16 million colors) touch screen
Web browser: Opera
Supported video: MPEG-4 (ASP@L5 AVI), WMV (MP@ML), DivX
Supported audio: MP3, WAV (PCM/ADPCM), WMA, WMA-DRM
Supported photo: JPG, BMP, PNG
Extras: Audio recorder, PDF viewer, file server, removable disk
Dimensions: 5.2" x 3.1" x 0.7"
Weight: 10.2 ounces
Packaging
Bearing in mind that it's been three years since I've unboxed an Archos PMP, I'm quite pleased with the presentation of the 604 WiFi.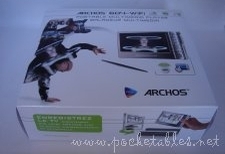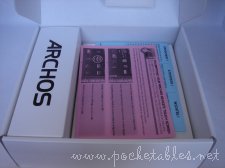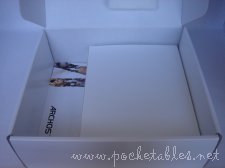 The cardboard is thick and sturdy with a tiny hint of sheen to it. If, like me, you keep all of your gadget boxes, you'll be pleased to know that this one could increase the resale value on eBay.
Box contents
I like when accessories come in their own boxes. It keeps everything very nice and tidy, even though there really isn't much to keep in order in this case. Compared to the amount of accessories Archos used to bundle with their players, what accompanies the 604 WiFi is very disappointing.
The biggest box contains a cushioned leather-like pouch, quick start guide, and some other paperwork.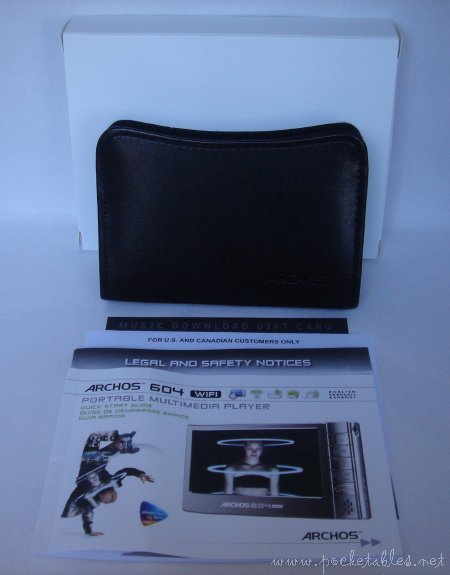 Here's my requisite attention to the case.
Two styluses are included for use on the 604 WiFi's touch screen. One of them comes tucked inside the dedicated pocket inside the case (the device itself doesn't have a slot for it).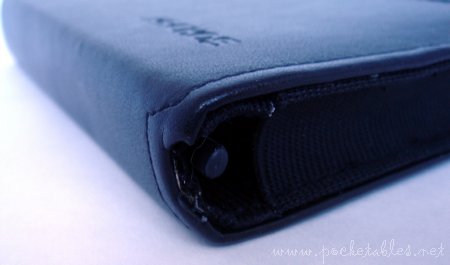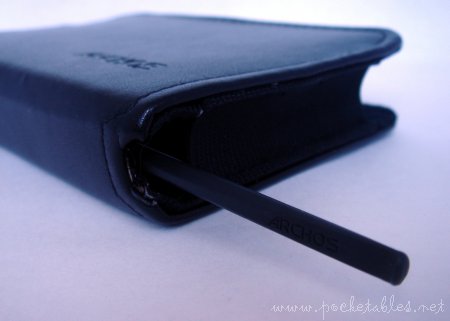 The PMP slips easily into the pouch, but requires a bit of prying/pulling to come out of it.
The smaller accessory box holds the Archos-branded stereo headphones with built-in volume controller, proprietary USB cable, DVR saddle, and second stylus (shown here reunited with its twin).
The DVR saddle is included to tempt you to buy the optional DVR Station ($100), which is required to record video directly onto the 604 WiFi. Without the station, the saddle is just a useless piece of plastic.
An argument in favor of the saddle is that it can be used as a stand. That's true, but (as you'll see below) the new generation of Archos PMPs is already equipped with built-in stands. So the argument holds very little water; the saddle is included solely to lure you to the Archos Online Store.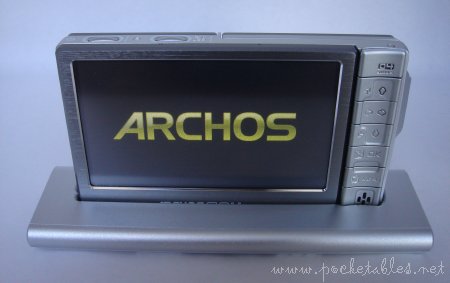 The quick start guide even includes a cautionary message complete with exclamation points and everything: "Keep this DVR Saddle! You will need it use the ARCHOS DVR Station! The ARCHOS DVR Station can be purchased from www.archos.com."
Design
There's no denying that the 604 WiFi is stunning. Only someone devoid of a human heart wouldn't be completely and immediately smitten with the brushed-metal casing and subtle curves.
The device feels durable and exceptionally well made. And although Archos doesn't say so, the 604 WiFi seems resistant to scratches. This means that "naked use" (the gadget, not you) is not only possible, but almost encouraged.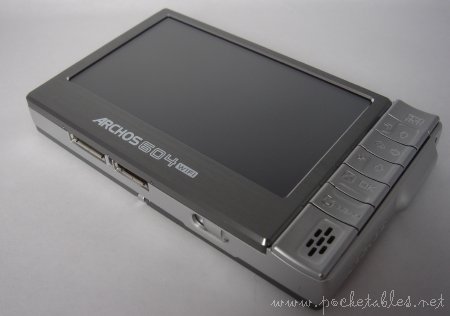 All of the 604 WiFi's controls and its solitary loudspeaker are on the right side of the widescreen display. The buttons are somewhat rocker-like in that you press the sides, and not the center, to perform a function. The four-way navigation pad is slightly recessed for whatever reason, perhaps so t hat you can find it easily in the dark or something. Beside the up and down arrows are accelerator buttons that are used to navigate between pages in the Web browser and perform page up/down functions elsewhere. Below those are the X (escape, back, stop), OK (enter, go, play), and menu keys. The tab key, the one that looks like the "refresh" icon in Web browsers, is for switching between tabs/screens.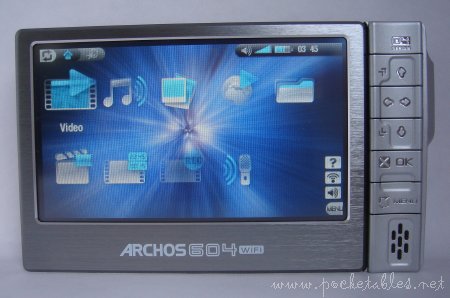 At the top of the device are the power and display buttons. Pressing the latter button once changes where the image is displayed (on a TV or the built-in LCD); holding it down locks the 604 WiFi from accidental operation.

On the bottom are the proprietary connectors for the DVR Station and other accessories (left) and the USB cable (right). There doesn't seem to be any official documentation about the silver switch on the right. I assume it's to release/unlock the battery on the back, but I haven't been able to get it to work.

The four screws on the left side serve as an ugly reminder that the device didn't fall from the sky in one piece, while the four LEDs indicate whatever the unit is doing. The built-in microphone on the bottom is for voice recording (WAV) and maybe VoIP after a little hacking (anyone?).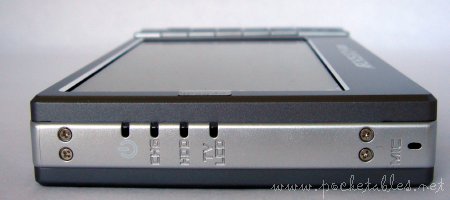 On the right is the AV-out jack for plugging in headphones and AV cables. The bump beside it houses the WiFi antenna.
About half of the 604 WiFi's back is made up of the removable li-ion polymer battery.
The built-in metal stand is a nice touch that requires fingernails to dig out of its slot.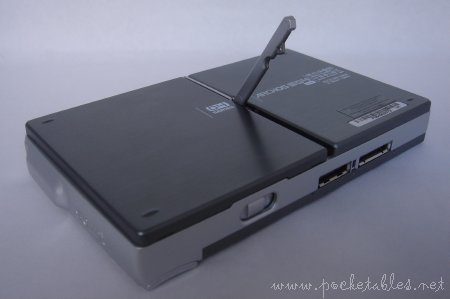 Despite its stick-like appearance, though, the stand is very stable and sturdy.
Size
I definitely didn't shun my AV420 because it started to look chunky.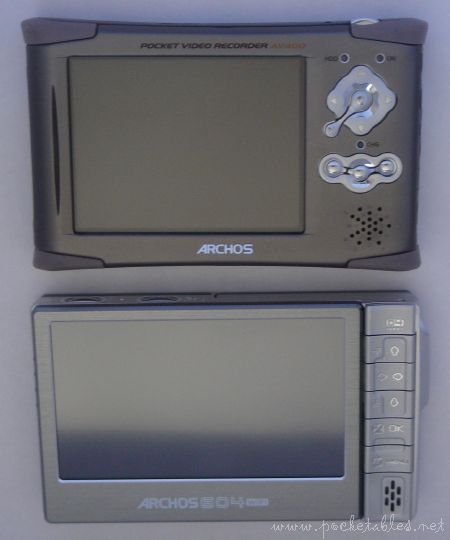 They may have different faces, but their bodies have nearly identical proportions.
Considering that the 604 WiFi's screen is 0.8" bigger than the AV420's, though, I'd say its measurements are quite nice.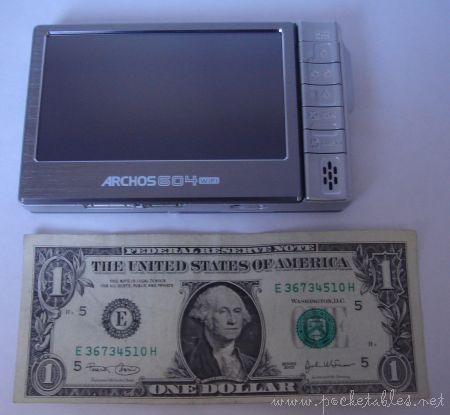 Display
The 604 WiFi is equipped with a 4.3" TFT touch screen capable of reproducing more than 16 million colors. A picture of an image on a screen doesn't portray anything accurately, I know, but it gives at least an idea of how sharp, colorful, and bright the display is.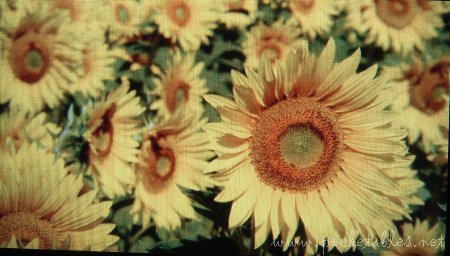 It's really quite breathtaking (not in the Seinfeld sense) in person, as the colors are richer and more saturated.
In addition to being able to set any photo (even zoomed-in portions) as your background image, Archos preinstalls a decent selection of its own wallpapers and themes.
I expected a lot more out of the themes option. All it does is change the color of the icons. A nicety, I suppose, but nothing particularly eye catching.
And I'd say that about does it for today.
We all know that a pretty face can only get you so far, so stay tuned to find out about the Archos 604 WiFi's animated GUI, its general performance and usability, and how it handles the Internet, video and music playback, and whatever else it's got hiding in its bag of tricks. I'm testing its stamina right now and preparing a little video, too, so there'll be lots to see next time.
Read the next part of this review here.