The Apple UMPC that will never be
Those disappointed that the recent iPhone announcement wasn't immediately followed by news of the iTablet or iUMPC can thank a guy named Peter Green for putting an end to those sleepless nights. No more tossing and turning, haunted by cruel visions of a sleek and slim handtop in glossy white.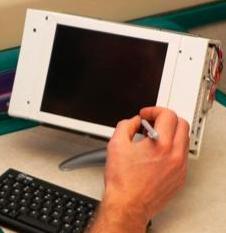 Behold the very chunky, 4.2-pound MacMini Portable (MMP) Mkll Tablet Edition computer. Beneath that 8-inch ink-enabled touch screen (1024 x 768) and encased in plasting sheeting panels are a 1.5 GHz Intel Core Solo processor, 60GB hard drive, 512MB of RAM, AirPort card, Bluetooth, and Front Row capabilities. The MMP Mkll, created by Peter because "Apple don't make a tablet palmtop," also has an on-screen keyboard and a 3-hour battery life. Impressive specs for a handtop, don't you think?
The RAM could use an upgrade, but performance doesn't seem to be too affected (see it in action here). The original music used in the video put me into a bit of a trance, so be sure to forbid your carputer access to YouTube. And if you feel inclined to leave a comment for Peter, be nice about the design, okay? He's a tad sensitive.
[
TechEBlog
]