Converged gadgets promise consolidation, deliver clutter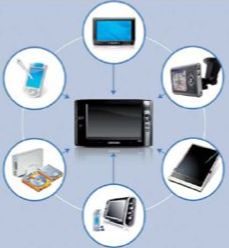 I recently read an interesting article (via Tech Digest) about wasting money on gadgets that become pricey dust vessels and thought it was a good time for me to confess the love-hate relationship I have with convergence tech. Now, when news breaks about an upcoming gadget that combines any amount of digital music, video, or photography with PIM functions, calling capabilities, the Internet, or practically anything computer-like, chances are ridiculously high that I've been attached to a ventilator. The mere thought of consolidating the amount of gadgets I consider taking with me when I leave the house sends me into a state of euphoria . . . until reality pushes me off cloud nine.
After years of harboring delusions about how a solitary gadget can and will replace a handful of other ones, I've had enough. Don't get me wrong. Switching gadget cases and flipping several devices sideways and upside down in my purse is great fun, as there are so few real-world applications of any skills yielded through Tetris, but recently I've decided to face the truth. Nothing can do everything.
The  allure of a single device that promises to "do it all" is a powerful one, and most of us have already fallen prey to it . . . often with a smile on our faces. And why not? It works out exceedingly well for a lot of people, who slip a smartphone into their pockets and are armed with a phone, MP3 and video player, photo viewer, mobile office tool, email and Web access, calendar, address book, digital camera, and games.
But not so for me.
What I end up with are drawers of MP3 and video players, digital cameras, handheld videogame systems, Internet tablets and handtops, and PDAs. As far as "problems" go, I know this one is far from inspiring any pity parties, but I don't buy do-it-all gadgets just to add another bullet point to my list. I buy them to consolidate, rid myself of single-function gear. Well, I used to, anyway. For example, I bought a Sony Clie T665C in 2002 (?) partly because of its MP3 support. I defrayed some of the cost by selling my 64MB Sony NW-MS9 player, which the Clie was supposed to replace. Long story short, I've bought 13 digital audio players since then.
After seeing similar patterns emerge in my gadget history, I have come to terms with the money-draining fact that a gadget's secondary function has never pleased me enough that I didn't eventually buy something else (something whose primary function was the first gadget's secondary one) to pick up the slack.
Today, I make shiny purchases according to a simple (yet financially questionable) motto: I don't care what else it can do. I focus on what something is, not what it can be. A cell phone that has a built-in camera and MP3 functionality is simply a cell phone to me. An MP3 player that can also play videos and display photos is just an MP3 player.
And to cope with a bunch of do-it-all devices now reduced to underachievers but still clamoring for a Tetris-like space in my purse, I went out and bought a bigger bag.