Review: Archos 604 WiFi (Part 3)
Now that the source code for the Archos Generation 4 series has been released, there's no time to waste on summarizing what was covered in Part 1 and Part 2 of this review.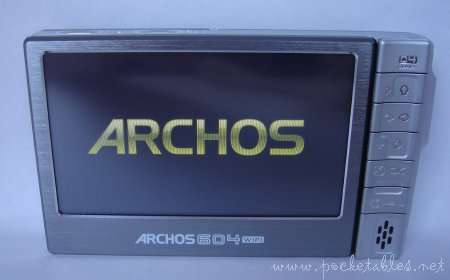 Click on to see what the Archos 604 WiFi is all about when it drops the WiFi and becomes a more traditional PMP.
Video
Given its generous 4.3-inch display, the 604 WiFi is clearly designed for video playback. And it excels at it. With stated support of MPEG4, WMV, H.264, and MPEG-2 (the latter two require an optional plug-in) up to DVD resolution, the unit can also play DivX and XviD files with no problem. Videos load almost immediately and playback is smooth and colorful, even when output to a TV (cables not included).
Transferring content onto the player is fast and easy via lovely drag-and-drop over a USB 2.0 connection. The video library can be viewed in two modes: the default list, which doesn't display subfolders for whatever reason, and the browser, which does. Both show the same file information and a motion thumbnail of each video, so there's no benefit of using one over the other (unless you use subfolders).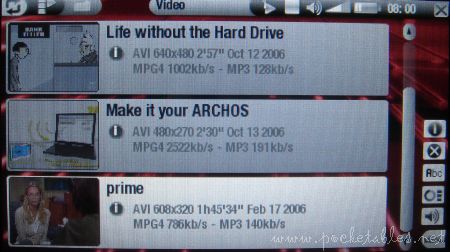 Videos can be renamed and deleted without the use of a computer, which I always appreciate. I like my gadgets to be independent.
There's also a nice set of options to control playback. View mode (auto, full screen, maximized, or original) and fast-forward and rewind speeds (up to 8x) are set through the Format and Speed options, respectively. Single frames from the video can be saved as either the file's thumbnail or the system's wallpaper (quite cool),  and bookmarks and playmode options (single file or entire folder; normal, repeat, or shuffle) can be set, too.
Audio
Like just about every other gadget out there, the 604 WiFi can play (gasp!) MP3s. It also supports WAV (PCM/ADPCM), WMA, and WMA-DRM tracks, as well as AAC and AC3 with optional plug-ins.
Sound quality is good (better with a good pair of headphones than through the built-in speaker), but navigation leaves much to be desired. It gets the job done and is straightforward, sure, but it just doesn't cut it for me.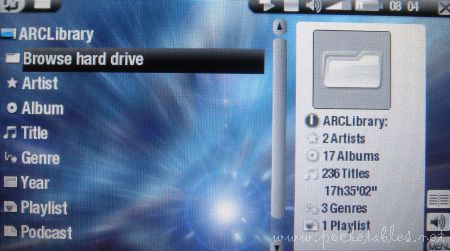 If you have a large collection of music, it won't be long before you miss the GUI of a real DAP (Creative, Apple, whatever). Actually, if you have a large collection of music, don't buy the 604 WiFi to listen to it. Maybe it's just my convergence aversion, but I wouldn't recommend devoting any of the already meager 30GB hard drive to music. Save it for videos!
But if you insist…
The simple music playback screen displays album art, track progress bar, volume level, and other basic information. There are no visualizations to make use of the screen estate (-1), but at least the title of the next track is shown (+1).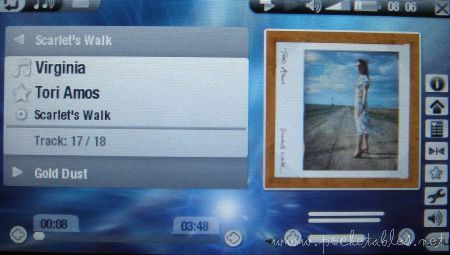 The 604 WiFi actually has a rather full-featured set of options.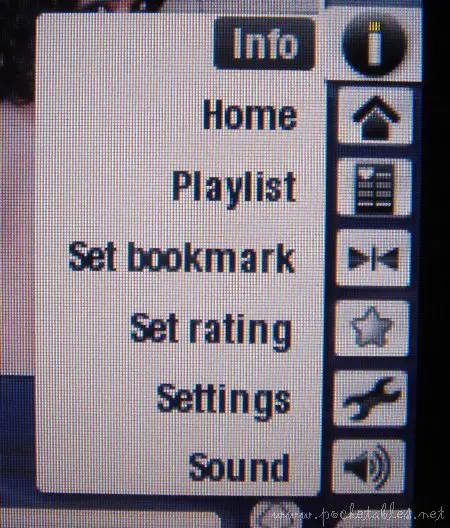 In addition to bookmarking, rating, on-the-go playlists, and playmode options, the device has preset sound profiles, bass boost, and a custom EQ.
Not bad at all for a "non-DAP," eh?
Photo
Older Archos models used to be equipped with built-in Compact Flash slots and USB-host ports. The 604 WiFi, with its 16-million-color screen, has neither. Quite a shame.
If there's a photo resolution limit, I can't find it.
Just like everywhere else in the system, there are lots of menu options here, too.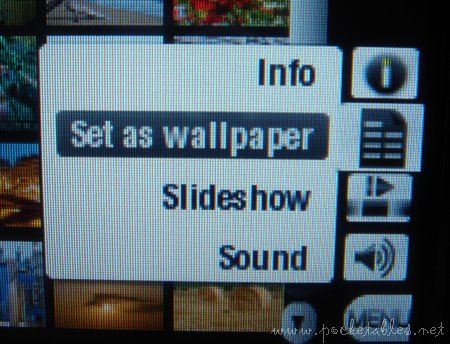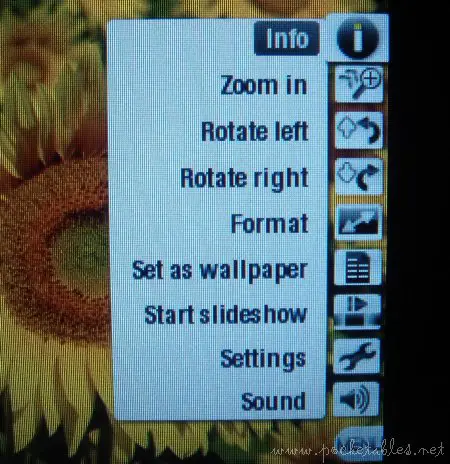 There are eight different transitions and pause increments varying between 2 and 30 seconds available for slideshows, which can be viewed while listening to music. Another nice feature is that even zoomed-in portions of photos can be set as wallpaper.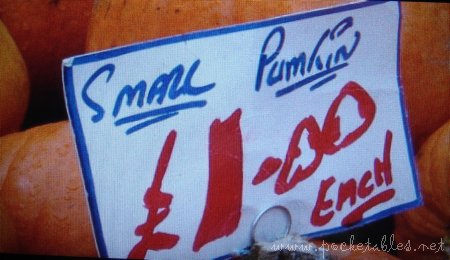 Extras
I'm still deciding whether secondary and extra features are the same thing…
Audio recorder
Here are some self-explanatory pictures of the recording process.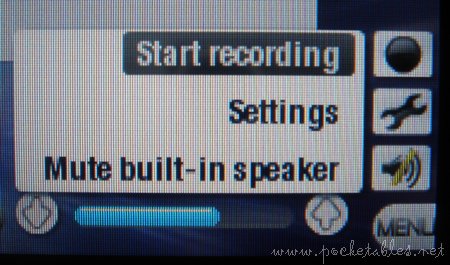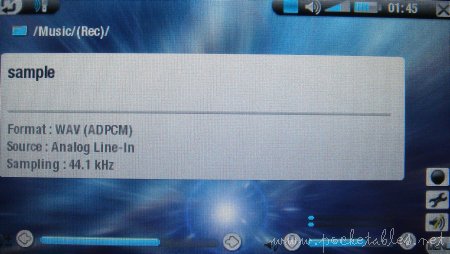 The optional DVR Station or DVR Travel Adapter is required to enable line-in recording. Without it, you can only use the built-in microphone. Either way, recordings are saved in WAV format (PCM or ADPCM) at 16, 22.05, 24, 32, 44.1, or 48 kHz.
PDF viewer
PDFs are accessed through the system's File Browser (basically Windows Explorer) and can be stored loose or in folders.
The screen is certainly big enough to read PDF documents, but loading time requires a bit of patience. For example:
59-page user manual (2.1MB): 20 seconds to open, 6-8 seconds to next page
6-page press release (2.3MB): 10 seconds to open, 5 seconds to next page
130-page eBook (460KB): 12 seconds to open, 3-5 seconds to next page
Because the display orientation cannot be rotated, reading PDFs requires a fair amount of scrolling. If you're looking to use the 604 WiFi to read eBooks in PDF format, I would suggest looking elsewhere.
File server
This feature belongs in Part 2 of the review since it requires WiFi, but I want to keep all the "extras" together.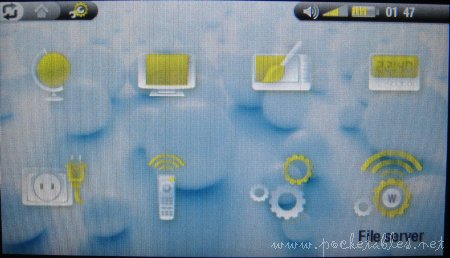 All you need to do to access the device remotely is to press the "Enable file server" button.
The 604 WiFi's hard drive appears on your computer's network neighborhood.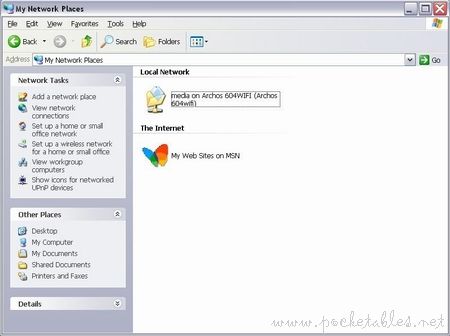 Removable disk
The 604 WiFi can be connected to a computer as either an MTP (requires Windows XP and WMP10) or UMS device.
It's misleading, I know, but PC Hard Drive mode works on Windows and Macs.
Battery life
Archos rates battery life at 16 hours for music and 5 hours for video, but does not provide any numbers for Web browsing (I'd say about 3-4 hours). A lot depends on the power settings and screen brightness levels, but I'm fairly certain that the company's estimates are not accurate.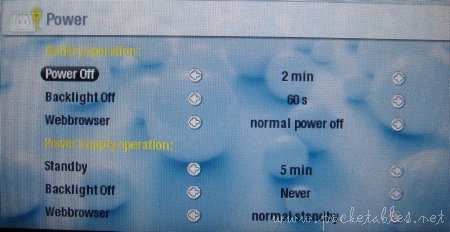 I tried to run a series of battery tests, but it made the device very unhappy. I don't know why, but just looping an album of 192kbps MP3s sent the 604 WiFi to the crazy house after only 12 hours. It refused to charge via USB afterward and would automatically shutdown within about a minute of turning on.
So I have no idea what battery life is really like. For what it's worth, though, the AV420 can play a full-length movie and a TV episode or two before running out of juice.
Conclusion
The Archos 604 WiFi hasn't changed my status as an Archos PMP fan . . . but . . . I have to say that I'm the teeniest bit disappointed.
Compared to the AV420 I got in 2004, the 604 WiFi isn't that much better. The addition of WiFi is huge, of course, and it's certainly an impressive and well-executed addition (as you saw), but it's not what I could call three years' worth of progress. This is the only model in the current lineup that has it, too, so what kind of significant improvements over previous models do the other ones have to offer? Aesthetically, the 604 WiFi is lightyears beyond the AV420. But that's really about it. Appearances (and WiFi) aside, all the 604 WiFi has is 10GB of additional storage capacity.
PMPs in general are a bit cheaper than they used to be (the AV420 retailed for $550), but a lower base price ($350 for 604, $450 for 604 WiFi) doesn't matter much if you have to buy accessories that used to come standard with older models. The AV420 came with the docking cradle (equivalent of $100 DVR Station), AC adapter ($30), and easily replaceable standard USB cable.
Perhaps previous models left so little to improve upon that a bigger screen and redesign were  enough to warrant an upgrade? Maybe. After all, there was actually very little to complain about with the AV420. But even if it's true that you can't perfect perfection, after three years of exclusive devotion to my AV420, I still expected to be completely swept off my feet by the 604 WiFi. And I wasn't.
Don't get me wrong. The 604 WiFi is definitely a fantastic PMP . . . but only because it's just a nicer-looking AV420 with Internet access.