Review: Archos 604 WiFi (Part 2)
In Part 1 of this review, the Archos 604 WiFi showed off its sleek and shiny good looks with no restraint.
But will it be just as impressive when we look past its appearance? Read on to find out whether the device's user interface and headlining feature take it one step closer to becoming the ultimate looks-and-brains PMP.
Graphical user interface (GUI)
One of the features Archos upgraded for the 04 series is the Linux-based interface. Animated and now featuring tabs, the new GUI is straightforward and easy to use right out of the box.
In the top left corner of the home screen is the tab bar. Switching between tabs is simple: tap the icon with your finger or the stylus, or press the dedicated tab hardware key.
The wrench/gear icon corresponds to the system settings, which enable the 604 WiFi to be customized according to personal preferences.
As you can see, the icons are large and finger-friendly, which encourage frequent use of the responsive touch screen. The scroll bars are designed for the fingers, too, as they widen when touched.
The status bar in the top right corner of each screen displays the battery level, current time, and various indicators depending on where you are in the system.
A context menu system containing options relevant to what you're doing is always available in the lower right.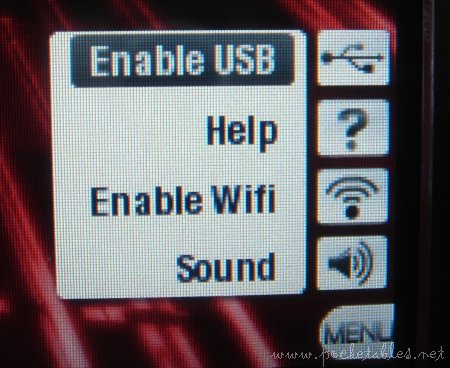 I don't know what kind of processor is under the hood of the 604 WiFi, but it could use a boost. Navigating between icons is zippy, but switching tabs and accessing the device's features requires some waiting. I wouldn't go so far as to say that the GUI is sluggish, but that's because I don't have a problem with watching the hourglass "loading" icon. It's riveting.
Web
If Web surfing on a 4.3-inch screen sounds unappealing, then the Archos PMP you're actually looking for is the 604. This is the 604 WiFi. And really, the only reason to spend the extra $100 (based on MSRPs) is if your mouth waters when you hear the words "mobile Internet."
Getting online with the 604 WiFi is fast and easy. Immediately after selecting the "Enable WiFi" option (shown above), the system will begin looking for available networks.
Depending on whose network you're trying to connect to (yours or your unsuspecting neighbor's), you'll need to type in various details such as the WEP, WPA, or WPA2 key and other manual configuration settings before a successful connection is established.
Once online, you can do just about anything that doesn't require Flash or ActiveX (optional plug-ins for both are supposedly in the works). So unless you live and breathe YouTube, that still leaves you with plenty to see, do, and buy online. And thanks to the 604 WiFi's Opera Browser, browsing is rich and rather desktop-like.
Navigation is comfortable and intuitive using the touch screen and/or hardware keys. Clicking on a text-entry field automatically brings up the virtual keyboard, which responds to both the stylus and your fingertips/nails.
One of the best features of the browser is the context menu, which is easily accessible at all times and includes functions commonly seen on a desktop browser's toobar.
Zoom. A vital part of Web browsing on a mobile device is readability with a minimum amount of eyestrain.
Fortunately, the 604 WiFi includes enough zoom increments to accommodate just about everyone. I keep mine set at slightly under three-quarters, which is a nice size that doesn't hurt my eyes.
The lowest setting is readable if you have a microscope on hand.
And the highest setting is perfect if you're trying to get Extreme Scrolling in next year's X Games.
Render mode. Like most mobile browsers, this one lets you select how webpages are rendered.
Smart mode optimizes pages for the 604 WiFi's screen and eliminates horizontal scrolling.
Desktop mode, on the other hand, displays the page exactly as it's designed and therefore requires a lot of side scrolling.
Navigation. The double-arrow hardware keys duplicate the back and forward functions, but options are always nice.
Tab. Arguably the best feature of Opera is tabbed browsing. I adore tabs in Firefox and Safari (it's in the new IE, too, but I haven't tried it), so I really like that I don't have to change my habits to use the 604 WiFi. Well, okay, I had to get used to having no "ctrl + t" and "ctrl + w" shortcuts.
Archos doesn't specify a maximum number of tabs, but since performance slows down a bit when a new one is opened, I limit it to three or four.
Go to. This option is the equivalent of a Google or Yahoo search bar in a standard browser, though more obtrusive for obvious reasons.
Still, it's nice that I don't have to leave whatever page I'm viewing just to look something up.
Bookmarks. The bookmarks submenu is full-featured, which is great, but I would rather have my bookmarks list appear as an overlay (like the keyboard) instead of a separate screen.
Settings. Here you have a rather sophisticated, albeit meager, set of options for a mobile browser.
And there you have it.
In pictures, I'd say Web surfing on the 604 WiFi's 4.3-inch screen looks pretty good. Lots of options, great readability, and a generally pleasant mobile Internet experience. But it isn't realistic. Not when it comes to something as subjective as how you browse. And not without actually seeing the loading times, scrolling speeds, tab switching, and refresh rates for yourself.
And yes, I honestly live in an area of perpetual construction and road noise.
Read the final installment of this review, where I leave behind the "WiFi" in the Archos 604 WiFi and hone in on everything else the PMP can (and can't) do, here.