Review: Kohjinsha SA1F00A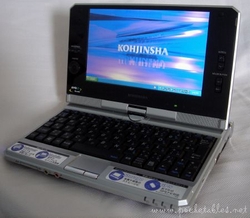 Unlike in other industries, trends in technology rarely come full circle. The chances of, say, the MP3 player being replaced by the shoulder-sitting boombox are laughable at best. Yet it probably won't be long before acid-wash jeans or bell bottoms are back on the racks (again).
Imagine my surprise, then, when the Kohjinsha SA series appeared in November 2006 looking just like the Handheld PC (H/PC) from 1996. I know it looks exactly like a regular laptop, too, but the H/PC is what immediately came to my mind. I had one in 1998 (the NEC MobilePro 750C) and have been a fan of mini clamshell designs ever since. It turned out to be an unfortunate preference because the form factor got bigger after the demise of the H/PC. Take Sony's sub-subnotebooks, for example: Vaio PictureBook series (8.9" screen) –> TR series (10.6" screen) –> TX series (11.1" screen).
I'm glad that the heart wants what it wants because the compact clamshell is back, and it's smaller than ever.
System specifications
Dimensions: 8.6" x 6.4" x 1.0"
Weight: 2.12 lbs.
Operating system: Windows XP Home
Processor: 500MHz AMD Geode LX800
Hard drive: 40GB (4200rpm)
Memory: 512MB
Display: 7" TFT LCD (800 x 480)
Box contents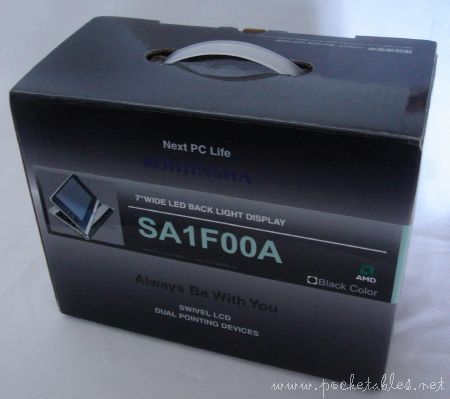 Poor SA1F00A. Sent out into the world with just the bare essentials (and a mouthful of a name).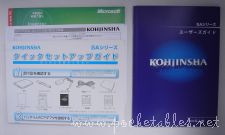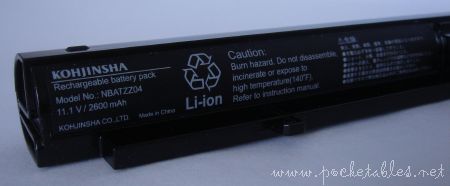 There's supposed to be some sort of slipcase, too, but mine wasn't included in the box. Tragic, really, as I love cases.
Design
The SA1F00A sports a familiar or unique design, depending on how it's classified. Smaller but average-looking convertible PC, gigantic Sharp Zaurus, or one-of-a-kind UMPC and handtop?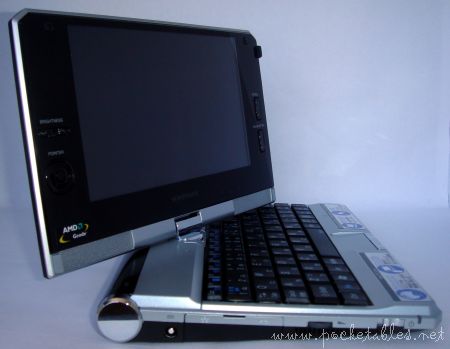 Personally, I don't think it's much to look at. Maybe if I didn't have a Sony Vaio PictureBook in 2002, which (in case you were wondering) I eventually "sold" to a drug addict who "paid" with a fraudulent check from the "American Cancer Society" (true story), I would be more impressed with the SA1F00A's small footprint, black and silver casing, and shiny elements. But I'm not.
It's certainly not unattractive, but it's missing that extra oomph that makes me say "Wow!" The bulbous battery sticking out from the back gives the device an unbalanced look and the nubbins on the top of the closed unit make it look upside down.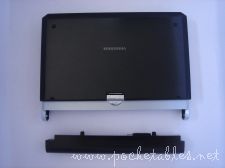 On the front are a memory card (SD and MS) expansion slot, headphone and microphone jacks, and LED indicators.

The DC-in port, covered USB 2.0 and ethernet ports, volume rocker, spring-loaded power switch, and power LED indicator (steady blue = on, blinking blue = standby) are on the left side.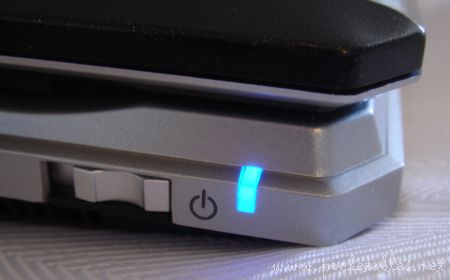 And on the right are a Compact Flash slot, VGA-out port, Kensington lock slot, and another USB 2.0 port.
Surrounding the display are well-positioned controls designed for use when the SA1F00A is in slate/UMPC mode: brightness buttons and a pointer (track stick) on the left, scroll and mouse buttons on the right.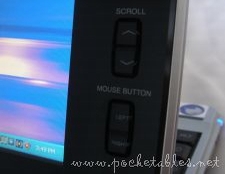 The device is sturdy and lightweight, though a bit lopsided because of the battery.
Size
You can see from the following chart why the SA1F00A reminded me of the H/PC. It may not seem fair to include the MobilePro 750C since it ran Windows CE, but physical characteristics are the actual basis of the comparison. The Toshiba and Fujitsu subnotebooks are listed just to give the Kohjinsha unit some modern context.
Model
Display
Dimensions
Weight
NEC MobilePro 750C
(1998)
8" DSTN
(640 x 240)
9.6" x 5.4" x 1.4"
1.88 lbs.
Sony Vaio PictureBook C1MV
(2001)
8.9" TFT
(1024 x 480)
  9.8" x 6.0" x 1.0"
2.2 lbs.
Toshiba Libretto U100
(2005)
7.2" TFT
(1280 x 768)
8.3" x 5.7" x 1.2"
2.1 lbs.
Fujitsu P1510D
(2006)
8.9" TFT
(1024 x 600)
9.3" x 6.6" x 1.4"
2.2 lbs.
Kohjinsha SA1F00A
(2006)
7" TFT
(800 x 480)
8.6" x 6.4" x 1.0"
2.12 lbs.
If you're a visual person, here's the device next to a dollar bill and my 12-inch iBook.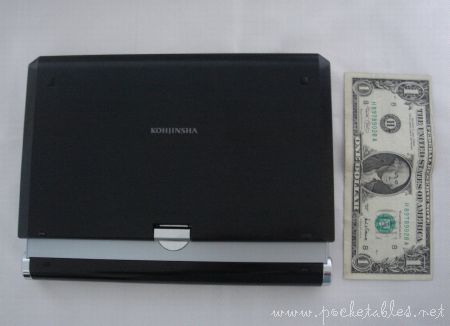 It's a really nice, travel-friendly size that fits right in with the handtops I have at home. (That's the very cute iriver D26 on the right, which only looks like a computer.)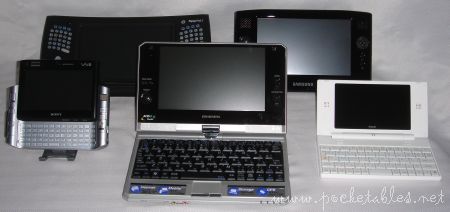 Without its keyboard, the SA1F00A is closest in size to my Samsung Q1P.

Display
The 7-inch display is LED-backlit (yay) but not touch-enabled (boo). Not being able to interact with the screen makes the unit's swiveling LCD kind of silly.
Being able to lay the screen flat like this encourages more traditional UMPC two-handed use.

But why would anyone ever do this?

Nonsense aside, the screen is bright and colorful and easy on the eyes. The 800 x 480 native resolution is not without problems, but it suits the display size and offers a nice balance between readability and clarity.
Keyboard
I had high hopes for this keyboard. High hopes. I knew I wouldn't be able to type as I do on full-sized keyboards, but I expected the experience to be leaps and bounds beyond that of, say, the Sony UX180P or OQO Model 01+.
It was a reasonable expectation, given the size of the keyboard and the "regular-looking" keys.
But my god, was I wrong!
The problem isn't the layout either, which is only slightly different from standard U.S. keyboards. Yes, some of the symbol and punctuation keys are in different places, but it doesn't take long to get used to them.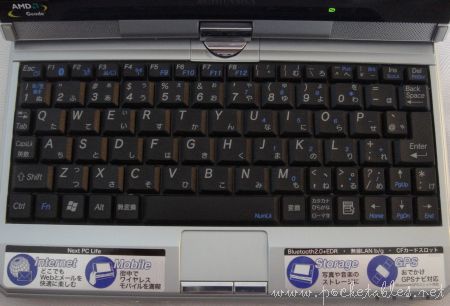 The problem is the keyboard itself. It's just not as good as it should be. Some of the keys require such deliberate jabs for the system to register them that it borders on keyboard abuse. Because of this, typing accuracy and speed are compromised.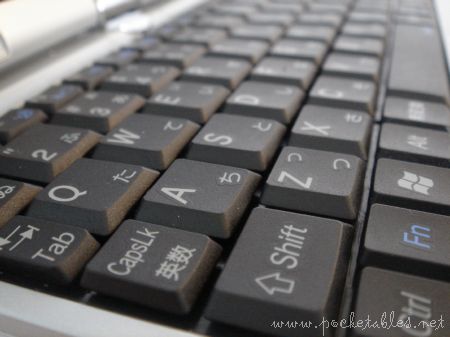 Here's a table I put together using results from TypingTest.com that lists the percentages of how quickly I can type on a handtop in relation to a full-sized keyboard. Note that the SA1F00A is listed twice, once in UMPC mode (using keyboard as a thumboard) and once in laptop mode.
Handtop
Percentage
of normal speed
DialKeys on Samsung Q1P
29% (25 wpm)
OQO Model 01+
34% (29 wpm)
Kohjinsha SA1F00A
UMPC mode
36% (31 wpm)
Sony Vaio UX180P
37% (32 wpm)
Kohjinsha SA1F00A
laptop mode
51% (44 wpm)
Pepper Pad 3
54% (46 wpm)
Taking into consideration the layout and size of the other keyboards, it's easy to understand why I'm so disappointed with the Kohjinsha keyboard.
Performance
I've mentioned time and again that 1) I'm not a power user, 2) I don't know anything about benchmarking and read/write speeds, 3) my computer needs consist of a word processor, Web browser, and incredibly light photo/video editor, and 4) I don't use my computer as a media center. So I won't repeat any of that here.
Productivity
Well, my rant about the keyboard pretty much rules out the possibility of using the SA1F00A to get a significant amount of work (i.e., writing) done.
The processor is the same one used in the Raon Digital Vega, so it's a capable machine. Again, though, my requirements are weak and flimsy compared to hardcore techies who feel seconds the way most people feel minutes. Having said that, I didn't notice any unusual lag time when launching applications. Not anything out of the ordinary anyway.
My primary computer is the UX180P hooked up to an external monitor, so I can easily see myself using the SAF100A in the same way. The unit can drive a monitor up to 1600 x 1200, which is more than enough for me and my little 17-incher, and the quality is fine.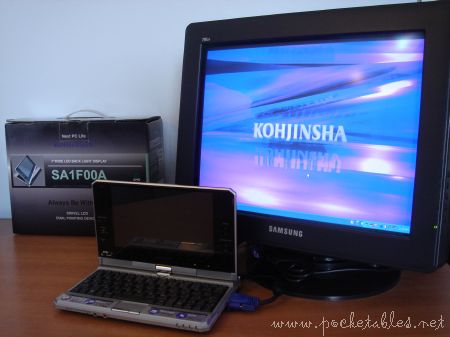 Internet
The Web-browsing experience on the SA1F00A is pleasant, with the option to use either the trackpad below the keyboard or the controls surrounding the LCD for navigation. Both are responsive and easy enough to control. The pointer/track stick, in particular, is quite good.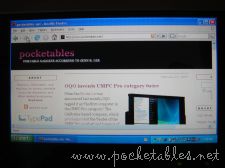 The scroll buttons on the right side of the LCD are a bit clunky compared to the lovely scroll wheel on the Pepper Pad 3, but they're good for getting through large chunks of material quickly.
Multimedia
Using a computer for multimedia entertainment doesn't really fit into my gripe about convergence because I know that nearly everyone listens to music and watches movies on it, but I don't. Not regularly, anyway, and not on my own accord. I'll do it for testing purposes but that's about it.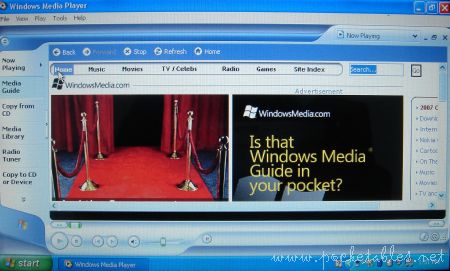 But if you're so inclined, the SA1F00A does a fine job at performing its multimedia tasks. It runs Windows XP Home, so the sky's basically the limit as far as codecs and Flash and DirectX are concerned.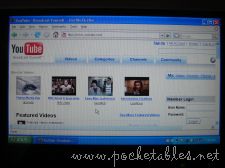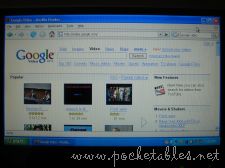 There's a lot of good information about video performance here.
Other
The Fn key greatly improves general usability of the SA1F00A. Used in combination with the Esc and F1-F4 keys, the Fn key enables quick and easy access to resolution switching, Bluetooth, hibernation, LCD/external monitor switching, and Wi-Fi.
It's fantastic because it's like having dedicated hardware buttons for commonly used functions. The resolution and LCD/monitor switching functions require "press and hold" to work, but the others are almost instant. The Bluetooth and Wi-Fi indicators beneath the display glow green when the radios are on.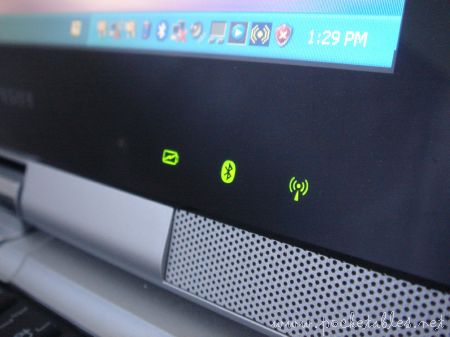 Comfort
I don't use a rating system in my reviews, but if I did, I'd give the SA1F00A a 6 out of 10 for comfort and ergonomics.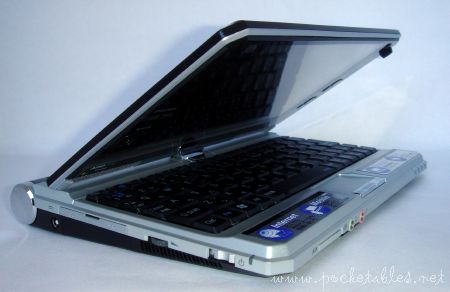 It's sort of in a no-man's land. The form factor begs for laptop-mode use, but the keyboard is too cramped and the device in general is too narrow for it. I can't rest the unit on my lap or set it up on a table for even an hour before my forearms and fingers are aching. Using the keyboard as a thumboard is a masochistic activity, but I do like the responsive touchpad and mouse buttons below it.
UMPC mode doesn't fare much better because of the lack of a touchscreen and the bulging battery that makes the handtop feel bottom-heavy. On a positive note, the controls flanking the display are well positioned and easy to reach.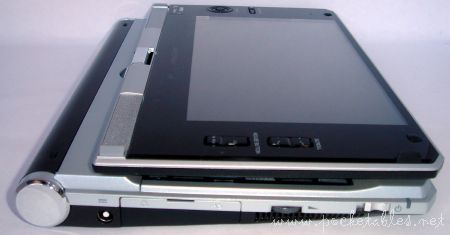 Battery life
The standard 2600 mAh lithium-ion battery is rated at 5 hours of battery life, though under what conditions is unclear. I'm not keen to ever perform as many battery tests as I did for the UX180P, but based on regular use of the SA1F00A over the past month, I'd say that number is closer to about 3 hours with Wi-Fi on, Bluetooth off, and screen brightness at its middle setting.
Conclusion
I feel . . . conflicted about the Kohjinsha SA1F00A. On paper, it sounds great: convertible clamshell, super compact notebook, Windows XP, expansion options galore, attractive display, and instant access to commonly used features (via Fn key). The unit delivers on some of its promises and offers above-average battery life (compared to other handtops) to boot.
Unfortunately, it comes up short in other areas. The lack of a touchscreen and a subpar keyboard, for example, are major shortcomings. I can overlook the screen, but I really can't get past the keyboard. It just doesn't justify the bulk it adds to the $1K device. It's obviously fine for short notes, user IDs, and passwords, but my god, even DialKeys is (sort of) acceptable for that.
Kohjinsha also offers an 80GB model in black (SAF100B) and white (SAF100D), but storage capacity isn't the SAF100A's Achilles' heel.
This article is part of the Quick Takes series. Quick Takes are based on short-term usage of various gadgets provided by Dynamism, the best place to find next-generation notebooks and consumer electronics from Japan and around the world.