Sony Vaio UX around the world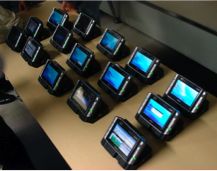 Keeping track of all of the new micro PCs joining Sony's UX lineup is no easy task, particularly because the company has a nasty habit of assigning different model numbers to what is essentially the same device. Depending on which country you call home, the exact numbers and letters following the standard "VGN-UX" label in other parts of the world matter very little. In fact, they may not matter at all. Maybe it is only in my quest to create a basic yet comprehensive chart of all the UXs ever made that they actually matter a whole lot.
While trying to pinpoint the release date of the UX27GN tonight, I came across VAIO Online, which is a portal to official Vaio sites/pages from around the world that helped me make the following table.
The specs will be in my chart-in-progress (UPDATE 2/21: View the completed chart here), but for now here's a list of the models currently available worldwide (excluding the U.S., Europe, and Japan). Sony may have other headquarters, but nowhere else is listed at VAIO Online. Note: U.S. prices provided by this currency calculator.
Model Number
Market
Price (USD)
VGN-UX17GP
Australia
$1,888
VGN-UX27CN
China
$2,194
VGN-UX27GN
Hong Kong
$1,907
VGN-UX17GP
India
$2,277
Not available
Indonesia
N/A
VGN-UX17LP
Korea
$2,243
VGN-UX17GP
Malaysia
$2,173
VGN-UX17GP
New Zealand
$2,092
VGN-UX17GP
Saudi Arabia
Unknown
VGN-UX27GN
Singapore
$2,285
Not available
South Africa
N/A
VGN-UX17TP
Taiwan
$1,664
VGN-UX27SN
Thailand
$2,107
VGN-UX17GP
United Arab
Emirates
Unknown
You can see that there are basically just two models: the UX17 (Windows XP) and the UX27 (Windows Vista). What do the last two letters mean? Sometimes they seem to indicate the country ("CN," for example, obviously means China), but for the most part they're rather arbitrary. For example, what's the significance of "GP" in Australia, India, Malaysia, New Zealand, Saudi Arabia, and the UAE?