Sony Vaio UX Micro PC series keeps growing
Several weeks ago, Sony quietly began selling the UX380N, not to be confused with the UX390N (also called the UX Premium), which is essentially the U.S. version of the UX1XN. Other than the UX380N's 40GB hard drive and silver casing, it is identical to the UX390N.
Now, I don't know about you, but I can barely keep all of this straight. The UX380N is, after all, what I think is the eleventh micro PC that Sony has released within the past year.
Eleventh?
Maybe there's more, but that's the number I get:
UX180P
UX280P
UX380N
UX390N
UX50
UX90
UX71
UX91S
UX91NS
UX1XN
UX17GP
UPDATE 2/20: There are in fact more models. Well, more model numbers anyway. Have a look at the global chart I made that lists the current UXs available in other parts of the world. Japan, Europe, and the U.S. are not included because their models are listed above.
I'm still working on a simple chart that will make it easier to tell all the UXs apart. In the meantime, though, check out this handy comparison table; it isn't 100% complete, but it's still incredibly comprehensive.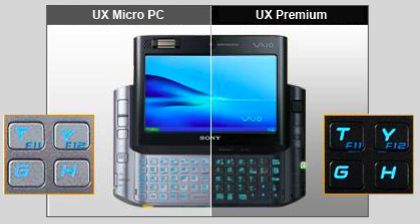 UPDATE 2/21: View the completed chart here.