Beat Mini USB portable gamepad
Here's a nice little solution for computer gamers who are interested in using a UMPC or other handtop as an on-the-go gaming system (processor issues notwithstanding). DICOTA's upcoming Beat Mini Gamepad is a USB-powered game controller that folds in half to a super compact 1.9-inch square that weighs just 1.8 ounces.
Unfolded (shown below), the rubberized controller measures 3.9 x 1.9 x 0.5 inches and is equipped with vibrating feedback technology that I, personally, could live without. Maybe this has been greatly improved over the years, but based on the old Rumble Pack for the Nintento 64 console, buzzing hands don't make me feel like I'm actually behind the wheel racing against Mario on the Star Cup track.
The USB cable is retractable and appears to be removable from the Beat Mini, which will retail for about $30 when it hits (European?) stores in June.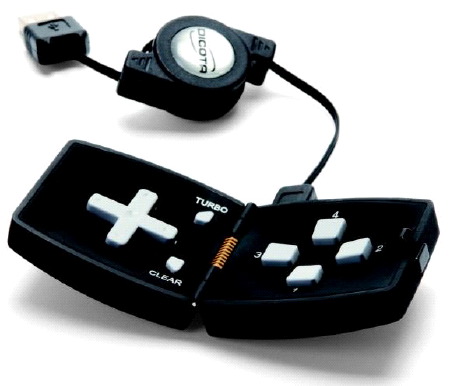 [
Coolest Gadgets
]