Several months after iriver released its superb S10 digital audio player (DAP), it announced the player's younger, less-abled, weird-looking sibling: the S7.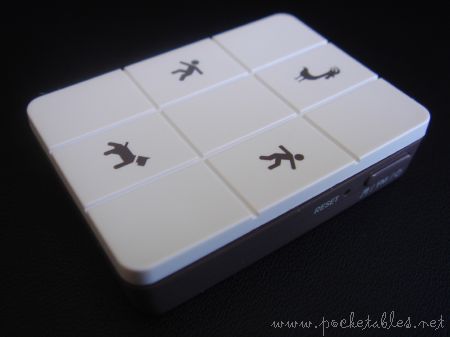 Obviously a step (three steps?) down from the S10, the S7 is said by some to be iriver's answer to the 2G iPod Shuffle. The comparison is reasonable, as both players max out at 1GB, lack a screen, bear similar dimensions, and are priced at about $80. The S7, however, has an FM tuner, supports the audiophile's favorite Ogg Vorbis codec, and doesn't require the use of any software. The Shuffle has its own set of advantages, of course, but what follows is a review of the iriver S7.
System specifications
| | |
| --- | --- |
| Capacity: | 1GB |
| Supported audio: | MP3, WMA, Ogg Vorbis, ASF |
| Extras: | FM tuner, removable disk |
| Dimensions: | 1.65" x 1.18" x 0.38" |
| Weight: |   0.53 ounces |
Packaging
The most notable feature of the S7's packaging is probably the color of the box: sky blue with mostly (cloud) white lettering. Riveting.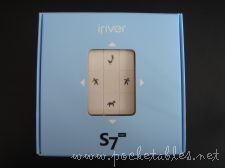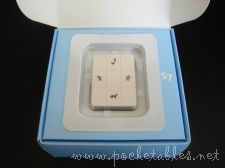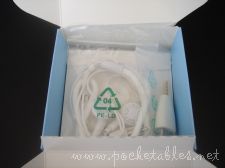 The presentation is simple and clean, but it doesn't make for a particularly memorable unboxing.
Box contents
The accessories included with the player are identical to those bundled with the S10.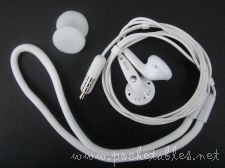 Nothing special. Just earphones attached to (and removable from) a white cotton lanyard, iriver plus 3 music management software on a mini CD-ROM, user's guides in various languages, and a mini USB adapter for charging and connecting the player to a computer.
Design
The S7 is definitely one strange-looking DAP.
It's difficult to isolate exactly which element is most puzzling: the mocha color scheme, the 3 x 3 grid, or the rooster/dog/man icons. Maybe it's the combination of all three. I don't know about you, but my initial reaction was yuck!
Perhaps anticipating this kind of reaction, iriver released a series of adhesive skins that can be affixed to the face of the player. The stickers are sold in sheets of six and the only place I know of that sells them is Warehouse123 ($10/sheet).
None of the skins appeal to me personally; in fact, some would look rather hideous paired with brown. I'm not sure if they're easily removable and/or reusable, but it's nice that you don't have to be stuck with the player's design if you don't want to be.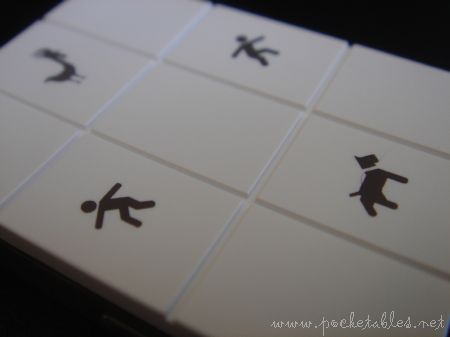 I don't see the aesthetic value of the tiled effect on the S7, but I do have a couple of tidbits to share about the color scheme and bewildering set of icons. I can't find any other confirmation of this, but according to iMP3, iriver's S7 marketing campaign included the tagline "Music. Coffee. Chocolate." Why? I have no idea, but it's enough to explain the cappuccino-colored top and chocolatey bottom.
Then there's the matter of the icons. This is what I see: a slightly mythical-looking rooster, a Scottish Terrier marking his territory, and two men who can't run as quickly as they'd like to because one of their legs is horribly swollen.
The men are actually self-explanatory in an abnormal sort of way. The man facing to the right is going forward and the man facing to the left is going backward: next track and previous track when listening to music, scan up and scan down when listening to the radio. Got it. But what's with the rooster (volume up) and the dog (volume down)? One explanation is that the volume controls correspond to a rooster's loud crow and a dog's quiet . . . um . . . relief. I guess "quiet as a mouse" isn't a universal saying. I came across another explanation that makes sense in theory, but doesn't take into account basic geography:
In Singapore, chicken is pronounced as "Kay," which in the common Hokkien language means "Increase" or "Add." When a dog raises its leg, it is usually termed as "Shhhhh."
While I don't doubt that this is true, iriver is based in Korea.
Size
It probably won't be long before this changes, but as of today, the S7 is definitely one of the smallest DAPs on the market.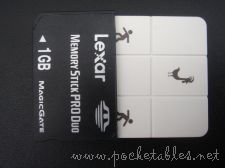 It's actually about the same size as its sibling, the iriver S10, though just a hair thinner.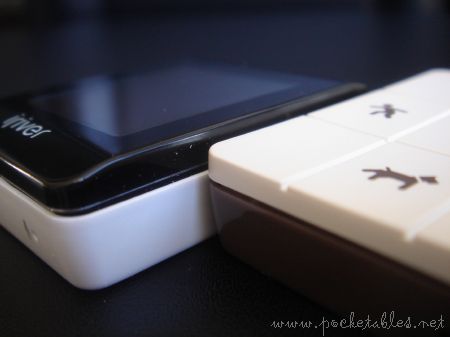 Controls
The player uses iriver's well-received and straightforward D-Click interface, which means that the edges (or in th is case, the icons) of the S7 are used to control playback.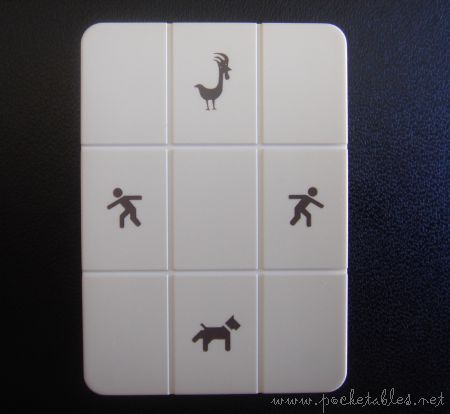 As mentioned above, volume is controlled by the rooster and dog and navigation is handled by the two men. A quick press on the men plays the next/previous track or changes the FM frequency, while a press-and-hold fast-forwards/rewinds a track or scans to the next/previous available station.
At the top of the S7 is the dual-purpose headphone and mini USB adapter jack, as well as the top half of the lanyard loop.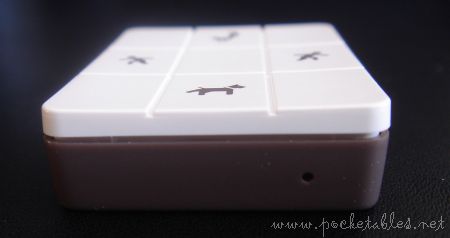 On the bottom is the LED, the color of which indicates what the player is doing: green for power on, full charge, and switching to the FM radio; red for power off, charging, switching to music playback, and transferring content.
A reset pinhole and music/radio/power button are on the right side of the player. Switching between music playback and the radio is done with a quick press of the button; turning the player on/off requires a press-and-hold.
The left side houses the Shuffle and SRS buttons, which are used to activate (quick press) and deactivate (press-and-hold) the shuffle playback mode and SRS 3D sound effects during music playback. When listening to the radio, the buttons are used to move between preset stations. Pressing and holding both buttons together (de)activates the player's hold function. Disconnecting the headphones automatically puts the S7 in hold mode, too.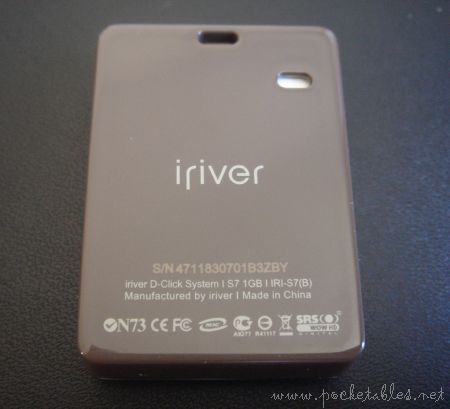 Just like on the S10, the back of S7 features the bottom half of the lanyard loop and a notch for the earphone plug to snap into place.
Audio
I don't have professional audio analysis data to back this up, but my ears are convinced that iriver produces DAPs with amazing (possibly even the best) sound quality.
Transferring music
One of my favorite features about iriver players is their UMS/MSC compliance, which is really just an acronym-filled way of saying that the S7 supports standard drag-and-drop on both PCs and Macs.
Just plug the player into your computer's USB 2.0 port and drag up to 1,000 music files into pre-existing or newly created folders. The S7 can recognize 400 folders (8 depths): an absurd amount for a device that maxes out at 1GB. Files can also be stored loose (i.e., not in folders), but that can quickly become an unorganized mess so I wouldn't recommend doing it.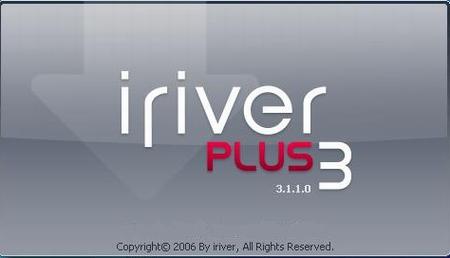 A fuller-featured alternative to the drag-and-drop method is the iriver plus 3 software included with the player.

Although using the program is certainly optional, its advantages include being able to save radio stations (20 presets available), customize SRS WOW HD options, change music playback order, and upgrade the firmware. Basically, then, to use the S7 to its fullest, you have to use the software.

If you're anti-software, however, rest assured that the current crop of players are shipped with the latest firmware.
Playing music
There's only so much you can do on a player without a screen. Turning the S7 on automatically resumes whatever you were doing last (listening to the radio or your music library) and then it's up to you and the rooster, dog, and men to control the music.  For whatever reason, iriver didn't equip the player with a pause or stop function.
The SRS and shuffle options are nice, but annoying. Because there aren't any visual cues, you're forced to listen to beeps to keep track of what's going on. Single beeps accompany just about every function: activating SRS, deactivating SRS, activating shuffle, deactivating shuffle, turning on the player, turning off the player. Double beeps indicate an error and triple beeps mean the battery is dead.
Listening to music
The S7 is one of only a few iriver devices to utilize SRS WOW HD audio enhancement technology, which according to Tech News Watch "creates a wide and full sound stage with deep rich bass and adds a definition control for realistic clarity and significantly enhanced sound quality."
The SRS WOW HD settings are fully customizable, but tweaking requires use of the software. Unless you know exactly how you like your settings (I don't), testing out different values is very annoying. Here's the process: plug in the S7, launch iriver plus 3, change the SRS options, click "Save to Portable Device," unplug the S7, plug in your headphones, play a song. Don't like what hear? Repeat all the steps . . . again and again until you get it to your liking.
For me, then, SRS isn't worth the trouble. I do notice a difference in sound quality, but everything sounds cleaner without it.
Extras
The amount and type of extras on the S7 are obviously limited to features that don't require a screen.
FM tuner
I appreciate the addition of an FM tuner, but it's not incredibly useful when you don't know what station you're on and can't easily find what you're looking for. If you only listen to a single station, then it's fine, but if you're impatient and like to station-surf, then it's not so great because you either have to wait for the DJ to mention the station's name or keep a mental count of how many times you press the Shuffle and SRS buttons (when using presets) and/or the men icons (when not using presets) to get to where you want to go.
Having to use the software to set up the FM presets is really clunky.  There isn't any sort of scanning feature, so the frequencies need to be input manually. Good luck if you're in a new city or state.
Aside from all of that nonsense, though, reception (in Honolulu) is excellent using a pair of Sennheiser CX300S as the antenna.
Removable disk
1GB isn't much, but the S7 can be used as a USB thumb drive to shuttle various files and documents between computers.
The player is compatible with Macs and PCs and is automatically recognized by both as a removable storage device.
Battery life
You know, for a DAP without a screen, battery life is kind of pathetic. The non-removable lithium polymer charges quickly via USB (1 hour for 80% charge, 1 .5 hours for full charge) and is rated at a meager 9 hours for 128kbps MP3 files. "Up to approx. 34 hours of music using Windows Media format at 64kbps" is printed on the box, but let's be realistic: no one listens to WMA (and if you do, I hope your files are higher than 64kbps).
In my tests shuffling 192kbps MP3s at what I assume was mid-volume (another pitfall of a screenless player), I got 8 hours, 55 minutes of continuous music. Certainly enough for a full day of work, but still pretty paltry by today's standards.
Conclusion
Based solely on sound quality, the iriver S7 is an entry-level DAP I would readily recommend to just about anyone. Throw aesthetics and usability into the mix, however, and I'd be a bit more selective with my recommendation. People unfamiliar with the D-Click navigational system may be put off by the icons, which are far from being user-friendly, and by the fact that iriver plus 3 is required to get the most out of the FM tuner (which has no business being on a screenless DAP in the first place) and SRS settings.
On paper, the S7 looks like a formidable contender to the 2G iPod Shuffle. It actually offers more bang for the buck, but the FM tuner's crippled implementation, player's unusual design, and unimpressive battery life make it a weak competitor in an Apple-dominated market. Whereas iriver made a tremendous splash with the S10, I can barely detect a ripple with the S7.
The player hasn't been officially released by iriver in the U.S. (yet), but it can still be purchased from the iriver store, Warehouse123, eBay, and other online retailers.