Sony PSP2 coming in late 2007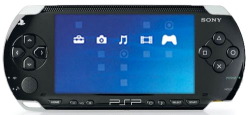 The little set of rumors about the next-generation Sony PSP from last October have resurfaced today, this time backed by Kotaku's "highly placed sources." The redesigned PSP2 is expected to make its first appearance at E3 this summer (with a subsequent Q4 launch) sporting better buttons, 8GB internal flash memory, and possibly a touchscreen and built-in camera. Loading times from UMDs are said to be faster and the screen is being called "gorgeous" (it's already stunning with its current 480 x 272 resolution and 16.7 million colors, so I don't know how much better it could really be).
It'll be a few months before any of the rumors are confirmed as fact or dismissed as utter nonsense, but I'm not ready to jump on board just yet. After all, weren't we supposed to see the new PSP this spring?