20GB Sharp RD-CX300 e-dictionary
It may not be an e-dictionary with wi-fi capabilities, but Sharp's upcoming RD-CX300 does one-up every other multimedia super dictionary out there with its 20GB hard drive. An update to the 2GB RD-CX200, the new and slightly thicker device features a 4.3" TFT 260K-color display, QWERTY keyboard, SD card slot, MPEG4/WMV playback, FM radio, MP3 player, e-book viewer, Flash support, and voice recorder. Based on Sharp's other devices, I wouldn't be surprised if Linux was somewhere beneath that red and gray casing, too.
Due out in Korea later this month for about $500, the RD-CX300 measures 5.3" x 3.9" x 1.2" and weighs 12.4 ounces (bigger and heavier than its now defunct Zaurus series).
I couldn't find any other pictures of the CX300, but with the exception of the color and a 0.3" difference in thickness, I'm guessing that it looks exactly like the CX200. And the CX200 looks like this: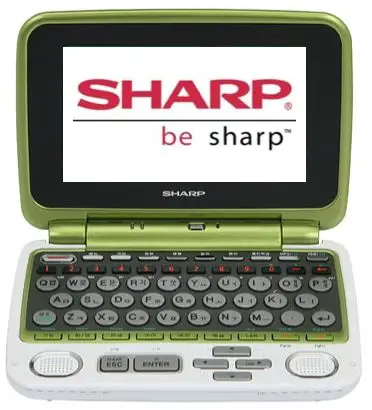 Not the most beautiful gadget around, but a 20GB hard drive is impressive for something like this. It's practically a step (and a full-blown OS) away from being a FlipStart. Well okay, not really, but if you consider this and the Nurian Z1 as defining a new generation of e-dictionaries, you can see that it probably won't be long before they're all nearly indistinguishable.
[
Sharp Korea
]