Medion UMPC gets a makeover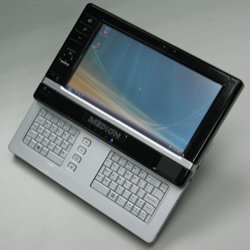 Hmm. It looks like cosmetic surgery may be at least partly to blame for the inordinately delayed release of the Medion UMPC (is it still called the MD RIM 1000?). Perhaps all the other rebranded Arima devices making headlines this year have caused the 1GHz VIA C7-M unit to doubt itself, worried that it would be in the shadows of the Haier X6 or Gigabyte U60. To stand out from the pack, then, the $999 Medion UMPC has gone under the knife and is now sporting a shiny silver band beneath its 6.5" display and some new buttons. The U.S. product page hasn't been updated with the unit's new look, but that may not matter since the device is still listed as being out of stock.
Even though I think the redesign is an improvement, it's pretty irresponsible of Medion to accept preorders for something that looks one way and then ship something that looks another.
[
ultramobilelife
]