Anyone who thinks iriver isn't a formidable force in the DAP/PMP market obviously hasn't met the clix 2 (also known as 2G clix, clix2, clix, and clix gen 2), the recently improved and dare I say nearly perfect upgrade to last year's clix.
Although iriver isn't as well known or commercially successful as some of its competitors, it's still among the leaders in creating and adopting new technologies to keep the DAP world fresh and exciting. The clix 2 is proof of this, combining iriver's innovative D-Click navigation system with a completely user-customizable Flash interface and 2.2-inch AMOLED display unlike any other on the market.
Warning: Excessive scrolling ahead.
System specifications
 Capacities:

2GB, 4GB, 8GB
Supported audio:

MP3, WMA, WMA-DRM, WAV, Ogg Vorbis, Audible
Supported video:

AVI (MPEG4-SP): 320 x 240, 2Mbps, under 30 fps
WMV: 320 x 240, 768kbps, under 30 fps
Supported photo:

Baseline JPG
Extras:

Flash games, FM radio & recorder, voice recorder,
text viewer, alarm clock, removable disk
Display: 
2.2" AMOLED (320 x 240, 260K colors)
Dimensions: 
3.16" x 1.84" x 0.51"
Weight: 
1.9 ounces (battery included)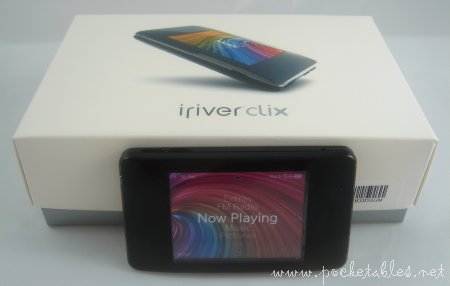 Check out my unboxing gallery to see the player's packaging and included accessory bundle. The bundle is unimpressive, but the list of optional accessories is growing. (UPDATE: Take a look at my reviews of the official iriver clix 2 cradle and a luxurious leather case from Noreve.)
Design
The iriver clix 2 has a clean and simple look with round corners, a slightly curved and incredibly glossy face, and a center groove/separation that makes it look as though you can open player like a tin of mints or a compact mirror.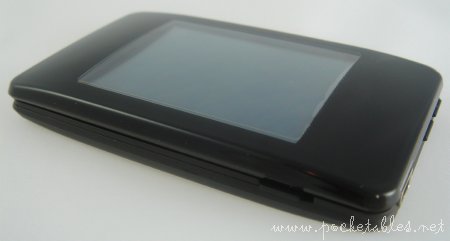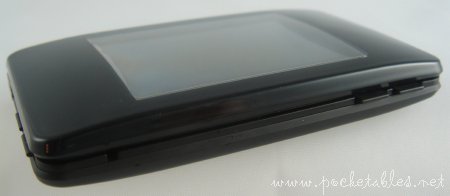 The player is lightweight and nicely crafted out of what I assume is high-quality plastic. Build quality in general is excellent: nothing feels like it's going to crack or break and the top bezel is attached securely while still allowing enough "give" for the D-Click navigation system (more on this later) to function properly. The device fits comfortably in the hand with no pointed edges or palm-jabbing protrusions.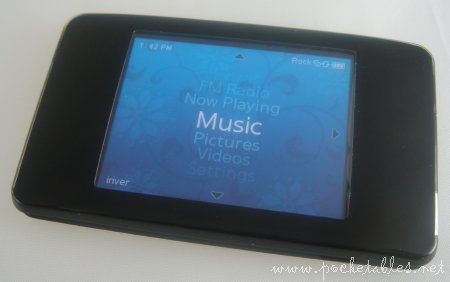 Note: Those are air bubbles beneath the preapplied screen protector on the right; I didn't notice them or realize they could be pressed out until after I took all the pictures.
Size
Even though I knew the dimensions of the player before I bought it, I was still surprised by its size and thickness.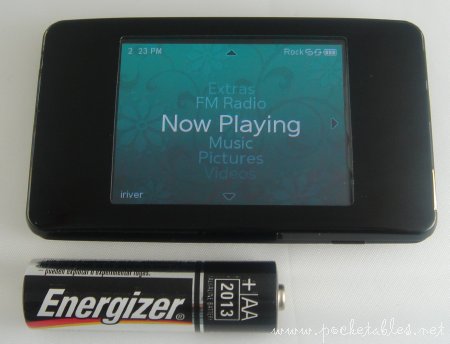 Here are some shots of the player beside the super tiny iriver S10 (obvious they're related, huh?).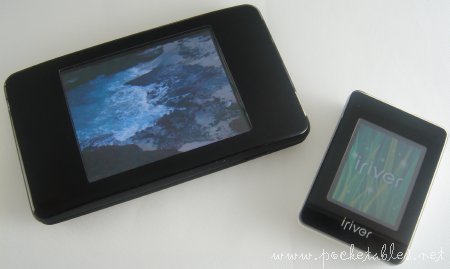 The clix 2 isn't the smallest or the thinnest flash player on the market, but honestly, size shouldn't be coveted over quality anyway. I really don't understand the hype over paper-thin devices when their feature sets are unimpressive.
Iriver's biggest competitors in the flash DAP market are Apple, Creative, and SanDisk, who all make 2GB, 4GB, and 8GB players with similar (albeit fewer) features.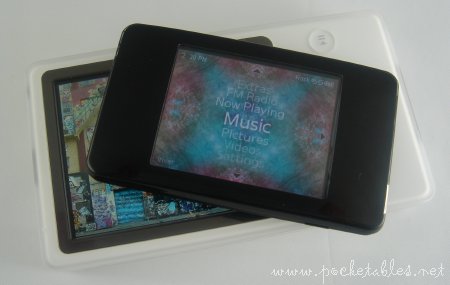 Controls
The clix 2, like the S10 and S7, uses iriver's innovative D-Click system for navigation.
What this means is that the four edges of the player's screen are "clickable" and act as a directional pad. When relevant, various text and icons appear on the display to indicate what action will be performed when clicking on a particular edge. There's no visual guide to let you know what'll happen when you press and hold an edge, but holding the right edge usually brings up a context menu and the left takes you back to the home screen.
You may have noticed that iriver didn't print its logo (or anything else) on the face of the player. I assume the clix 2 was an exercise in minimalism because all of the candy-sprinkle-looking buttons are sans print, too. Well, actually that's not true. The controls are labeled . . . but on the back. It doesn't take long to commit the functions to memory, but it's a bit strange.

Even stranger is that the volume controls on the top of the device are backwards. They look normal when the player is on its face, but when the screen is facing you (i.e., when you're using it), "volume up" is on the left and "volume down" is on the right. This isn't an issue when the clix 2 is in portrait mode, but then your hand is covering the mic on the opposite end. Give and take, I guess.
On the right side of the player are the USB 2.0 port, smart key (a shortcut button that can be assigned one of seven functions: A-B repeat, home, play/pause, shuffle all, display orientation, start/stop voice recording, display on/off), and power button, which can be set to turn the player off completely (slower start-up, no battery drain) or put it into sleep mode (faster start-up, some battery drain).

The headphone jack and reset pinhole are on the left.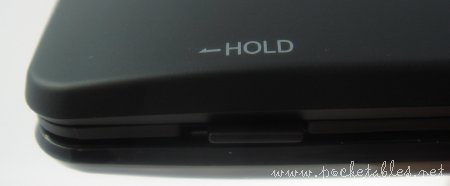 And nothing but a sliding hold switch is on the bottom.
Display
Unlike with any of its other players, iriver has chosen to outfit the clix 2 with an active-matrix OLED (AMOLED) display. This relatively new kind of screen offers unlimited viewing angles and vibrant color reproduction, and is also thinner, brighter, and more energy efficient than a traditional LCD. The clix 2 has three brightness settings (low, medium, high), a backlight that can be set to turn off in as little as 5 seconds to as many as 30 minutes, and an auto power off function.
Believe me, even if you try really hard to fight it, the word "wow" followed by at least two exclamation points will come out of your mouth and your heart will skip a beat. I think that's why iriver didn't opt for a larger screen. Laboratory tests must have proven that a 2.2-inch AMOLED is all a person's heart can take; anything bigger than that is too much of a liability.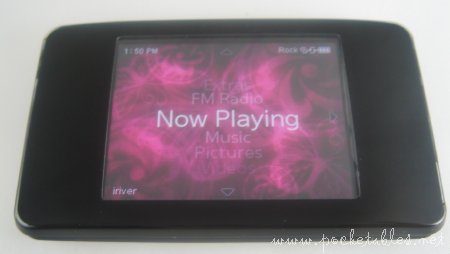 Seriously though, the screen is exquisite. You have to see it to believe it.
But why couldn't it be a bit bigger? There's plenty of space on either side of the AMOLED that could've been put to fine use. Even a 2.5-inch display would reduce some of the eyestrain caused by staring at the screen for too long (which can't be helped given its mesmerizing beauty). I watched several full-length movies without much consequence, but just a few minutes of playing some of the more visually complex games (e.g, FreeCell and Sudoku) had my eyes protesting in discomfort.
The clix 2 is designed to be used in landscape mode, but the display can also be rotated (in one direction only) to enable portrait-mode use. Videos, games, and photos are fixed in their landscape orientations, but text and the controls rotate with no problem.
User interface
One of the most amazing (and commonly overlooked) elements of the clix 2 is its Flash-based user interface (UI). Not only are transitions smooth and backgrounds animated, but the UI is completely customizable. And I'm not talking "ooh, we can set this photo as wallpaper" personalization here. I mean using Flash CS3 Pro (or similar) to design your own themes, including fonts, images, and icons, from scratch. The resulting SWF files are dragged and dropped into the player's "Themes" folder and can be applied at will. More complex themes slow down the GUI's responsiveness ever so slightly, but I think it's well worth it.
You can check out and download a few user-created themes here. If none of them strike your fancy and this tutorial is too daunting, don't worry; iriver has you covered with six of its own.
A nice feature of all the themes is that each comes with its own set of seven wallpapers. The backgrounds, as you can see below, are variations of the theme and can be set to change according to the day of the week. Even with this added layer of customization, file sizes are still quite small. The eight themes I have on my player take up only 3.9MB of space.
If you like a particular theme but don't like iriver's basic font, just connect the clix 2 to a computer and drag and drop your favorite TrueType one (free fonts are readily available online). The five fonts I loaded onto the player total only 521KB.
I don't know the exact height of each text field, but not all typefaces will fit perfectly. Look at the Papyrus font above (bottom right) to see what I mean.
Most of the player's UI is consistent and straightforward, but there are a few clunky bits that could be reworked. For example, selecting a particular font or theme only temporarily replaces the current font or theme. You need to actually go back into the system and click the "Save UCI" option to make your change stick so that turning the player off won't erase your choice.
So let's say you want to change both the theme and the font. Here's what you need to do:
From the home screen, go to Settings –> Display –> Theme –> choose your theme.
Clicking on any theme automatically takes you back home, where your change has been applied but not saved.
Then from the home screen, go to Settings –> Display –> Fonts –> choose your font.
Clicking on any font automatically takes you back home, where your change has again been applied but not saved.
Now go to Settings –> Display –> Save UCI.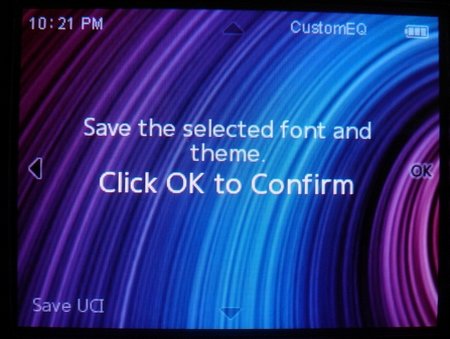 Isn't that an unnecessarily complicated process? Selecting a theme or font should automatically save it, just like when you're changing the date and time.
D-Click
An integral part of the clix 2's UI is the D-Click system mentioned in the "Controls" section above. It's easy to learn and use but better suited for two-handed use, which some people may not like. In addition, clicking the top edge of the screen requires a slightly awkward thumb stretch when the player is in landscape mode and a complete shift in hand position when in portrait mode. A workaround to this is to click the bottom edge repeatedly (or hold it down) to get back to the top of the menu. This works well for the home screen and settings menus, but it's obviously problematic for scrolling through large music and photo collections.
There's also the smudgy matter of fingerprints. They wipe off easily enough, but they make the device something you can't just use and then hand to a friend to use. Well, you can, but I think it's gross to touch something clouded over by someone else's oily fingers.
Transferring content
Because the clix 2 is both MSC/UMS and MTP compliant, there a re essentially no limits to how media can be transferred from a computer. Before adding content to the player for the first time, however, it's best to decide which connection mode you'd always like to use. Switching between MSC and MTP is easy (Home –> Settings –> Advanced –> Connection Type), but it involves formatting the player and therefore losing all of your content. Not fun.
I use a couple of PCs and a Mac at home, so I have my player set to MSC mode.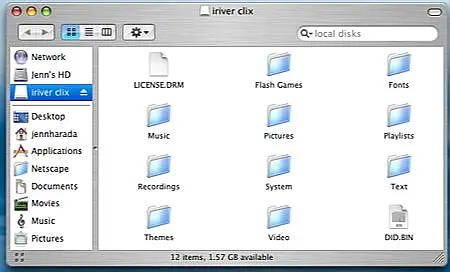 The clix 2 is immediately recognized as a removable disk drive, ready and willing to accept anything dragged and dropped into it.  I use this method to transfer all forms of media except music.
This is because the player offers two music-browsing options: database and file tree. Fine, right? Well, not really. You see, audio that's dragged and dropped onto the player can only be accessed (in the music area of the system) under the file-tree option; audio transferred using a program such as iriver plus 3 or Windows Media Player 11, on the other hand, can be accessed under both options. Not the end of the world, sure, but I made an effort to get all my ID3 tags in order and I'm going to use them. And the only way to do that is through the database browsing option. And that means I can't drag and drop music (unless I want to access it like this: Home –> Extras –> Browse Device –> Music –> look through my folders).
So for music, I use the supplied iriver plus 3, which is user-friendly and nice to look at. The application can also be used to convert and transfer videos, photos, and text files. The clix 2's manual recommends the use of iriver plus 3 for videos because "there might be troubles" with other programs, but I used iriverter and CloneDVD mobile without any issues.  I ran into problems when using anything but the supplied software with the X20, so I'm not sure why everything went so smoothly with the clix 2. I'm definitely not complaining!
Despite the warning issued in the manual, the included mini CD-ROM contains a program called Movie Converter that, from what I can tell, outputs only WMVs. I tried to use it to transcode a 700MB XviD but cancelled the process when the projected time landed on more than 2.5 hours. I  prefer apps that allow me to set the resolution and bitrate in actual numbers, not just vague "high," "medium," and "low" levels, anyway.

Despite all of that, Movie Converter looks dead-simple to use. The most difficult choice you'll be asked to make is selecting the aspect ratio.
Audio

With all the things that DAPs can do these days, it's easy to lose sight of why they exist in the first place: music.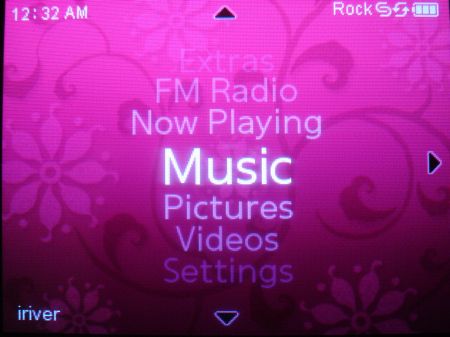 In addition to the usual round of supported formats, including Ogg Vorbis (Q1 – Q10) and music purchased from online music services (URGE, Y! Music, Rhapsody, Napster, etc.), the clix 2 can play Audible files and podcasts. I've sung the praises of iriver's supported codecs, excellent sound quality, and buffet of EQs and audio enhancements before (see here, here, and here), so I won't bore you with any more shameless gushing.
UPDATE 7.9.07: Newly partnered with RealNetworks, iriver has just released the clix Rhapsody, which is essentially just the clix 2 with comprehensively integrated Rhapsody support. The "new" 4GB player is available now for $190. Current owners of the clix 2 can take full advantage of the Rhapsody integration for free by upgrading their firmware.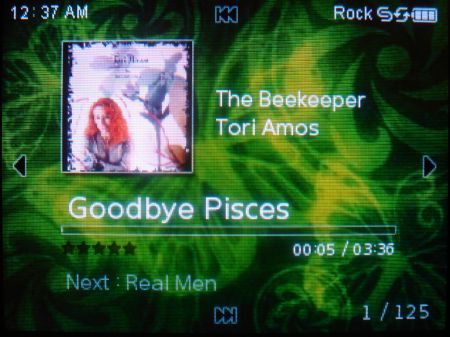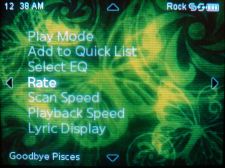 Playlists can't be created directly on the player, but tracks can be rated and then played according to their rating (e.g., all 5-star songs, all 4-star songs, etc.); depending on how you use the rating system, it could be just as good as on-the-go playlists. One thing to note is that the music browsing option has to be set to database (rather than file tree) for the "Rate" and "Add to Quick List" options to be used. Yet another strike against the file tree!
Album art isn't rendered very well, but I like that the music playback screen shows you what song is coming up next.
Like most other players, the clix 2 has a sleep timer. But unlike any other player I've ever used, this sleep timer offers the following intervals: 10 minutes, 30 minutes, 1 hour, 5 hours, and 10 hours.  If you fall asleep within 10 minutes of hitting the pillow, do you really need to listen to a couple of songs first? And if you're tossing and turning for 5 or 10 hours, you shouldn't be in bed! (I know you don't need to use a sleep timer exclusively when you're going to sleep, but it's still unusual given the more standard 30-, 60-, 90-, and 120-minute intervals.)
Video
The AMOLED display makes for an incredibly enjoyable video experience.
Even though it's pretty standard for a device of this size, I'm still a touch disappointed that the clix 2's video resolution is only 320 x 240. The player doesn't have a TV-out function and 320 x 240 is more than fine for a 2.2-inch display, but it's a hassle for me because I already have a stack of DVDs containing AVIs between 480 x 270 and 640 x 480.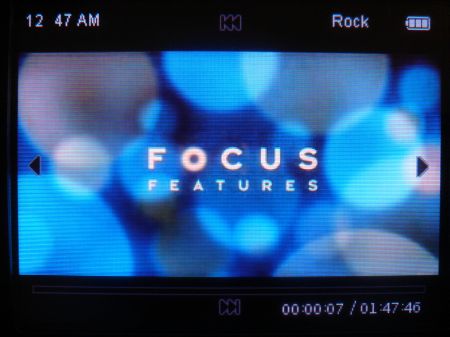 What I do like about video playback on the clix 2, aside from it being smooth and stutter-free , is the super high supported bitrate (2Mbps for AVIs, 768kbps for WMVs). A bigger screen would obviously be better, but as I mentioned earlier, I watched several full-length movies quite comfortably and happily.
Photo
I normally classify a DAP's photo options as a bonus/extra feature, but I'm making an exception with the clix 2 because of its stunning AMOLED display.
The player supports baseline JPG images up to an unspecified resolution. I tested 2048 x 1536 images and although the system couldn't give me a thumbnail preview, the pictures themselves looked great.
Photos are automatically resized to fit the screen and load time is decent if you don't mix and match resolutions too much. That is, you're likely to experience a hiccup when trying to view a 2048 x 1536 image in the midst of looking at a succession of 640 x 480 files.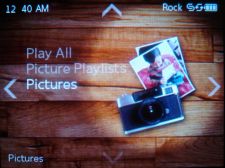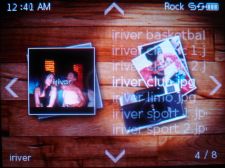 Slideshow intervals can be set at 1, 3, 5, 7, and 9 seconds, there are five transition options (plus "random" and "off" settings), and of course you can watch a slideshow while listening to music. Pictures can be set as wallpaper but cannot be rotated on screen.
Extras
The clix 2 is packed with a ton of settings (40 languages, ascending/descending sorting, horizontal scrolling speeds, etc.) and extra features. All that's missing are line-in and TV-out.
Anything else you can think of is there.
Flash games
The player ships with a handful of Flash Lite games preinstalled and more can be downloaded free from here. I'm not sure, but I think you can also develop your own games if you know how to do it. The frame rate has to be less than 15 fps and the audio needs to be in either ADPCM or MP3 format (128kbps, less than 44.1KHz).
The 10 games on my clix 2 take up just 1.4MB of space!
You can't listen to music while playing because each game has its own soundtrack, but the nature of the games is such that you don't miss hearing your own songs. The D-Click system works better for games that don't require the use of all four edges of the screen, but even ones that do are still fun to play when you've got a few minutes to spare.
The games are engaging and entertaining enough to actually want to play, but don't expect to get rid of your DS Lite or PSP or anything. My favorites are Critter Crossing (just like Frogger but with cuter animals), FreeCell, Sudoku, and Driving Range. Good stuff!
FM radio & recorder
Quite frankly, I'm getting a little bored of writing about FM radios on DAPs. Just about all players (except iPods) have a built-in tuner and recording capabilities, and there are only so many ways for a company to do it. That's why even though the radio almost always has its own place in the main menu, I always give it extra-feature status.
So there isn't anything new here: 30 presets, autoscan, save/delete preset from player, manual scanning, preset scanning, etc.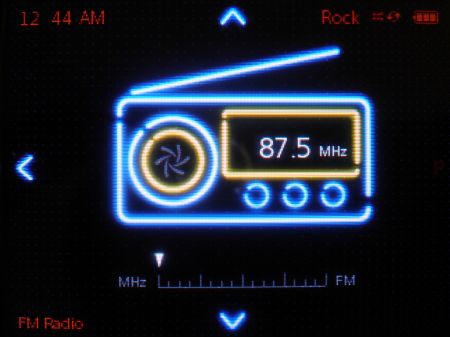 Reception is strong and clear in downtown Honolulu, where all the major stations were detected by the player's "Auto Preset" scanning feature.
One thing I don't particularly care for about the clix 2's FM feature is that recording can't be done from the radio screen. That is, when you're listening to the radio and you want to record something, you can't do it with a simple click. Instead, you need to press and hold the right edge of the player to bring up the context menu, select "Record," and then click the right edge again to start/stop the recording.
FM recordings are saved in 64kbps, 128kbps, or 192kbps MP3 format and can be accessed through the context menu of the radio screen.
Voice recorder
The fact that you can assign the smart key (the button above the USB port) to start/stop voice recording makes the feature one that I would actually use.
One of the coolest things about it is the built-in voice detector, which only records when the mic can detect sound. I don't think the clix 2 is the first player to offer this function, but it's the first time I've used it so I'm impressed.
Voice recordings are saved in 32kbps, 64kbps, or 128kbps MP3 format and can be accessed through the context menu of the recording screen.
Text viewer
Well, I wouldn't use the clix 2 as an e-book reader personally, but I guess it's nice to know that I could if I wanted to.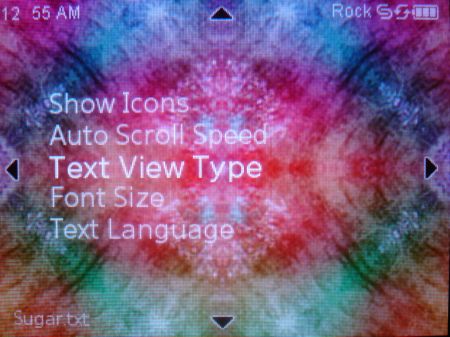 There's probably a way to fix line breaks so that words aren't split like in the example above, where I just converted a .doc to a .txt file, but it's still readable as is. Not bad for quick notes, directions, and short lists.
Alarm clock
Assuming you sleep with headphones on or keep the player plugged into external speakers (or the optional docking cradle), the player is equipped with a rather full-featured alarm clock.
You can set a one-time, daily, or quick (10, 20, 30, and 60 minutes) alarm using one of six preloaded alarm sounds, a track from your music collection, the radio, and even an FM recording at any volume level (1-40). Alarm duration can be set at anywhere between 1 minute and a ridiculous 4 hours! Wow. If it takes you hours to get out of bed in the morning, you don't need the clix 2. You need help.
Removable disk
As with all MSC/UMS devices, the clix 2 can be used as a USB flash drive across all platforms.
Battery life
Iriver rates the no n-removable lithium polymer battery at 24 hours for 128kbps MP3 playback (normal EQ, backlight off, volume 20) and 5 hours for video playback. I actually got 5.5 hours of movie time with the AMOLED set at mid brightness and the volume at 20. I didn't test the audio rating, but based on the past two weeks of using the clix 2, I'd say it's pretty spot-on.
The battery charges via USB in about 2.5 hours, which is excellent given how many hours those 2.5 gives back. The player gets slightly warm after extended use (5+ hours), but it's perceptible only if you're looking for it.
Conclusion
Before I sum it all up, here's a short video of the clix 2 in action. And don't worry. The player is connected to a set of portable speakers, so you don't have to listen to that crazy-loud background noise the whole time.
Priced to take on the iPod nano, the iriver clix 2 makes quick and dirty work of it and any other flash player from any other company out there. In fact, its most formidable rival is actually its cousin, the X20, which has a removable battery, microSD card expansion slot, and line-in function that would've made the clix 2 the most amazing and flash DAP to date.
Even without those features, the clix 2 is still the sweetest player around. Outstanding battery life, a gorgeous AMOLED display, an unprecedented user-customizable Flash UI, excellent sound quality and video playback, and an impressive assortment of extra features make the iriver clix 2 a mouth-watering treat too delicious to resist. Give in to temptation at The iriver Store.
UPDATE: 8GB clix 2 available at Amazon
.