At CES 2007 in January, iriver unveiled an impressive lineup of new flash-based digital audio and portable media players planned for release throughout the year.
Information and various images of many of them had already made their way to most tech sites, but one that managed to avoid being prematurely scooped was the X20. If iriver's plans were to keep a jewel of a player under wraps to surprise and woo attendees, the company was unsuccessful. What happened instead was that the X20 got lost, largely overshadowed by more exciting DAP sequels and wi-fi PMPs.
What a shame! Because despite the general lack of buzz surrounding the device, the X20 is certainly deserving of some time in the spotlight. And thanks to Warehouse123.com, that time is now.
System specifications
Capacities:
2GB, 4GB, 8GB
Expansion:
MicroSD card
Supported audio:
MP3 and WMA (8-320kbps), Ogg Vorbis (Q1-Q10)
Supported video:
AVI (MPEG-4 SP), WMV (320 x 240, up to 512kbps)
Extras:
Stereo speakers; photo viewer; FM radio; FM, line-in,
and voice recorder; removable disk
Display:
2.2" QVGA TFT (320 x 240, 260K colors)
Dimensions:
3.9" x 1.9" x 0.6"
Weight:
2.5 ounces
Packaging
I can't remember the last time I saw a yellow DAP box.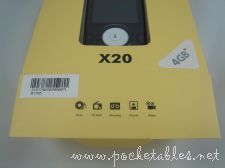 Aside from the color and size of the box, the X20's presentation is identical to that of the S7. Nothing special.
Box contents
I don't know if this is true of all its players, but based on the S7 and S10, I would guess that bundled accessories don't rank very highly on iriver's list of priorities.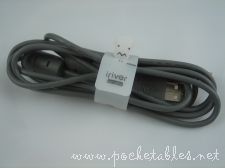 Nothing but the absolute essentials here: earphones, USB cable, software CD, and quick start guide. I always appreciate a nice case myself, but I think iriver could've at least included a line-in cable and maybe a screen protector and/or microSD card.
Design
A landscape design is something I normally associate with a PMP, not a DAP, so that's the first thing I noticed about the X20. I think it's more comfortable to hold in portrait mode, but everything about it (except the orientation of the logo) is obviously geared toward landscape use.
The player is made predominantly (completely?) out of various finished plastics, which gives it a slight toy-like look/feel yet keeps its weight down. The X20 is so light, in fact, that I didn't think the battery was installed; I actually searched the box and panicked for a minute when I didn't find it.
Fingerprint nightmare aside, it's a shame that the super glossy and relatively scratch-resistant plastic used on the face of the unit isn't used on the whole thing. It would up its sleekness factor and make it more visually appealing. The design is pretty basic in a candybar-phone sort of way, really: rectangular, rounded corners, not too thick, not too thin, etc.
The silver band gives it some texture variety, and there's also an unusual mound on the left—between what I assume are covered-up screws—that as far as I can tell is meant to act as a thumb rest.
Size
Pictures of a gadget are always deceiving enough for many to comment on how suprised they are by how big/small the device is in person. This wasn't the case for me with the X20. I just sort of shrugged and took it out of the box.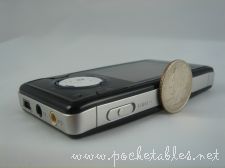 It might actually be one of the biggest flash DAPs around, but I didn't cower from its enormity or anything.
When my husband first saw it, he said it looked like a small Zune. It was never a resemblance I saw before and the similarities aren't grounds for a lawsuit, but I can see where he's coming from.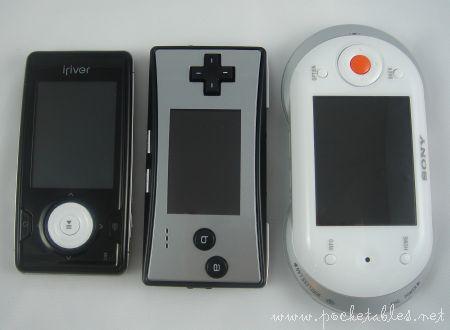 Controls
Unlike some of iriver's other players, which use the D-Click system for navigation, the X20 is equipped with a somewhat traditional set of controls.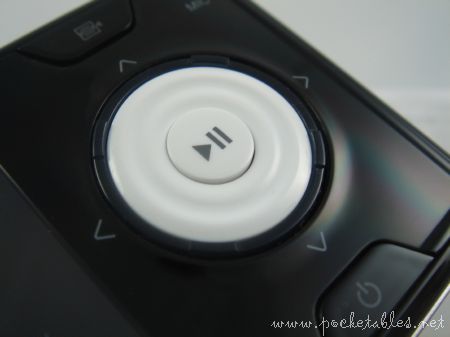 The buttons are self-explanatory: dedicated menu button to access the main menu from anywhere in the system at the top (next to the microphone); dedicated power button to turn the player on/off at the bottom.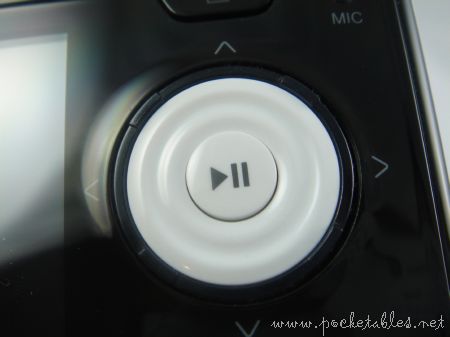 Between the buttons is the hard-to-miss white control wheel. The ridged rings surrounding the center button are reminiscent of Creative's trademark Zen ri pple but actually have more than just aesthetic value. The four directional arrows are meant to indicate where on the ring to press to perform various functions (e.g., left arrow = back to previous menu), but the entire ring is clickable so pinpoint accuracy isn't that important.
Scrolling and volume control are both handled by a thin ring bearing four notches that lights up blue and rotates/spins. Your thumb is meant to latch onto one of the notches. If you can actually hang on, the little nubbins are barely perceptible and the white ridged rings take on an iPod-clickwheel facade. It almost feels like the ridged rings are touch-enabled. The rotation is smooth, though better and more accurate for heavy scrolling than for navigating the GUI.
Dust and other debris accumulate between the ring and casing quickly and easily. It's pretty gross and almost impossible to clean, even with a gas duster/canned air (otherwise I most certainly would not have taken this picture).
On the top of the X20 is nothing but the hold switch.
And on the bottom is a microSD card slot covered by a non-removable flexible plastic door. By the way, microSD cards are really inexpensive; this 1GB card was just $10 after mail-in rebate.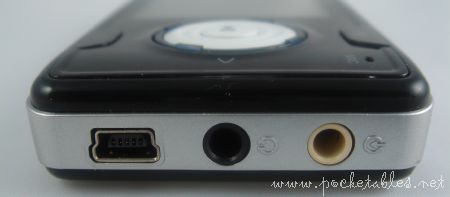 All of the ports are on the right side of the player: USB 2.0, headphone jack, line-in jack.
And the mound/thumb rest is on the left side.
On the back of the player are stereo speakers and a removable battery cover.
Display
I actually thought iriver had abandoned its use of TFT displays in favor of OLED and AMOLED ones, so the X20's TFT was a pleasant surprise.
OLEDs have less of an impact on battery life and unlimited viewing angles, but they're simply not as vibrant, crisp, or colorful as TFTs.
And that's really what the X20 display is: vibrant (there are eight brightness settings), crisp (everything, including text, is clear), and colorful (realistic and nicely saturated). I don't have my clix2 yet, so I can't comment on whether the X20 would fare better with an AMOLED instead.
The display can be rotated 180 degrees for right- and left-handed use, which is a nice touch. Too bad the button icons are only meant to be viewed by righties.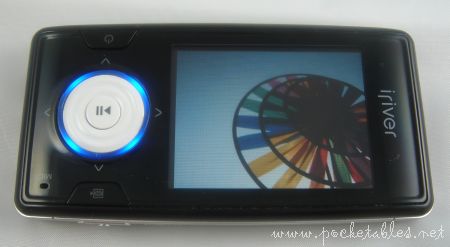 Graphical user interface (GUI)
I'm impressed by how many different GUIs iriver has come up with, as I have yet to see the same interface twice (compare clix to S10 to X20). This anomaly could be interpreted in two ways: 1) the company is a mess and can't find a system that works well on all of its players or 2) the company is innovative and tries to create a system to fit a player, not the other way around.
With the latter interpretation in mind, you can see how the X20's circular main menu meshes with the unit's circular controls. It isn't revolutionary or particularly innovative, but it's still nice and straightforward.
The color scheme is dark, somewhat moody, and permanent (no themes or wallpapers). The submenus are consistent with but not quite as polished as the main menu in terms of appearance. Except for in the music section, where ID3 tags rule all, everything is just listed alphabetically with no alternate-view options.
The GUI is responsive and easy to navigate, but if for some reason it makes you uneasy, you can sort of bypass it and use the "Browse Device" option instead.
Transferring content
The X20 supports both MSC/UMS (mass storage across platforms) and MTP (media transfer protocol for Windows only), so media can be loaded onto the player in various ways. Music, videos, and photos can be transferred via drag-and-drop, iriver plus 3 (supplied), Windows Media Player 11, and/or any number of MTP-based software such as MediaMonkey and Winamp. I couldn't get a consistent transfer rate, but it took about 4 minutes to copy a 1GB video file to the player's internal memory.
Drag-and-drop is always my first choice. Since the X20 has a built-in microSD card slot, the player's internal memory and the memory card appear as two different removable storage drives. Files can be dragged into either without incident and are listed together in the GUI (except in the "Browse Device" area, where you need to choose between internal and external memory).
I have an unreasonable and unwarranted aversion to Windows Media Player and to MTP in general, so if I absolutely had to go the software route, I would install and use iriver plus 3 without hesitation. I've used it with other iriver players before and have always been pleased with its ease of use and clean layout.
Music
I don't think iriver is regarded too highly by audiophiles, but I've always been a fan of the audio experience its players provide. The X20 is no exce ption.
The player does not support the creation of on-the-go (OTG) playlists, but the "Now Playing" feature functions in a similar way. I'm more of a whole-album listener myself, so I just rely on the system to read and sort my ID3 tags correctly, which it always does.
The "Now Playing" screen displays album art, current track info, next track title, the progress bar, clock, and battery indicator. I can't think of anything it's missing except for file specs, and that would ruin the look of the screen a bit. It would be a nice context-menu option, though.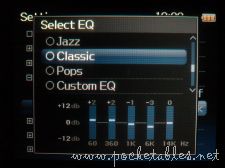 Standard play modes and a handful of EQs round out the X20's music features nicely. I didn't notice too much of a difference in sound quality using the preset EQs and I'm a moron with the custom one, but I was pleased even with the function turned off. I'm more interested in enhancing vocals than bass, which probably makes a difference in why my ears hear clear, consistent, full sound (192kbps MP3s).
There are 40 volume levels and a nice volume indicator that's activated and controlled by the mock scroll wheel (the thin ring with the blue LED). The higher levels are perfect when using the player's integrated speakers but absolutely deafening through headphones. I like levels 6-10 with my Sennheiser CX300S IEMs.
Video
My review unit came preloaded with three video clips that, according to the GSpot codec app, were 305kbps, 485kbps, and 537kbps XviD files (320 x 240) running at 30 frames per second (fps). Since one of the videos went over the stated maximum bitrate of 512kbps, I dragged-and-dropped and tried to play six different movies with similar specs . . . and failed six times. Two of the videos even crashed the player!
There's nothing about this in the user's guide, but the only way I could successfully load videos onto the X20 was by using iriver plus 3, the included software. There isn't much offered in the way of tweaking, so all I could really do was to choose between generic conversion settings. I transcoded four videos on my Sony Vaio UX180P: two using the "normal" setting and two using the "high" setting.
NORMAL QUALITY (23 fps)

Size

Bitrate

Codec

Resolution

Original:
465MB
503kbps
DivX 4
320 x 240
Final:
280MB
283kbps
XviD
320 x 240
Conversion time: 40 minutes
Original:
  700MB
823kbps
XviD
608 x 320
Final:
292MB
283kbps
XviD
320 x 240
Conversion time: 45 minutes
HIGH QUALITY (30 fps)

Size
Bitrate
Codec
Resolution
Original:
232MB
1168kbps
XviD
640 x 464
Final:
71MB
258kbps
XviD
320 x 240
Conversion time: 13 minutes
Original:
1022MB
1346kbps
DivX 4
480 x 360
Final:
280MB
267kbps
XviD
320 x 240
Conversion time: 50 minutes
I think the tables speak for themselves. Transcoding videos with iriver plus 3 is a slow process (on the UX180P, anyway) and the results aren't particularly impressive. The file sizes are really small, though, so you can actually pack a good number of videos onto the player and/or microSD cards.
Despite the specs and the frequent pixellation, playback is smooth and watchable. As shown in the YouTube video above, widescreen flicks maintain their original aspect ratio (that one was a 354MB XviD, 333kbps, 23fps) and are letterboxed.
I personally wouldn't use the X20 to watch movies, as its 2.2" screen isn't well suited for extended viewing, but it's good enough for music videos, short clips, and maybe sitcom episodes.
Extras
The X20 definitely has more than its fair share of extra features and settings.
Stereo speakers
For built-in DAP speakers, these aren't too bad. Sound quality is a tad hollow and it gets muffled and slightly distorted at maximum volume levels, but it's a reasonable alternative to shutting out the world and being completely unapproachable by donning a pair of headphones. In quiet rooms, the speakers are fine for watching a video clip and listening to music. Sound doesn't fill the entire room, of course, but it's adequate when the player is held at an arm's length.
Listening to anything via headphones and the integrated speakers simultaneously is not possible. Plugging in headphones automatically disables the speakers; disconnecting headphones automatically does the opposite. I'm not sure why anyone would want to do both at the same time, but it's an FYI just in case.
Photo viewer
Typical of most DAPs with photo capabilities, the X20 is preloaded with a handful of images (JPG only) optimized for viewing on the 2.2" screen.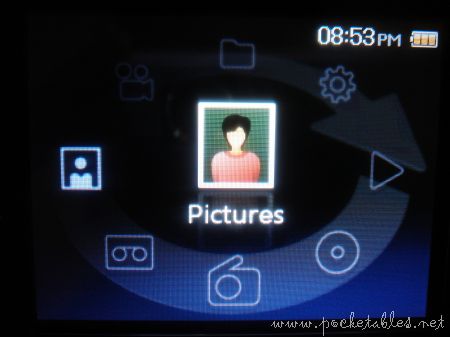 Atypical of most DAPs with photo capabilities, the X20 does not have slideshow or wallpaper functions. You can zoom in and view different areas of the enlarged image, but that's about it.
There's no thumbnail view or preview feature, so it's advisable to give your photos meaningful names, especially if you'll be showing them to friends and family. And when you do, remember that load time depends on the size of the image. The bigger the file, the longer the wait time: 320 x 240 pictures (27KB to 68KB each) load immediately; 2048 x 1536 photos (1.25MB to 1.44MB each) take about 6 seconds.
FM radio
Earphones plugged into either the headphone or line-in jack serve as the radio's antenna.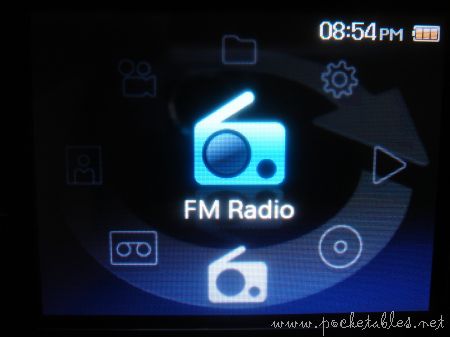 You may have noticed in the YouTube video that I was able to catch two stations without plugging anything into either jack. I don't know enough about radio signals and airwaves to offer a reasonable explanation for why it worked, but it did.
Reception is excellent in downtown Honolulu (with or without headphones, apparently). Stations can be scanned manually or automatically and then saved as one of 20 available presets. Navigation using the clickable wheel is simple and logical: press the left/right sides of the wheel to access the previous/next frequency; press the top/bottom of the wheel to access the previous/next preset and/or broadcasting channel.
FM, line-in, and voice recorder
Iriver really went all out when equipping the X20 with recording capabilities. It's got everything!
Recording quality, as you can see above, is managed in Main Menu –> Settings –> Recordings.
FM recording (MP3) is done by pressing and holding the play/pause center button in the "FM Radio" area of the system, while voice recording (WAV) is done by pressing the same button in the "Recordings" area.
Line-in recording (MP3) is also handled using the center button in the "Recordings" area. All recordings are given generic names and stored under "Saved Recordings" in the music menu. Sound quality is on par with other DAPs with various recording functions; in other words, it's as good as can be expected considering that it's not a high-end piece of equipment.
Removable disk
The X20 is UMS/MSC-compliant so it shows up as a removable disk drive on both PCs and Macs. I used it as a regular USB thumb drive a few times to move various files between computers and it worked flawlessly.
Battery life
One of the player's stand-out features is its removable 3.7V li-ion battery.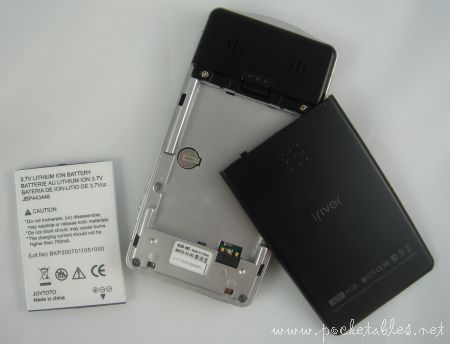 I don't have a problem with non-removable batteries (I always lose interest in a gadget before its battery gives out), but I know it can be a big sticking point for a lot of people. The battery charges in about 3 hours (via USB) and is rated at a respectable 22 hours for music (128kbps MP3, volume level 20, normal EQ, LCD backlight off) and 6 hours for video (512kbps AVI, 320 x 240 @ 30fps, 44.1KHz 128kbps MP3).
Conclusion
When compared to the feature set of high-capacity flash players from Apple, Creative, and SanDisk, the iriver X20 is unequivocally the best in its class.
It sports a removable and therefore user-replaceable battery; is equipped with a memory card expansion slot; has an FM tuner with a bevy of recording options, including line-in; supports Ogg Vorbis and XviDs (though only after some iriver plus 3 attention); is UMS-compliant and compatible with Macs and PCs; and has a comparatively large screen and built-in speakers. Oh, and it's reasonably priced, especially considering that it's not (yet) officially available in the U.S. Warehouse123.com currently sells the 2GB model for $129, the 4GB model for $159, and the 8GB model for $219. (By contrast, the 8GB iPod nano retails for $249, has a proprietary connection and lifetime commitment to iTunes, and doesn't have a removable battery, expansion slot, FM tuner, video support, or UMS-compliance.)
The iriver X20 won't appeal to everyone, though. For starters, it's big and chunky compared to the nano, Zen V Plus, and Sansa e200 series. It's also got that dust-magnet of a control wheel, arguably cheap toy-like look, limited photo functions (no slideshow or wallpaper functions), no OTG playlist creation, and no games.
Whether any of these shortcomings are enough to negate the player's highlights is up to you.