The Archos 704 WiFi is the latest and most likely final portable media player (PMP) in the French company's Generation 4 series. Sporting a 7-inch high-resolution widescreen display and weighing a hefty 1.38 pounds, it seems to tread rather precariously in a space once solely occupied by the UMPC: "Too big for a pocket," say naysayers, "and too underpowered to be useful."
In other words, who would buy a PMP that isn't truly portable? Who would buy something the size of a UMPC when it has only a fraction of its capabilities? Well, I would and I did. Read on to decide if you should, too.
System specifications
Capacities:

40GB, 80GB
Supported video:

AVI (MPEG-4 ASP), WMV, WMV-DRM (720 x 576)
H.264 & MPEG-2/VOB with optional plug-ins
Supported audio:

MP3, WAV (PCM/ADPCM), WMA, WMA-DRM
AAC & AC3 with optional plug-ins
Supported photo:

JPEG, BMP, PNG
Connectivity:

WiFi (802.11b/g) with Opera Browser and file server
Extras:
USB host, A/V out, audio recorder, PDF viewer
Video & line-in recording with optional DVR station
Display:
7-inch TFT touchscreen (800 x 480, 260K colors)
Dimensions:
7.05 x 4.96 x 0.78 inches
Weight:

1.38 pounds
Have a look at the unboxing gallery to see the 704 WiFi's subpar packaging and impressive included accessory bundle (especially that gorgeous case!).
Design
Although this wasn't always the case, Archos is now known for making some of the best-looking PMPs around. The 704 WiFi is no exception.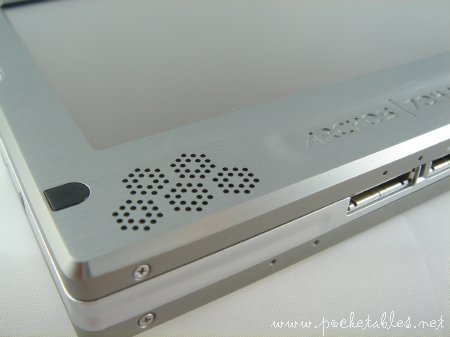 Fashioned primarily out of brushed aluminum, the player is rather minimalist in design, with its main flourishes being stereo speakers hiding behind hexagon clusters and a curious indentation into which the words "Archos 704 Mobile DVR" are engraved.
The unit is almost completely devoid of any hardware controls.
All it has (aside from way too many exposed screws) are the DVR Station connector and poorly placed USB 2.0 device and host ports on the bottom;
a battery-release switch on the right;
and the power button, TV/LCD button that doubles as a hold button when held down, LED indicators, power jack, and A/V-out jack (for headphones and A/V cables) on the left.
A little less than a third of the device's back is dedicated to its removable battery.
Next to that is the sturdy yet twig-looking stand that (unlike on the 604 WiFi) doesn't require any amount of "digging" to pop out of its slot and (like on the 604 WiFi) does make the device's USB 2.0 ports completely inaccessible.
Size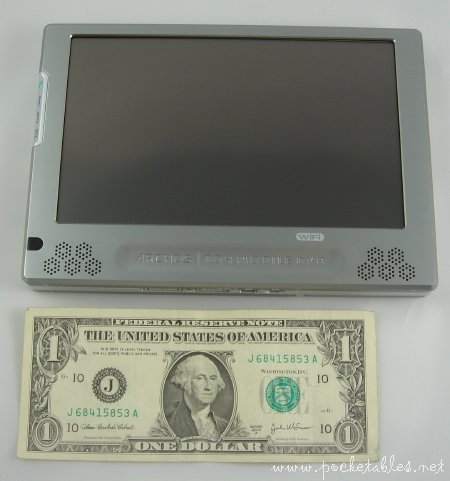 It isn't fair to knock the 704 WiFi for its size when it has a whopping 7-inch display. If the player was meant to score points for ultra-portability, it would've had a 2.5-inch screen.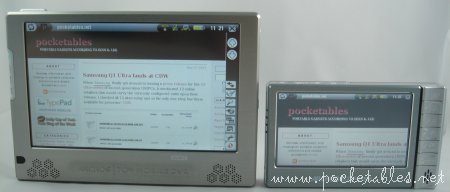 Having said that, it has to be noted that when compared to other PMPs, the 704 WiFi is enormous and too big to carry in your pocket.


Compared to portable DVD players and UMPCs, however, and it's not only fuller featured than the former and less expensive than the latter, but it also becomes an excellent travel companion that fits easily into most bags and whose large display makes for pleasant viewing of movies and photos.

Given its screen size, I actually think the 704 WiFi is pretty compact. It's about as small as it could be, really, as there's already very little extraneous space surrounding the screen.
Display
Archos's PMP is outfitted with a 7-inch 800 x 480 TFT touchscreen capable of reproducing 260K colors (the 604 WiFi, you may recall, reproduces 16 million).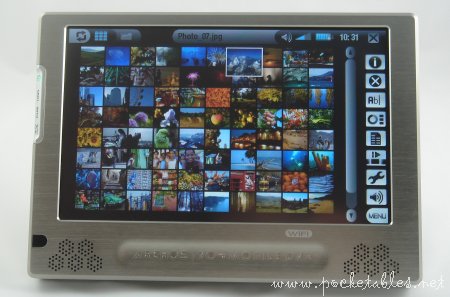 Photos, high-resolution movies, websites, text, and album art look great, although against solid light-colored backgrounds, the display does take on that "screen protector look." You know how an LCD looks after you apply a typical screen protector (not the superb ClearTouch Crystal ones): not quite as crisp or vibrant as before and kind of grainy/fuzzy upon very close inspection? Well, that's how the 704 WiFi's display can sometimes look. It's the nature of the touchscreen, really, and it doesn't tarnish the v iewing experience. In fact, from a normal viewing distance for movies (outstretched arm's length, maybe?), it isn't noticeable at all.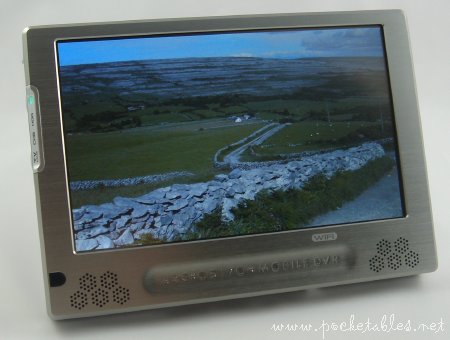 Colors are less saturated than and don't "pop" like on AMOLED displays, but it's still plenty colorful and nice to look at.
Graphical user interface
I've already covered the basics of Archos's animated and tab-based GUI in part 2 of my 604 WiFi review. The 704 WiFi's GUI is identical to that of the 604 WiFi, so there's no point in detailing what it's all about here. It's the same.
The only difference is how you interact with it.
Since the 704 WiFi lacks hardware controls (not even volume buttons!), navigation is handled solely through the touchscreen. Icons are enormous, but they don't respond to finger pads the way, for example, touch-enabled ATMs do. Their generous size, then, is misleading and a waste of screen estate. The icons look incredibly finger-friendly, but they're not: they can only be tapped with fingernails, styluses, and various other pointed (though not sharp) objects.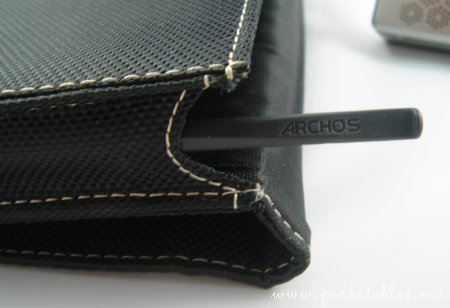 Using a stylus has proven to be the most effective for me, as the touchscreen doesn't seem very responsive to my nails. Having to jab-tap several times with my nails to achieve the same result as single-tapping with a stylus is annoying. And as with the 604 WiFi, there is nowhere on the 704 WiFi itself to store the stylus. The supplied case includes a dedicated slot that, while handy, obviously isn't useful when actually using the device. As a workaround, I just scattered several styluses from other gadgets in strategic locations around the house. I use a handful of touchscreen devices daily anyway, so having a stylus always within reach is just common sense.
Because the GUI on the 704 WiFi mimics the one on the 604 WiFi, I had no trouble interacting with the system right out of the box. I already knew that the vertical context menu was placed in the lower right corner of the device, so even when it wasn't shown (as is the case when watching movies or viewing photos), I knew that tapping anywhere within the general area would bring it up. Likewise, I knew that tapping the top right corner would bring up the status bar.
The problem, of course, is that the 704 WiFi may be some people's introduction to Archos, or at least to the Generation 4 series. What then? Sure, everything is layed out in the manual, but most people don't read the instructions before turning on a new gadget. Even worse is that the manual comes preloaded on the device; not on a separate CD-ROM that requires zero handling of the unit, but on the unit itself. Yes, the product manuals are also available online, but not everyone would know that (and that's beside the point).
I don't mean to suggest that touch-based navigation is difficult. It isn't. But it's not straightforward or intuitive to anyone unfamiliar with Archos's system and layout. So in that respect, the PMP isn't for the uninitiated. It's also not that easy to hold the unit in one hand while using the stylus with the other.
And two-handed operation doesn't make that much sense since not everything is within easy reach of your thumbs (though the on-screen keyboard is sort of usable for thumbnail typing).
If you're paranoid about damaging the touchscreen with incessant stylus/fingernail pecks or mucking it up with fingerprints, you can do almost anything with the included remote control. When the 704 WiFi is hooked up to a TV, you actually have to use the remote because the built-in LCD is turned off. So don't lose it.
Here's a labeled diagram of the remote from the user's manual: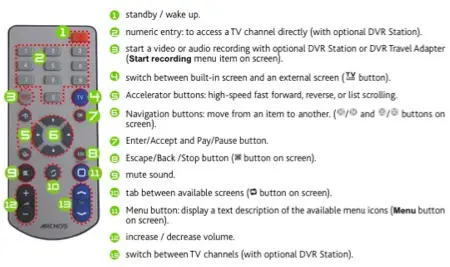 The only thing the remote can't do is click on links and interact with the on-screen keyboard. It may seem tedious to have to navigate and then select each letter individually using the arrow keys (#6 on the diagram), but that's basically the way the Archos AV420 did it three years ago. And it worked pretty well, too, as it beat having to connect the device to a computer just to rename a file.
Transferring content
There are two ways to fill up the PMP's spacious 80GB hard drive:
Connecting the 704 WiFi to a Mac or PC–both Windows-only MTP and cross-platform MSC (also known as UMS, or USB mass storage) are supported–and dragging and dropping to your heart's content
Connecting compatible MSC devices (e.g., external hard drives, thumb drives) and PTP-enabled digital cameras to the 704 WiFi through its USB 2.0 host port and copying/moving files through the system's File Browser
"Compatible" is the operative word in the latter option because not all MSC-compliant devices are supported. For example, the 704 WiFi won't recognize my iriver clix 2 as an external drive (even though that's what it is), but it'll charge the DAP's battery.
Performance
A common complaint about both of Archos's WiFi-enabled PMPs is that their processors are too slow. I can't find any information on the 604 WiFi's CPU, but DailyTech says the 704 WiFi is powered by a DM420 CPU and an auxiliary CPU that manages the power supply and charger as well as "the real time clock with 32.768kHz crystal." According to several side-by-side tests I ran, tapping icons/files and surfing the Web on both PMPs simultaneously, performance is exactly the same.
I wouldn't describe it as sluggish, but there is a fair amount of watching that "loading" hourglass icon. How much is too much depends on what you're used to and your level of realism.
Because you have to remember that even though its dimensions may suggest otherwise, the 704 WiFi is not a UMPC. So you shouldn't expect that kind of power or compare the PMP's performance with your desktop or laptop (unless you're paddling through the Internet on a dial-up connection).
Web
So what can you expect from the Web browsing experience? First, please have a look at the "Web" section of my 604 WiFi review to find out how everything works (connection, navigation, options, etc.); bear in mind, of course, that the 704 WiFi doesn't have any hardware controls and that the screen is bigger and has a higher resolution. After you've scrolled through the pictures, skimmed the text (I know I'm longwinded), and watched the video, come back and check out the video below to see the Opera Browser on the Ar chos's UMPC-worthy display.
Load times aren't instant, especially with more complex sites, but they're not that slow. Not to me, anyway, and it's certainly not as bad as other reviews make it out to be. Again, though, it depends on your personal definition of acceptable Web surfing.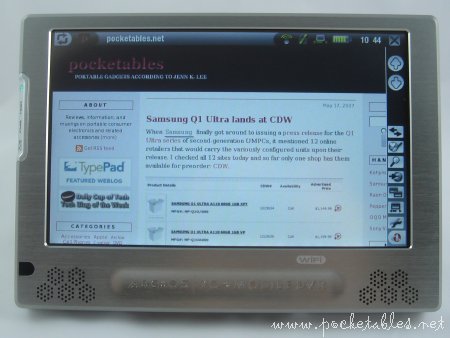 You'll be disappointed and on the verge of pulling out your hair if you can't imagine waiting, say, an extra 10 seconds for sites like Digg to load completely, but if you remember that the 704 WiFi isn't a full-featured computer (it doesn't even support USB keyboards), there really isn't much to complain about in terms of performance.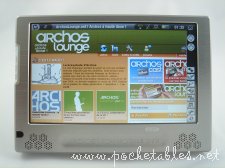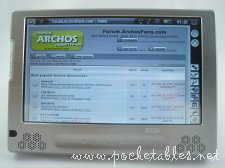 The 800 x 480 screen resolution eliminates most of the horizontal scrolling usually associated with mobile-device browsing, websites look terrific on the 7-inch display, you can stream content wirelessly from your computer through the device's file server feature, and there are lots of desktop-like options (bookmarks and tabs) and other settings to make the experience very rich and enjoyable.
It does have its share of shortcomings, though. The most notable one (and this may be an automatic deal-killer for you) is its lack of Flash and Java support. That means no YouTube, which doesn't bother me but is something that could really put a damper on your imagined usage scenarios. Archos appears to have corrected the oversight in its Generation 5 series, but for now, if you want to watch YouTube while sipping your coffee at Starbucks, leave the 704 WiFi at home.
Stability can also sometimes be an issue. Before I updated the firmware to the most current version (1.7.16 as of today), the device froze twice and spontaneously reboot once while I was online. It all happened within a single 30-minute session and has never happened again (it's been over two weeks of smooth sailing so far).
An issue that does reoccur occasionally (you can see it in the video) is the incomplete loading of websites. I don't know why, but sometimes some images and even portions of text just don't appear. Refreshing the page or closing and relaunching the browser usually fixes the problem, but it's definitely some sort of glitch. The system has another weird bug too because twice when I visited pocketables (in case you missed the banner at the top, that's the site you're on now), all of the links were blue and underlined!
I read somewhere that not all websites support Opera, but the only one I came across was Google Docs & Spreadsheets. Oh well. The 704 WiFi isn't compatible with USB peripherals and the host port is inaccessible when using the built-in stand anyway. Every other major site was fine: MySpace, Flickr, Slashdot, Gmail, etc. Google Reader works, but it's painfully slow and sometimes becomes unresponsive. I don't recommend trying it.
Multimedia
Even if you find the Web experience to be unappealing, don't write off the 704 WiFi just yet. Not before you consider its standard PMP qualities first: videos, music, and photos. It's also got a PDF viewer, audio recorder, and some great features that unfortunately require optional accessories to make use of. I'm still really annoyed with Archos for not including the DVR Station (or at least the cheaper DVR Travel Adapter), which allows direct recording from just about any A/V source, because older models (like my AV420) came standard with similar docks that did the same thing.
Anyway, I'm going to direct you back to my 604 WiFi review, this time to part 3, for detailed coverage and pictures of the 704 WiFi's multimedia capabilities and playback options. I'm doing this because, as I mentioned earlier, performance and the GUI of both the 604 WiFi and 704 WiFi are identical (there is actually some variation in the order of context-menu options, but that doesn't matter). If you don't feel like reading any more, you can watch the following video for a quick rundown.
Okay, well, now you have to start reading again.
The size of the 704 WiFi's screen obviously doesn't impact performance (so playback is still nice and smooth), but it can affect image quality, depending on the resolution of your videos and photos. One of the preloaded sample videos is a 720 x 576 (2703kbps bitrate) AVI, which shows exactly how well the device can do what it does best. Because more than anything else, the 704 WiFi is a video player. It's designed for it and it excels at it.
Most of my DivX and XviD movies are in 480 x 270, encoded for DAPs and PMPs with 2.2- to 4.3-inch screens, which don't look that great on a 7-inch 800 x 480 display. They look fine from a distance, though, which is how most people would view a 7-inch display anyway. If you plan to rip DVDs and turn them into any of Archos's supported formats yourself or you'll be on the prowl to "acquire" such videos through alternate means, I'd recommend going with quality over quantity. Even though high-quality videos can sometimes be upwards of 1GB apiece, you'd really be doing a disservice to the large screen. And it will still take a lot of movies to fill up that 80GB hard drive (assuming you don't get the 40GB model, of course).
Battery life
The removable li-ion battery fully charges via the included AC adapter in 2.5 hours. On a full charge, Archos estimates battery life to be 5.5 hours for video and 25 hours for music playback. I don't know how accurate the latter estimate is, but the former fell a bit short when screen brightness was not at its lowest level. I tested the video rating by turning off WiFi and playing a couple of oddly spec'd XviDs (576 x 304, 778kbps; 576 x 320, 825kbps) at mid-volume and various brightness settings. Here are the results:
Lowest screen brightness: 6 hours, 33 minutes
Middle screen brightness: 3 hours, 53 minutes
Highest screen brightness: 3 hours, 21 minutes
Based on these times, I'm going to assume that Archos overshot its music estimate by several hours as well. Even if battery life for audio playback were only 20 hours, though, it would still be more than enough for a long commute to work, a full day's work, a workout at the gym, and the long commute back home.
I can't find Archos's official battery rating for Web browsing, but with the screen set at mid-brightness, I got an impressive 4 hours, 22 minutes.
Conclusion
Despite my sentimental affection for it, I think the Archos 704 WiFi is a PMP that won't ever be embraced by the masses. According to all the press and user comments I've read since the unit's release in March, it seems that unless you actually want one, you either balk at its considerable footprint or its considerable price tag ($550). The player bucks the trend brought on by the onslaught of pocket-friendly devices that deliver entertainment on the go, so it ends up in a kind of no man's land. Pity.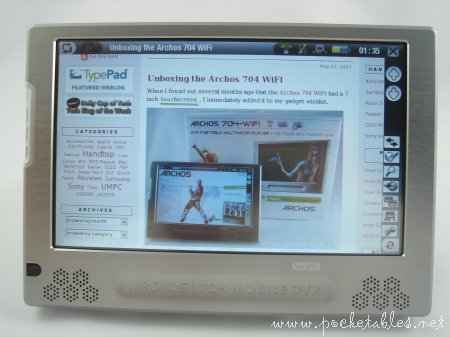 If marketed differently (or at all), the 704 WiFi could have a lot more mainstream appeal. Sure, it doesn't support Flash or Java, but it's well deserving of attention for its good looks, high-quality video and audio playback of most file types on its huge display, rich Web browsing (despite the occasional glitch) on its 800 x 480 touchscreen, wireless media streaming abilities, removable battery and great battery life, drag-and-drop content transfers, and (optional) recording features.
Is it a significant and worthwhile upgrade to the $450 604 WiFi? Well, it has a bigger screen with higher resolution, nearly three times the storage capacity, a USB 2.0 host port, two loudspeakers, no hardware controls, and is almost fully operational using the supplied remote. But (and this is a big one) performance is exactly the same. So if you agree with reviewers and owners who have called the 604 WiFi's processor sluggish (or you didn't like what you saw in the videos above), then you should probably put that extra $100 to better use.
I happen to disagree with the general consensus and am happy with the player, though I could use that $100 to get the DVR Station.
UPDATE 07.17.07: ArchosLounge.net recently published an extensive review of the 605 WiFi, the first PMP of Archos' new Generation 5 series. The review is in French, but there are lots of nice pictures and a handful of great videos.