Review: iriver T50 and T60
How many boxes of Toblerone chocolates do you think were involved in designing iriver's new T50 and T60 digital audio players (DAPs)?
I'd say at least two, one each for this pair of low-capacity flash DAPs recently released in Korea and Japan. Neither player has been officially released in the United States yet, but that doesn't mean you can't head over right now to Warehouse123.com to get your hands on one (or both).
System specifications
T50

T60
Capacities:

1GB
1GB, 2GB, 4GB
Supported audio:

MP3, WMA, WMA-DRM, Ogg Vorbis, ASF, Audible
Extras:

Photo viewer, FM tuner, FM and voice recorder
Display:
1" CSTN LCD (128 x 64, 65K colors)
Dimensions:
2.9" x 1.2" x 1.0"
2.57" x 1.08" x 0.87"
Weight:
1.13 ounces
0.85 ounce
Power:
AA battery
AAA battery
Colors:

Black, white
Black, white, blue
Packaging
The players are packaged simply and identically in white boxes.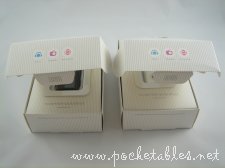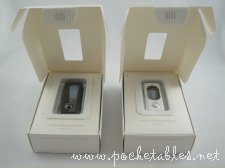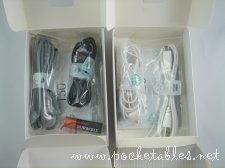 Presentation is clean if not a little boring.
Box contents
Like most iriver DAPs, the T50 and T60 are bundled with just the essentials: earphones, USB 2.0 cable, mini software CD-ROM, battery (AA for T50, AAA for T60), and quick start guide.
I've never been impressed with iriver's included accessories before, and nothing here does anything to change that. Maybe a good case is asking too much, but is it that difficult to include something as simple as a lanyard or an armband? I don't expect to see any third-party accessory support, but I wouldn't mind a couple of official silicone skins.
Design
The most striking element about these prism-shaped players is their unique appearance, which is certainly not in keeping with what most of us have come to expect from modern gadgets.
Instead of smooth and glossy-finished materials, the T50 and T60 are made of ridged, matte plastic. Build quality is good, though incredibly toy-like because of the rounded child-friendly edges and overall size. If the devices were available in primary colors, I'm sure a toddler would mistake them for chunky crayons or sidewalk chalk.
The players are far more rugged than delicate, so I imagine that they could take a fair amount of abuse.  Nothing extreme, of course, but the plastic seems strong enough to withstand being thrown into a gym bag and jostled around with a fair amount of reckless abandon.
Size
The T50 and T60 are not thin devices, so "forgetting" that either is in your pocket isn't likely to happen. If you plan to tuck one of the players into the front pocket of your jeans, be prepared for one of those lame "is that a ____ in your pocket or are you just happy to see me?" jokes.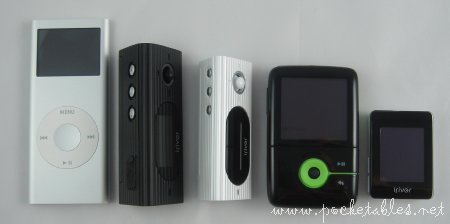 The unsightly pocket bulge notwithstanding, the players fit perfectly in the palm of an average-sized hand. As long as you're not too preoccupied with thinness (it's an unhealthy obsession, anyway), you should find the devices to be a nice size that feels natural to hold.
The model numbers suggest otherwise, but the T50 is bigger than the T60. For me, the extra "bulk" bodes well for extended-use comfort because my fingers curve around the unit very naturally. 
Controls
Navigation on both players is primarily handled by a small joystick on the right side of the display (not shown on the left is a built-in microphone).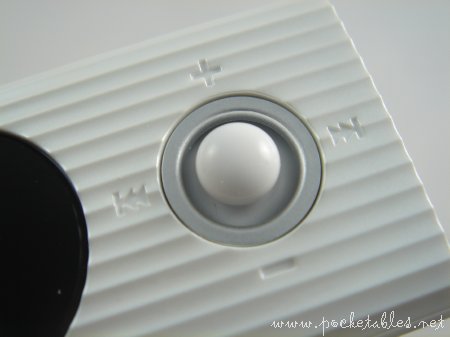 The joystick is unrestricted in its movement and easy to use, but it's a bit wobbly. This makes selecting various options tricky because pressing the center of the joystick straight down requires actual precision.  You can't just push the center and expect the system to recognize it as an "OK" or "Enter" command. More often than not, tapping the center of the joystick pushes it slightly to the left, which rewinds a track or takes you to the previous menu option.
Navigation would be more accurate if the joystick's movements were limited to just four directions (up, down, left, right).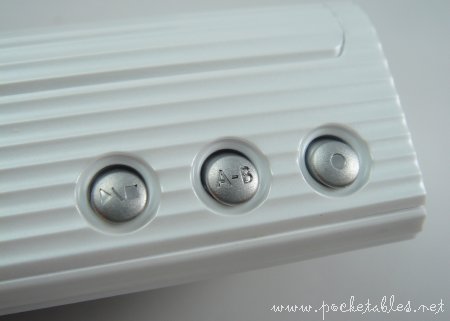 On the backs of both players are three small buttons: play/stop, A-B, and record. Pressing and holding each button changes their functions: power on/off; EQ select (when music is playing) and add to Quick List or delete from player (when music is not playing); and play-mode select.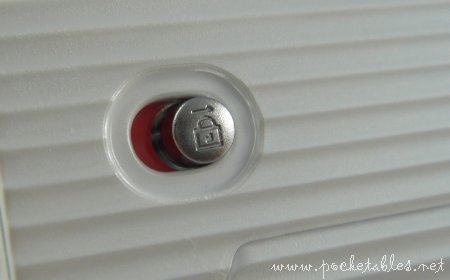 A sliding hold switch and the battery compartment are on the bottoms of the players.
I don't know why, but the USB 2.0 ports are positioned differently on both units. On the T50, it's on the back (next to the buttons); on the T60, it's on the bottom (next to the hold switch). Odd.
There's nothing on the right side.
Standard headphone jacks and lanyard loops are on the left.
Display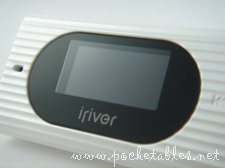 Tiny as it is, a 1-inch 65K-color CSTN display is the focal point of both the T50 and T60. CSTN stands for color super-twist nematic, a relatively inexpensive passive-matrix LCD that offers decent viewing angles and color contrast. Image quality is not particularly sharp or noteworthy, but it's acceptable for a screen with microscopic dimensions.
Graphical user interface
The T50 and T60 are equipped with yet another GUI not found on any other recent iriver DAP (it's the same one used on the older T10).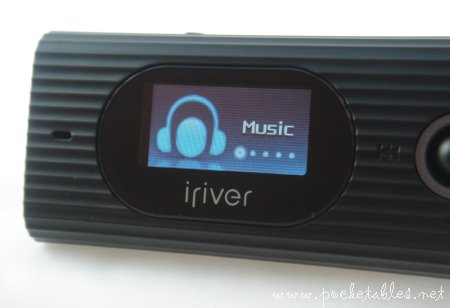 Why does iriver keep doing this? Don't get me wrong. All of the different interfaces are straightforward and it's kind of fun to see what the company will come up with next (compare the S10, X20, and clix 2), but creativity at the expense of continuity and consistency isn't always worth it.
At this point, I just think enough is enough. It's time for iriver to stop playing around with new GUIs, pick/create one that will complement all of its devices, and stick to it.
It's ridiculous for four players from the same company to be equipped with four different GUIs. It does a disservice to long-time fans of the brand and compared to Apple and Creative, who have been using the same GUI on all of their DAPs for years, iriver looks like a mess. An innovative mess, maybe, but a mess nonetheless.
All that nonsense aside, the T50 and T60's GUI is self-explanatory and easy to use. The main menu is colorful and cute, but the rest of the system isn't really anything to look at.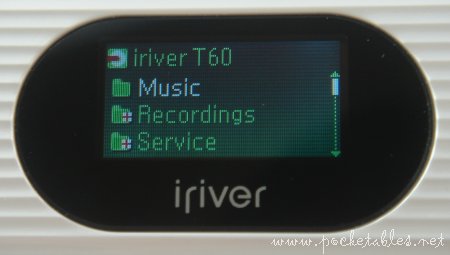 It's all very file-tree and Windows Explorer: plain but functional. The T50 uses a striped background that I personally find very unappealing, while the T60 opts for a more classic look (solid green is a strange choice). Scrolling speed for long files names can be set as either "horizontal" and "vertical": both are heinous, splitting up the characters and displaying them separately.
Here's a short video of the players in action.
Transferring content
The T50 and T60 can be formatted to support MTP or UMS/MSC for transferring media with or without the use of software. Drag-and-drop via Windows Explorer can be done in either mode, but other differences exist to make choosing between one or the other pretty crucial.
Switching between the two modes requires the use of the supplied Cross Updater software and also deletes all of the content, so it's easier to just choose one and stick to it forever.
You can see in the image below that I've chosen UMS/MSC for the T50 and MTP for the T60.
If you're a Mac user, you'll want to use the default UMS/MSC mode because it's the only one compatible with OS X. If you're a Windows person, you can use whichever one you feel more comfortable with.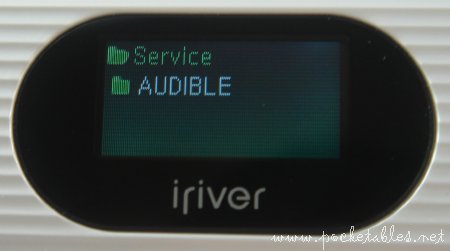 Keep in mind that you need MSC/UMS to:
Use iriver plus 3
Supposedly playback podcasts (not sure why iriver says this, as most podcasts are in MP3 format)
And you need MTP to:
Use Windows Media Player 11 and other music management software
Playback Audible content
Audio
Regardless of how you choose to load music onto the T50 and T60, playback and other audio options are exactly the same.
The music list is folder-based, which is great for people who don't keep their ID3 tags in order but slightly annoying for people who do.
Like a lot of iriver players, on-the-go playlists are not supported but a single Quick List can be created, saved, and accessed through the main music list. Other playlists can be created on a computer and transferred to the T50 and T60.
Files can be deleted directly from the player, which is a feature I always appreciate because having to connect a device to a computer just to get rid of a song I don't like can be quite a hassle.
Since neither player supports album art and the playback screens are rather dull, iriver includes three screen savers that can be set to automatically display after a specified timeframe.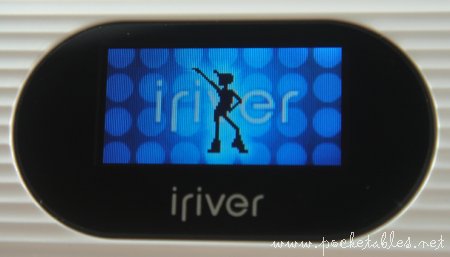 All three visualizations are nice touches that add a bit of fun to the DAPs.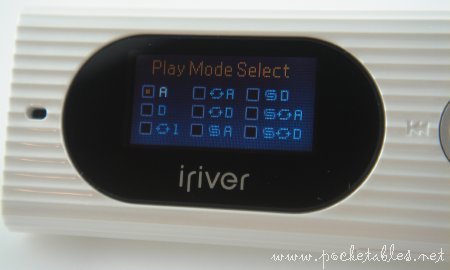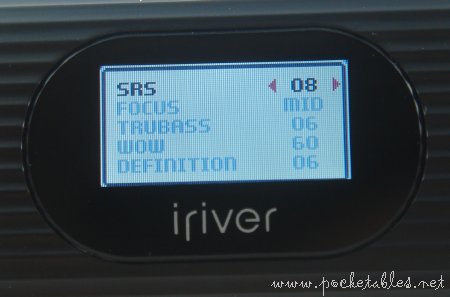 Both players are also packed with functional features such as play modes and SRS sound enhancements to enrich the audio experience.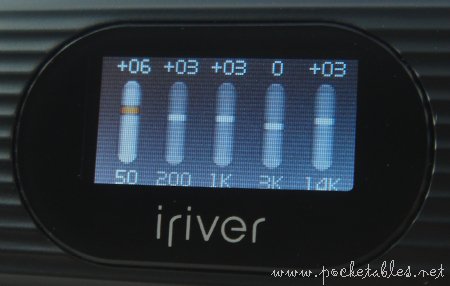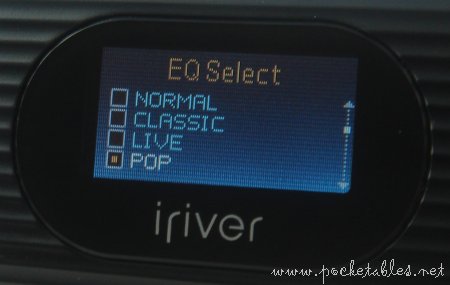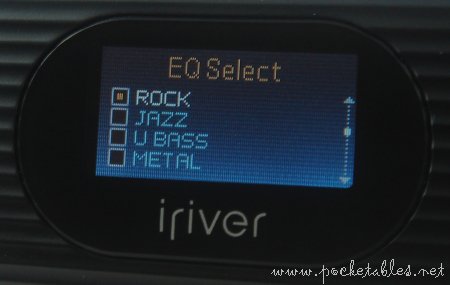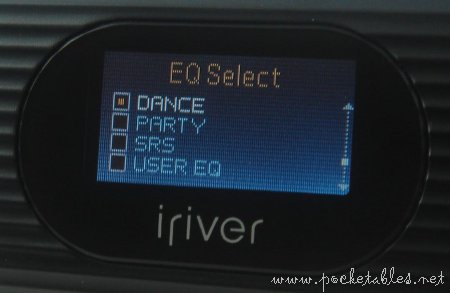 The 5-band custom and 10 preset EQs ensure exceptional sound quality according to my non-audiophile ears. Even with just my pair of Sennheiser CX300S IEMs, the canal phones I use with everything, I am incredibly pleased with the rich and full sound I have come to associate with iriver.
Extras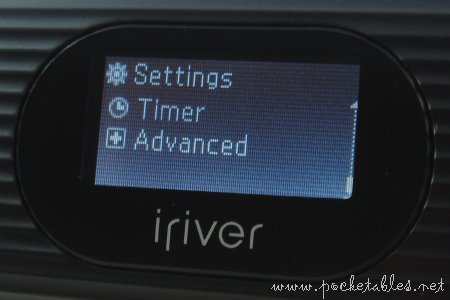 In addition to an impressive group of customizable settings, an alarm clock, and a sleep timer, the T50 and T60 are equipped with other extras that most people wouldn't necessarily expect from entry-level DAPs.
Photo viewer
I don't know why anyone would want to view photos (BMPs only) on a 1-inch screen, but the capability is there. It's a bit hidden, though, so it's definitely a sub-sub feature.
Photos are listed in the system's Browser menu and are not automatically scaled for the 128 x 64 display. Again, I can't think of why you'd want to use the T50 or T60 as a portable photo album, but if you do, it's best to resize the images yourself first.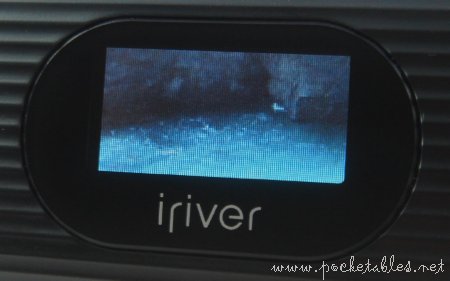 There's no slideshow feature or even a next/previous option when looking at a picture, so I think it's better if we all just pretend this silly "photo viewer" extra doesn't exist.
Moving on.
FM radio
I don't think iriver knows how to make a DAP without including an FM tuner because all of the company's players seem to have one on board.
It's a good one, too, with strong and clear reception, manual and automatic scanning, and lots of available preset-station slots, so if iriver doesn't know how to make a DAP without an FM radio, I hope it isn't something it eventually learns.
FM and voice recorder
The T50 and T60 can record directly from the radio and through their built-in microphones.
FM recordings can be scheduled in advance and the resulting MP3 files (64kbps, 128kbps, and 256 kbps) can be used as an alarm sound.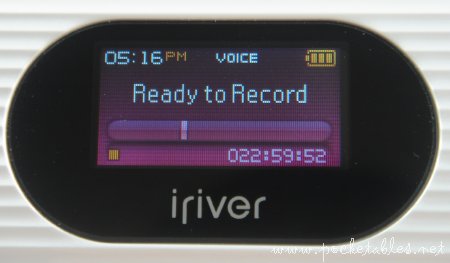 Voice recordings are also in MP3 format and can be saved in one of three quality settings: low (32kbps), middle (64kbps), and high (128kbps).
Battery life
Iriver bundles the T50 and T60 with standard Duracell alkaline batteries, so I'm guessing that the former's 52-hour and the latter's 19-hour MP3 playback estimates are relevant to them and not some special rechargeable li-ions.
Conclusion
Priced exceptionally well by Warehouse123 at $86 (1GB T50), $64 (1GB T60), $78 (2GB T60), and $104 (4GB T60), the unconventionally designed T50 and T60 represent two more solid entrants by iriver into the low-capacity flash DAP market. Both players sound great and offer identical feature sets that include SRS audio enhancements, custom and preset EQs, FM tuner and recorder, voice recorder, and MTP and MSC/UMS compliance.
Their differences are so minor (T50 powered by AA battery vs. T60 powered by AAA battery), in fact, that iriver really shouldn't have made both. Rather than stuff the smaller T60 with more storage capacity and shorter battery life (19 hours vs. 52 hours), iriver should've improved the joystick or came up with a GUI for use in all of its subsequent players.