Apple launches iPhone today
Even if you haven't been keeping up with the astonishing amount of coverage slathered onto the iPhone this week, you will still feel the moment it goes on sale today. I mean, it's hard not to notice when the world stops spinning. It's already thrown off my equilibrium once, when the clock struck 6 p.m. on the east coast a few hours ago, and I'm bracing myself for the simultaneous double whammy of the west coast having their turn and the Apple Store reopening to accept online orders.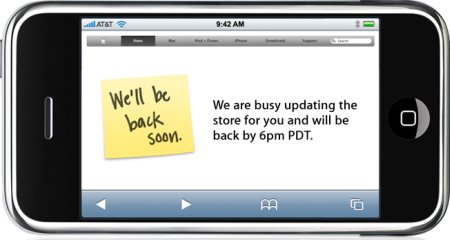 Hawaii, where I live, is the very last state in the U.S. to see tomorrow, so of course we're also the last ones to be able to get our hands on an iPhone. We have two Apple Stores here (at Kahala Mall and Ala Moana Shopping Center, in case you're planning a trip) and about ten AT&T shops that are confirmed to be selling iPhones today, and I have a feeling that some of the locations will be pretty empty. My husband and I are planning to swing by a couple of places later today just to check things out and maybe take some pictures of the madness (or lack thereof).
The first round of unboxing galleries are already on EST-based sites, the official user's guide has been posted, excerpts from "The Missing Manual" are up, and a bunch of accessories and their prices have been revealed. All that's left is to decide whether I actually want (yes, want, not need) the darn thing and then just wait it out.
So, let's see. In its current incarnation, the iPhone does not have the following features:
HSDPA/EV-DO connectivity (though the EDGE network has reportedly been given a boost)
Expansion card slot
Removable battery
Instant messaging and MMS
Wireless iTunes Music Store downloads
Direct downloads from Web to iPhone (e.g., can't download and save an image from the Web)
Songs as ringtones
Zoom, flash, or video recording
Adobe Flash support
Edit or create office document functions
Copy-and-paste
Built-in games
GPS
A2DP Bluetooth profile
Bluetooth dial-up networking (i.e., can't use iPhone as modem for computer) or peripheral support (e.g., keyboard, printer, etc.)
Voice dialing
Disk mode (i.e., can't use iPhone as external hard drive)
Stylus support/responsiveness
Compatibility with any carrier other than AT&T
Thing is, much of this list can be taken care of with firmware upgrades. And to tell you the truth, I don't care about most of it.
The biggest sticking point for me is the recurring cost of the rate plan, particularly because I don't intend to end my 10+ year relationship with T-Mobile. iPhone plans, which start at $60/month, are reasonably priced on their own, but not particularly appealing as an additional monthly bill.
Exisiting AT&T customers have the option of keeping their current voice plans and just adding an unlimited data plan for between $20 and $40 per month, depending on the number of text messages. That's what I want: $20 unlimited data plan with AT&T, current voice plan with T-Mobile.
Looks like I'm not getting an iPhone. UPDATE: Ah well, looks can be deceiving.