Intel shows off Donley UMPC concept (again)
In what appears to be a trend at Computex 2007, another one of the handtop concepts (this time a MID) shown at the Intel Developer Forum (IDF) two months ago has been slightly retooled and renamed for this week's showroom floor.
Intel's Donley concept, practically the flagship MID prototype at IDF, is now running Windows Vista on its largely unidentified internals. What does seem to be nailed down (as far as reference-design specs can be nailed down, of course) is that if the swiveling 1.65-pound UMPC makes it to market, $700 is all it would take for the 5-inch display, 1.3-megapixel digital camera, 3-hour battery life, GPS, and all manners of connectivity (WWAN, Bluetooth, wi-fi) to be yours.
Since IDF-era pictures of the Donley didn't reveal the QWERTY thumboard, I'm wondering if this is actually the next-gen iteration of Intel's initial swiveling UMPC concept, which has been laying very low for the past few months.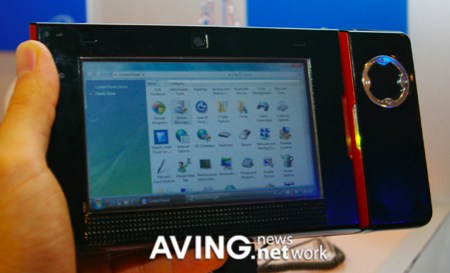 Check out video footage of the swiveling action at Engadget Chinese.
[
AVING USA
]