Metallic iriver D5 multimedia e-dictionary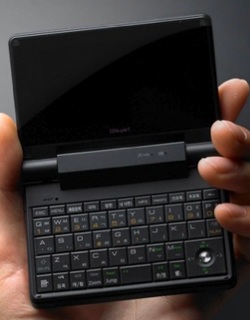 My iriver D26 knew its place at the top wasn't going to last forever. But it had no idea it would be dethroned like this!
Looking like a hulking piece of plastic in comparison, the D26 is now counting the days until the compact, metal-finished D5 usurps its "newest iriver Dicple e-dictionary" crown. If I didn't share a roof with the D26, I would've forgotten what it looked like by now, especially after laying my eyes all over the D5's 3-inch (480 x 272) TFT display, 52-key QWERTY thumboard, and PMP-esque functionality. In addition to iriver's standard support of Ogg Vorbis, MP3, WMA, JPG, and TXT files and unlike its predecessor, the D5 can play Flash and MPEG-4 videos stored on its 2GB of internal memory. There's also an FM radio, FM and voice recorder, and what appears to be a navigational controller well suited for right-handed folk.
Early reports mention something about Bluetooth, but none of the official info confirms that. My friends at dapreview indicate that iriver will be showing off their wares at the SEK2007 exhibition in Korea this week, so full specs will be available soon enough.
And these pictures should help us bide the time quite nicely.
Like the rest of the Dicple series, this one will definitely require the help of importer to make it into the U.S. Don't expect it to come cheap either. Given how much I paid for the D26 a few months ago, I'm placing the D5 somewhere in the $350 to $450 range.
[via
Engadget
]