Pioneer sells Amtek U560 as DreamBook UMPC 560
Pioneer Computers Australia is an OEM manufacturer that also sells products under its own Dream Micro Digital (DMD) banner. One of the four brands beneath this DMD umbrella is the DreamBook UMPC & Panel, which currently includes five rebranded UMPCs.
Most interesting, particularly in light of yesterday's Amtek U560 unveiling, is the DreamBook UMPC 560. Available for preorder now at a starting price of $1,999 AUD ($1,680 USD) and with an ETA listed as "soon," the 560 weighs either 1.1 or 1.4 pounds (inconsistent info on product page), measures a rather large 7.4 x 4.2 x 1.4 inches, and can be configured to taste.
Some of the options include a choice of operating system (Ubuntu Linux, XP, all four Vista editions), hard drive size (30GB, 40GB, 60GB), RAM (512MB, 1GB), and multiple partitions.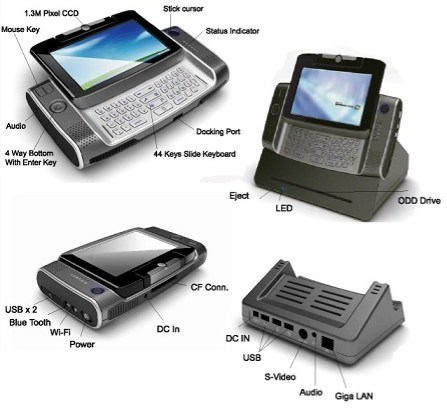 The docking station (with built-in DVD+/-RW drive!) is priced at $299 AUD, which is equivalent to about $250 USD.
Straight conversions may not be particularly useful in real-world terms, but they make it easier for me to wrap my head around.
Thanks for the tip, Kenrick!