Review: Noreve Archos 704 WiFi leather case
Unlike a lot of portable gadgets these days, the Archos 704 WiFi portable media player (PMP) is bundled with a substantial set of accessories that includes a nice protective pouch. The only drawback to it is that it limits in-case use of the PMP and, of course, makes viewing the generously sized display impossible.
That's where Noreve steps in with its premium-quality handcrafted tradition leather case.
Packaging
The case is packaged simply and elegantly in a sturdy cardboard box covered in textured faux leather and stamped in silver foil with Noreve's branding.
Design
For good reason, Noreve takes pride in the quality of its materials and the craftsmanship of its products.
Exterior
I don't know exactly what kind of leather is used, but it's smooth, supple, nicely cushioned, and positively brimming with that intoxicating "new car smell."
Unlike the case supplied with the 704 WiFi, Noreve's tradition leather accessory features cutouts that allow complete access to all of the device's ports and LED indicators.
As you can see, the front of the case looks a bit odd because of the wire mesh ovals in the corners. The mesh helps to "unmuffle" the sound quality of the 704 WiFi's stereo speakers when the case is closed, which is fine, but are they really necessary? I can't think of too many usage scenarios where their absence would be missed.
On the back of the case are a button-snap closure and a built-in stand that makes use of two small buttons to lay flat when not in use.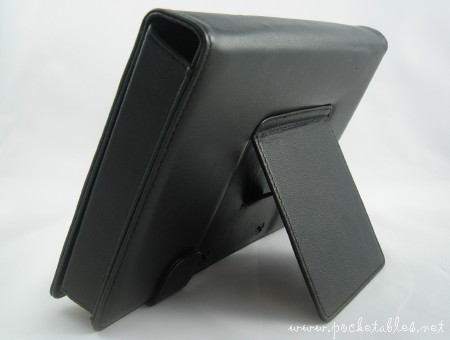 The stand is stable and does an excellent job of replicating one of the positive aspects of the 704 WiFi's hardware (i.e., its integrated stand). I think it's crucial that a case designed not just to protect but to really become a permanent part of a device retain (as much as possible) that device's physical characteristics, so Noreve did really well here.
Interior
Now let's open up the case and see what's inside.
I know. Impressive, right? There are a number of thoughtful additions as well, so don't stay lost in its beauty for too long.
In case you were wondering, the 704 WiFi slides into the case from the top.
On the inner top flap are three card slots (now you can leave your wallet at home!) and a place to store the stylus. The pouch provided by Archos also has a stylus slot, so it's definitely the card slots that I like here. They're not big enough to hold the PMP's remote, but they're lovely for a driver's license or ID, credit card, and whatever else usually has you reaching for your wallet.
Fit
Sometimes I think that companies manufacture cases based on only a printed set of device specs; this, I believe, is why the cutouts and general fit of some cases are often a bit off.
Fortunately, Noreve is not one of these companies.
The fit is so precise that you just know that everyone involved with designing the case slept with the 704 WiFi under their pillows.
Comparison
Since I mentioned the pouch that ships with the 704 WiFi a few times, here are a few comparison shots to put the Noreve case into some context.
Conclusion
The Noreve tradition leather case is an elegant, functional, and top-shelf accessory that fits the Archos 704 WiFi perfectly without adding an unnecessary amount of bulk to the 0.78-inch thick device.
Select from a rainbow of colors (thirteen, to be exact) and get yours now for a highly palatable $45.