Unboxing the Apple iPhone
The iPhone launch in Hawaii may have been quite different from other parts of the country, but I'm sure the unboxing experience was the same.
Here's mine.
Beneath the plastic piece that holds the iPhone is a black envelope containing a soft polishing cloth, "Finger Tips" quick start guide, Apple logo stickers, and safety information.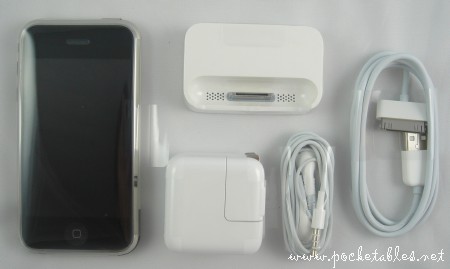 In addition to the paperwork, the box includes a dock, stereo headset with microphone, USB power adapter, proprietary dock connector to USB 2.0 cable, and of course the iPhone. (Hey, where's the case?)
Here's a closer look at the accessories, all glossy white to match . . . well, not the silver and black iPhone:
And here's the iPhone showing off its minimalist design:
Placing the iPhone into its dock for the first time automatically turns it on.
I assume that most people who bought the iPhone on launch day already had iTunes installed on their computers, but I didn't.
So I went to download it. I think Apple may have put a cap on its download speeds (presumably in anticipation of all the new users) because it was slow. Granted, I'm on a wireless connection (802.11g), but I normally get a lot more than 50kbps.
Installation wasn't as smooth as it should've been because I kept getting "Data Execution Prevention" messages from Windows, which usually ended up crashing iTunes.
Adding whatever iTunes was trying to do (something about AppleMobileDevice) to my list of exceptions cleared up the conflict and activation was a breeze, even with the added step of switching carriers (my existing number should be transferred within 6 hours).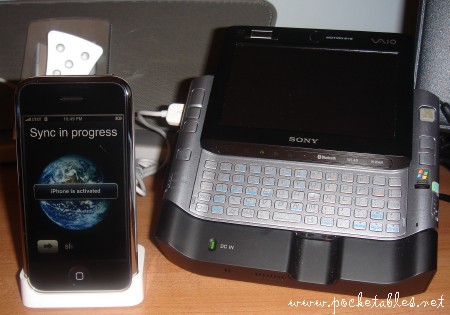 I keep very little on my computer's measly 30GB hard drive, so I only synced about a gig of music and a 45-minute video. I didn't time or calculate the transfer speed, but it felt a tad slow. That could just be impatience talking, though.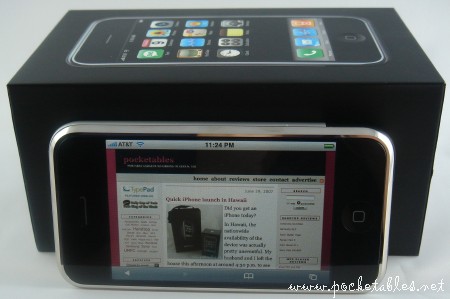 So far, and after only several hours of ownership, I don't regret my spontaneous decision to get in line.
Lots more coverage and some feature-specific reviews to come over the next few weeks (and months).