VIA NanoBook UMD for "Mobility 2.0 lifestyle"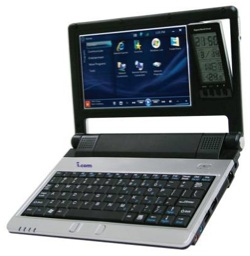 Another well-priced handtop garnering a fair amount of attention at Computex 2007 today is the NanoBook, a "revolutionary" new Ultra Mobile Device (UMD) reference design from VIA Technologies.
Reportedly to be priced at $600, the 1.9-pound UMD (not to be confused with Intel's UMP, previously known as UMD) is based on VIA's Ultra Mobility Platform (again, not to be confused with Intel's Ultra Mobile Platform), which consists of its power-efficient C7-M processor and VX700 chipset. The NanoBook can run Windows XP/Vista or Linux and, according to Chris Davies (the gleaming gem at SlashGear), "bridges the gap between UMPCs and traditional subnotebooks."
The concept design has already been embraced by Packard Bell, who plans to bring the NanoBook into the European market as the EasyNote XS, but only after it leaves behind the MobilityPLUS modules that are meant to snap into place beside the 7-inch 800 x 480 touch-panel display.
The USB modules—offered in Bluetooth VoIP phone, GPS, DVB, 3G/CDMA phone, and world clock variations—are meant to provide "additional flexibity" and functionality to the 9.1" x 6.7" x 1.2" computer, so I'm not sure what Packard Bell is thinking.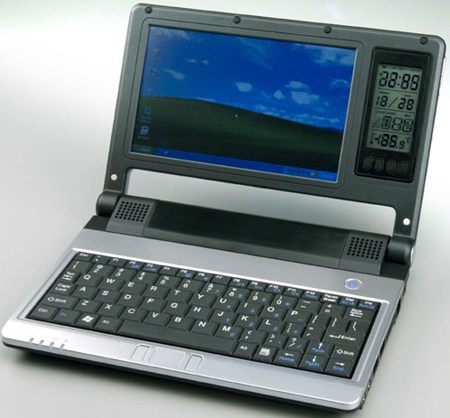 Because let's face it. There's nothing particularly "revolutionary" about a 30GB/60GB hard drive, 1.2GHz C7-M CPU, 1GB of RAM, 4-in-1 card reader, Bluetooth and 802.11b/g (both USB interfaces, which I believe means separate dongles), and full QWERTY keyboard. Not anymore, anyway.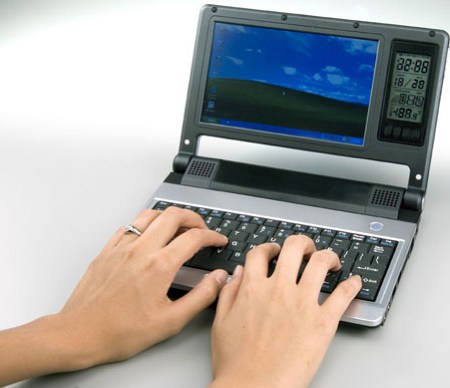 CNET reports that VIA "may land a deal with a U.S. manufacturer in about a month," so there's still a chance for the NanoBook's only unique feature to make it into production.
UPDATE 07-07-07: GottaBeMobile has learned that the U.S. manufacturer will be Everex, who estimates a $600 price point for a currently unnamed touchscreen version (apparently the Packard Bell unit won't have a touchscreen) that does in fact make use of the MobilityPLUS modules.