Review: FlipStart Labs FlipStart 1.0 (E-1001S)
An unbelievable four years after it was first announced and long after it was regarded as vaporware and urban legend, the FlipStart 1.0 (E-1001S) by FlipStart Labs finally began shipping in the spring of 2007.
Was it worth the wait?
System specifications
CPU:

1.1GHz Pentium M ULV
RAM:
512MB DDR2
OS:
Windows XP Professional or Vista Business
Storage:
30GB shock-mounted HDD
Display:
5.6" widescreen SVGA TFT (1024 x 600)
Wireless:
EV-DO Rev A, 802.11b/g, Bluetooth 2.0
Size:
5.9" x 4.5" x 1.35" (slimline battery)
5.9" x 4.5" x 1.60" (high-capacity battery)
Weight:
1.50 lbs. (slimline battery)
1.75 lbs. (high-capacity battery)
Box contents
The FlipStart is nicely packaged in a bright orange-yellow and gray box.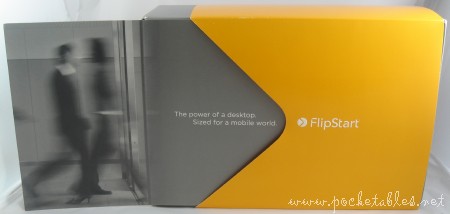 "The power of a desktop sized for a mobile world" is printed on a large fold-out poster tucked into the box's outer pocket. It's a rather bold claim that sets users up with high expectations.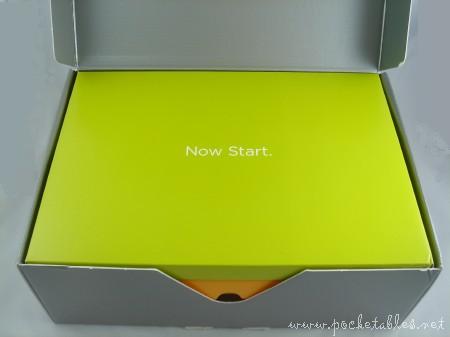 FlipStart Labs obviously knows a thing or two about the value of an unboxing experience. Yes, it's just some neon cardboard, but I appreciate that at least some effort was put into designing the packaging, which is more than can be said of some other companies.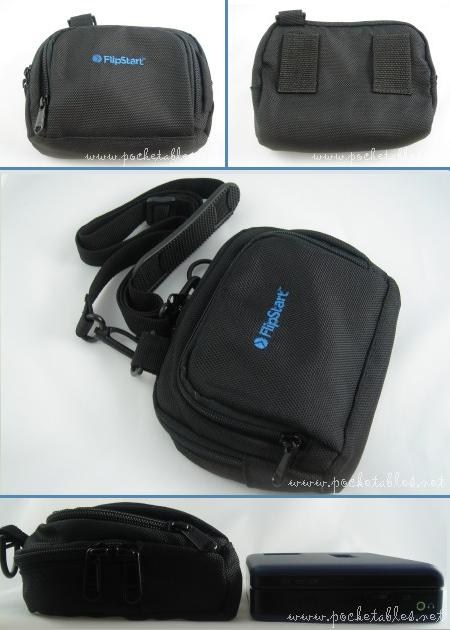 Included with the FlipStart is a nice set of accessories: screen polishing cloth, AC adapter and power cord, stereo headset with microphone and volume control, port replicator, soft carrying case, and high-capacity li-polymer battery. A recovery DVD is also supposed to be included, but my review unit didn't come with one. What I got instead was a spiral-bound user guide (available preinstalled as a PDF), 30-day trial version of Microsoft Office 2003 (available preinstalled for an additional cost), and the slimline battery, which can be purchased separately for $150.
The slimline battery (2160mAh, 7.4V) is about half the size of the included high-capacity battery (5000mAh, 7.4V) and reduces the unit's weight by a quarter of a pound.
Design
Despite my general affection for clamshell gadgets, I don't think the FlipStart will be in the running for any beauty pageants. It isn't exactly what I'd call a looker.
In fact, as I mentioned before, it bears a striking resemblance to my husband's Motorola Talkabout T900 pager. Whether or not this is a good thing depends on personal preference, I suppose, but it's worth noting that the T900 was released in 2000. From a design standpoint, seven years is a very, very, very long time ago.
According to FlipStart Labs, some of the advantages to the design are that it's familiar to everyone, protects the screen and keyboard, and offers flexibility in when and where the unit can be used (e.g., mounted in a car, held between two hands, set on a flat surface). While this is true, the flip-top form factor can also be more cumbersome than tablet-style or sliding-display handtops when trying to access information quickly because it requires two hands to open.
That aside, the dark-blue matte casing seems durable and scratch proof. Its slightly "grippy" surface is also resistant to fingerprints and smudges.
The thick, silver hinge is quite strong, so opening the FlipStart and angling its screen for optimal viewing requires some effort. In other words, nudging the top of the unit won't just flip it open or spring it into position. The advantage to this "deliberate opening" is that the angle of the display is almost infinitely adjustable, allowing for more versatile usage scenarios.
Size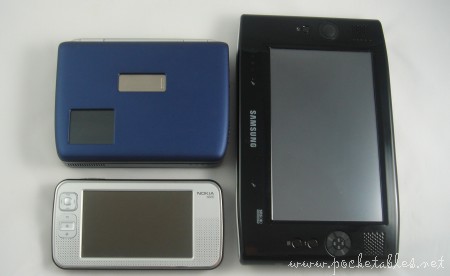 The FlipStart measures 5.9 inches long and 4.5 inches wide, putting it in the company not of 7-inch UMPCs like the Samsung Q1P, but of sub 6-inch handtops like the Sony Vaio UX series, OQO Model 02, and Fujitsu LifeBook U1010 (FMV-U8240).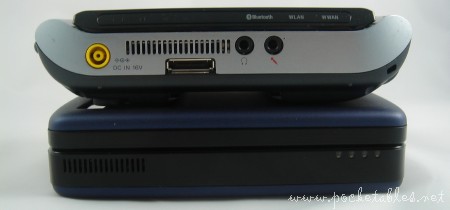 It isn't the biggest of the bunch, but it is among the thickest (with high-capacity battery, shown directly above) and the heaviest.
The slimline battery is a quarter of an inch thinner than its high-capacity counterpart, which sounds insignificant on paper but makes a very significant difference in person.
At 1.6 inches thick and 1.75 pounds out of the box, the FlipStart is not a thin and light device.
Display
It's difficult t o comprehend, but FlipStart Labs deliberately decided against equipping the FlipStart with a touchscreen. While 5.6 inches may not be enough screen estate to take full advantage of handwriting recognition, especially with a resolution of 1024 x 600, the decision to omit the technology partially because it costs more and "[isn't] a necessary requirement" wasn't a good one.
Using Windows XP with a touchscreen may not have been the "handtop norm" back in 2004, but it is today. In 2007, with more UMPCs and handtops for consumer to choose from than ever before, the FlipStart's lack of a touchscreen puts it at an automatic disadvantage. Making the unit look even more outdated is the fact that the display doesn't swivel the way most of its clamshell competitors do.
If I could tap various icons and interact with the system using my fingertips or a stylus , particularly after implementing some of these touchscreen-improvements tips, I'd actually be pretty pleased with the display. The screen is bright, the high resolution reduces horizontal scrolling and the amount of programs that "fall off the screen," and text is clear and easy to read.
I've actually been able to use the FlipStart for several hours straight without even a hint of eyestrain. Compared to the UX series, which employs the same resolution on a smaller screen, the FlipStart is much more comfortable for extended Web browsing, eBook reading, and text viewing. In short (and to state the obvious), text on a 5.6-inch 1024 x 600 screen is more readable and easier on the eyes than it is on a 4.5-inch 1024 x 600 screen.
Surrounding the display are two built-in microphones (one on either side) and a webcam for video conferencing and still-image capture that would actually be more useful placed at the top, rather than the bottom, of the bezel.
InfoPane
In addition to the 5.6-inch main display, the FlipStart is also equipped with a 1.88-inch external LCD (220 x 176) built into the lid.
FlipStart Labs calls this SideShow-like screen the InfoPane.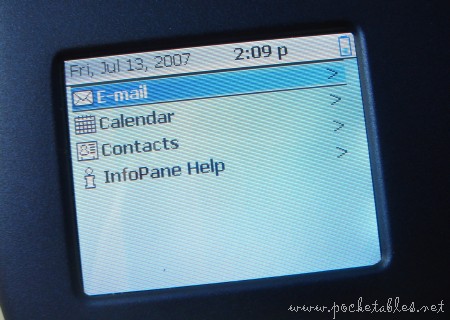 When the FlipStart is on but not flipped open, the InfoPane displays current date, time, and battery information and provides read-only access to your Outlook email, calendar, and contacts.
Controls
Since there's no way to control the system using the display, navigation on the FlipStart is handled by the hardware buttons on the casing and by various keys and features on the keyboard. The keyboard is discussed in greater detail below, so let's take a look at the chassis first.
Aside from a set of LED indicators on the front, there isn't anything of note on the front or left sides of the device.
On the back are the port replicator connector, power and USB 2.0 ports, and an air vent.
All of the navigational controls on the FlipStart's casing are on both halves of the right side.
On the top half are three audio controls (rewind, play/pause, and fast-forward). These buttons make it possible to listen to music and manage playback without having to even open the FlipStart. This is a nice feature that lends itself to using the device for multimedia purposes.
On the bottom half are a multi-functional jog dial, escape button, and audio input/output jack. What the jog dial does depends on where you are in the system. For example, it can be used for scrolling up and down on web pages, selecting highlighted menu options (the escape button acts as a "menu up" or "back" control), increasing and decreasing volume or screen brightness, and adjusting screen magnification when used with the dedicated zoom key on the keyboard.
Additional controls are located on the top third of the keyboard, so their discussion is included in the "Keyboard" section below.
Keyboard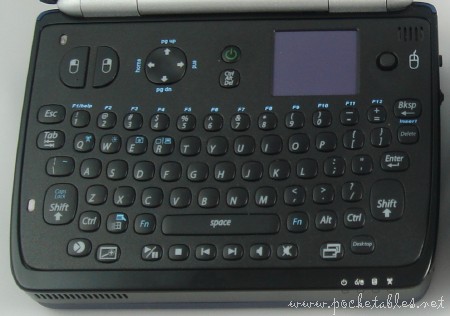 There's a lot going on on the FlipStart's keyboard.
At the top are a full set of laptop-like controls.
Touchstick
Closest to the right edge of the FlipStart and within easy reach when holding the unit in both hands is a rubber touchstick, or mouse pointer. Its movement is smooth and accurate . . . once you get the hang of it. It feels uncontrollable initially because the tendency is to push it too hard in whatever direction you want the on-screen pointer to move. This usually sends the pointer "flying" across the screen, making pinpoint accuracy difficult. Once you get a feel for how the touchstick responds to force, controlling it is nice and easy. It seems impervious to that wretched "mouse drift" that affects many other pointers, too, so it's really quite lovely.
Touchpad
That big purple square is the mouse touchpad, which works exactly as it does on a full-size laptop, including taps and double-taps being registered as mouse clicks and double-clicks. The FlipStart is one of very few handtops currently on the market that features a touchpad, and I hope that more companies follow suit in the future. Laptop users will find it instantly familiar and comfortable, and it's particularly well suited for when the device is placed on a flat surface and used in more traditional notebook mode.
Next to the touchpad are the power button and a dedicated key that is equivalent to the  Ctrl+Alt+Del key combination on a full-size keyboard.
D-pad
The directional pad replaces the standard arrow keys on a desktop keyboard and can also scroll web pages, move the cursor, and page up/down when used with the Fn key.
Mouse buttons
Beside the D-pad is a set of left and right mouse buttons. As expected, the left button performs a left-click function and the right button takes care of right-click functions.
Typing
It's no secret that I'm a big fan of the integrated hardware keyboard, or thumboard.
My two thumbs can input text at only a fraction of my normal ten-finger typing speed, of course, and some people can handwrite or hunt-and-peck on virtual keyboards just as quickly as my thumbs can move, but I still think the UMPC/handtop market is moving in the right direction as it continues to make thumboards the norm and not the exception.
FlipStart Labs' decision to forgo the touchscreen made the QWERTY thumboard an absolute necessity.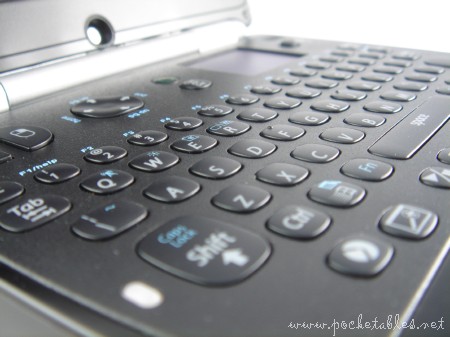 The keys are big and nicely spaced out, making them easy to press and almost guaranteeing accuracy. Tactile feedback is okay, but a little too sensitive for my taste. Because the individual keys are so shallow, it doesn't take much to press them down. This can sometimes slow down typing because it feels like a keystroke didn't register, even though it did.
I took my usual typing test using the FlipStart with the slimline and high-capacity batteries in both UMPC (held in both hands) and laptop modes. Here are my results put into context with other thumboards I've used.
Handtop
Percentage of
touch-typing speed
DialKeys on Samsung Q1P
29% (25 wpm)
OQO Model 01+
34% (29 wpm)
Apple iPhone
35% (30 wpm)
Kohjinsha SA1F00A (UMPC mode)
36% (31 wpm)
Sony Vaio UX180P
37% (32 wpm)
FlipStart, high-capacity (UMPC mode)
40% (34 wpm)
FlipStart, both batteries (laptop mode)
41% (35 wpm)
FlipStart, slimline (UMPC mode)
43% (37 wpm)
Kohjinsha SA1F00A (laptop mode)
51% (44 wpm)
Pepper Pad 3
54% (46 wpm)
As you can see, the added bulk of the high-capacity battery negatively affects typing speed for me. Depending on the size of your hands and the reach of your thumbs, the extra quarter of an inch could have the opposite effect on you.
For extended text entry, the FlipStart can always be connected to a portable keyboard via Bluetooth or USB.
Below the QWERTY layout is a row of dedicated keys providing quick access to a number of typical and not-so-typical handtop functions. From left to right: FlipStart Navigator key (to show/hide the Navigator menu shown under "Display" above), zoom key, audio playback controls (play/pause, stop, previous track, next track), volume keys, window-switching key (equivalent of ALT+Tab on full-size keyboard), and desktop key.
Connectivity
One area where the FlipStart really shines is wireless connectivity. It's got Bluetooth 2.0, 802.11b/g wi-fi, and 3G mobile broadband (EV-DO Rev A) courtesy of Sprint (separate data plan required).
Managing connections is simple using the preinstalled FlipStart Control Center, where various settings for hardware and software can be adjusted. Wireless radios can also be turned on/off using a Fn-key combination on the keyboard.
My review unit came with an activated Sprint account (plans start at $59.99/month), so I was able to test the EV-DO Rev A coverage here in Honolulu. Coverage is good, but speeds varied significantly not just throughout the day but within 15-minute periods.
According to Sprint's website, average download speeds fall into the 450-800kbps range (3.1Mbps peak) and uploads in the 300-400kbps range (1.8Mbps peak). Although my results weren't exactly on par with Sprint's figures, my online experience didn't suffer too much from it.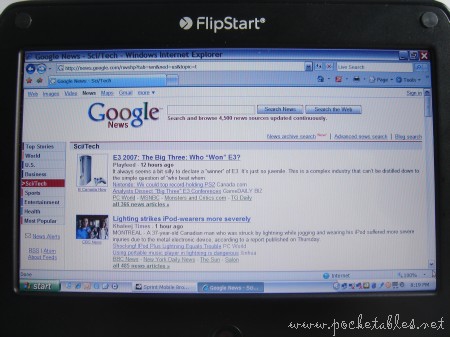 YouTube and other online video play back as they usually do on my home network, so the only noticeable difference is the occasional few-second increase in load time on certain pages.
Perfectly acceptable for accessing the Internet wherever I go.
Performance
The FlipStart's 1.1GHz Pentium M processor and 512MB of RAM make for reasonably snappy performance that really only slows down when multi-tasking. Even with benchmark results and other hard data, I still think of performance as subjective because how you perceive a system's speed depends on what you're used to.
Compared to what I now have at home and use on a daily basis, which are just a handful of UMPCs and handheld devices (no desktops or laptops), the FlipStart holds it own.
3D gaming
I'm not a computer gamer at all, but since my review unit came with a demo of Quake III Arena preinstalled, I decided to give it a try. I've never seen or played the game before, so I had absolutely no idea what I was doing, but the graphics were really smooth. Whether the stutter-free experience was due to the fact that I was probably moving very slowly is beyond me, but I assume FlipStart Labs installed the demo for good reason.
Multimedia
Videos, pictures, and music look and sound exactly as you would expect from a Windows XP computer. The 5.6-inch display and adjustable viewing angles make hands-free viewing of movies and TV shows a real pleasure. The sound quality of the built-in speaker above the touchstick is pretty standard fare: tinny and unbalanced but better than nothing.
Productivity
With the included port replicator, there is very little (if anything) that the FlipStart can't do as a mobile office companion.
The port replicator adds a VGA output, power port, unamplified line-out jack, Ethernet, and two USB 2.0 ports to the FlipStart. You can connect an external monitor or projector for presentations, USB keyboard or mouse for extended data input, optical disk or hard drive for expandability, external speakers for porta ble media center use, and so on.
Comfort
The main strike against the FlipStart's ergonomics and general usage comfort is its weight. At 1.75 pounds with the high-capacity battery, which comes standard, the unit is very heavy to hold between two hands without arm support. If you can rest your elbows on a table or armrests, using the FlipStart between your hands is pretty comfortable.
Placing the device on a table for use as a miniature laptop makes its weight a non-issue, but it also magnifies its non-touchscreen (with both my hands free, I just want to touch the screen). Being able to adjust the angle of the display to your liking is great, and the keyboard's spaced-out keys make typing with your index and middle fingers somewhat comfy.
Battery life
FlipStart Labs estimates battery life at 3-5 and 1-3 hours for the high-capacity and slimline batteries, respectively.
Real-world times will vary according to usage and settings, but I've found the lower figures to be pretty accurate when Web surfing on EV-DO with the screen set at mid-brightness, Bluetooth turned off, and the power scheme at the default "running on batteries" configuration.
Conclusion
Even if I could overlook its outdated design, chunkiness, and lack of a touchscreen, I would find it difficult to recommend the FlipStart because of its very high starting price: $1999. For a 30GB hard drive, 512MB of RAM, and little innovation in terms of pushing the limits of the form factor, it's just too much.
I do like the backlit keyboard, integrated 3G connectivity, accessory bundle, and input options (particularly the touchpad), but there are better alternatives on the market right now that are much less expensive. In fact, the current price puts the FlipStart above the best configuration of the OQO Model 02 and the Sony Vaio UX380N, both well known for their premium price tags.
The FlipStart 1.0 is by no means a bad product. But it isn't worth $2000.
Update 9.26.07: FlipStart gets $500 price reduction
Update 1.16.08: FlipStart now priced at $699
The FlipStart 1.0 is available now from FlipStart Labs, Dynamism, and other retailers.