Who's the leader of the club that's made for you and me? Based on the new 1GB Mplayer, my guess would be iriver.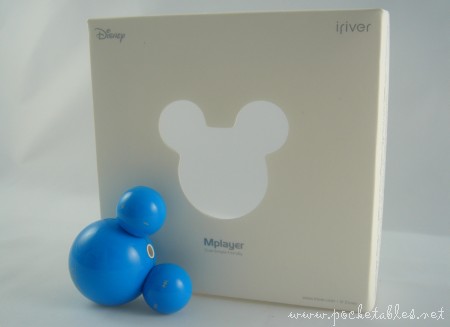 Originally commissioned by Disney for Hong Kong Disneyland, the iriver Mplayer has just recently become available in South Korea, which looks to be its only official destination outside of the amusement park.
But should a silly detail like your home country be allowed to come between your hands and an MP3-playing Mickey Mouse head? Warehouse123 doesn't think so!
System specifications
| | |
| --- | --- |
| Capacity: | 1GB |
| Supported audio: | MP3, WMA, ASF (up to 320kbps) |
| Dimensions: | 1.73" x 1.56" x 1.18" |
| Weight: | 0.63 ounces |
| Colors: | Black, blue, silver, pink, white |
Packaging
The Mplayer is packaged very simply in iriver's trademark white box.
Since Disney normally plasters its colorful product boxes with cartoon characters and oversized writing, the minimalist presentation seems to suggest that the player is not aimed at its usual demographic.
Box contents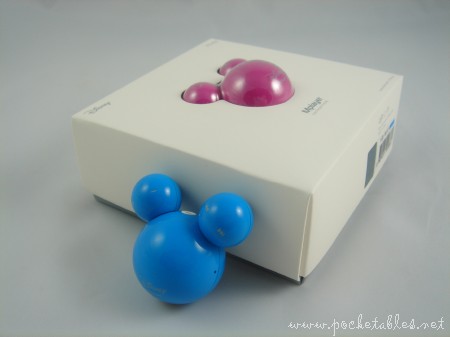 I have yet to be impressed by the accessory bundle included with any iriver player, and the Mplayer does nothing to sway my opinion in the other direction.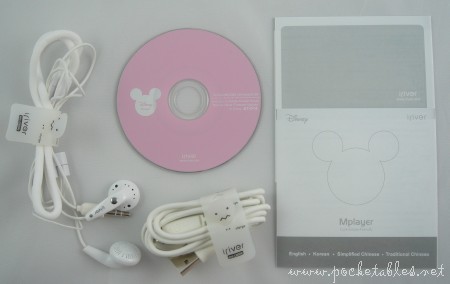 In addition to the player itself, each box contains a standard USB 2.0 cable, earphones with detachable lanyard, quick start guide, warranty information, and mini CD-ROM.
Design
Perhaps because I'm not used to seeing Mickey Mouse's head in 3D, much less separated from his body, the Mplayer doesn't always look like a round head with bulbous ears to me.
There are times (and angles) when the player actually looks more like gumballs or a misshapen pregnant woman. I think it's the facelessness that throws me off.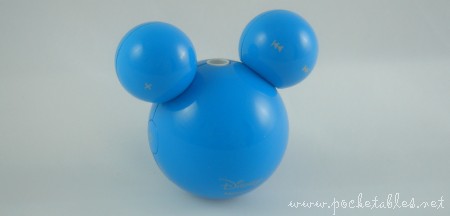 Even though Mickey Mouse is so iconic that designing a player in his likeness seems like a no-brainer, I think only iriver could come up with something like this. More straight-laced companies probably would have produced a rectangular device with an image of Mickey either printed or engraved on it.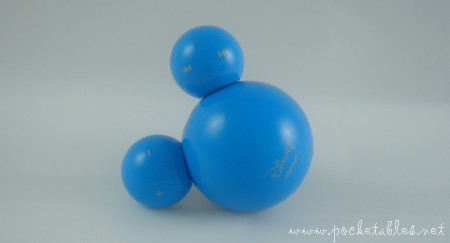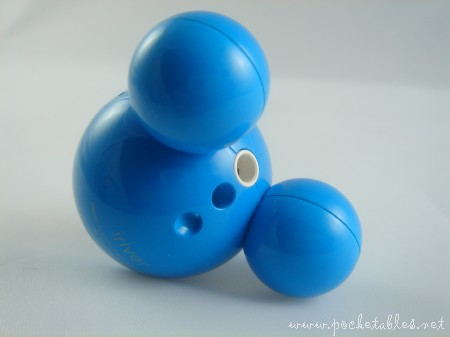 Build quality is in keeping with iriver's usual high standards, so even though the Mplayer is fashioned entirely out of glossy plastic, nothing about it feels cheap or fragile.
Size
Measuring 1.73" x 1.56" x 1.18", the Mplayer is definitely one of the smallest flash DAPs around.
Anything too much bigger than this would probably make the disembodied head a little less cute (it's already not as cute as the Hello Kitty MP3 player) and a little more disturbing.

To put the diminutive size in perspective, here are the Mplayers with some of their low-capacity flash DAP competitors: second-gen iPod nano, iriver S7 and S10, and Creative Zen V and Zen V Plus.
Like similarly sized DAPs, the Mplayer is designed to be worn around your neck. I'm not enough of a Disney fan to do this at anything other than a Disney-sponsored event, but I suppose it's a surefire way to get some attention from strangers.
I try not to blatantly stare at anyone under any circumstance, but I'm pretty sure I'd do a double-take if you walked by with Mickey dangling from your neck.
Controls
One of the most unique aspects of the Mplayer, aside from the obvious, is its controls.
How people are able to interact with their DAPs is always important, as poorly placed buttons and unintuitive controls can easily ruin what would otherwise be a solid device, but it's particularly critical on players without displays. Without a screen, users have to rely solely on hardware controls to listen to their music. So they'd better be good.
Fortunately for the Mplayer, they are.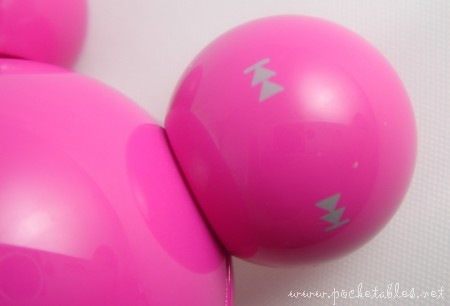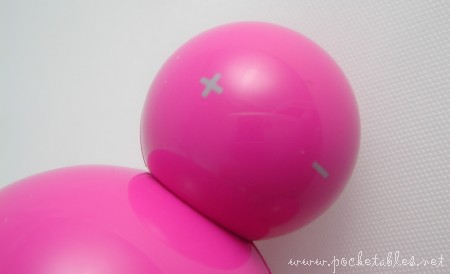 Iriver incorporated the player's main controls into Mickey's ears, which can both be twisted to the left and right.
Twist left ear to increase/decrease volume in one-level increments
Twist right ear to skip to the previous/next track
Twist and hold left ear to quickly increase/decrease volume
Twist and hold right ear to rewind/fast-forward within a single track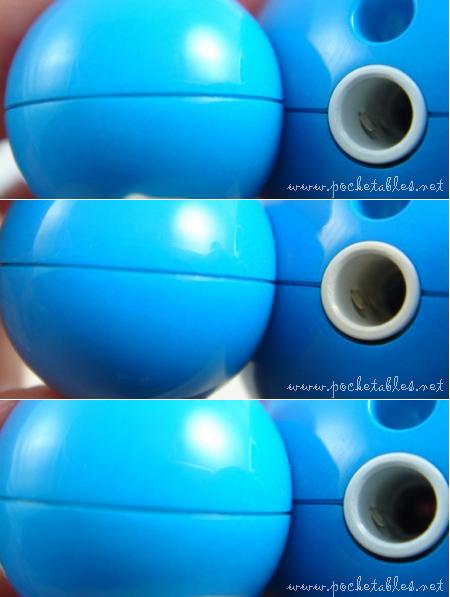 Since there's no grip on the ears, twisting them with a single finger is incredibly difficult. A better way to control the player, both one- and two-handed, is to hold an ear between your thumb and index finger. You can see above how little the ears actually twist (compare the "seams" in the three images).
Below the Mplayer's volume controls are a power button and reset pinhole. As expected, a quick press of the button turns the device on and off.
Music playback resumes about 5 seconds after the player is turned on and stops within 1 second of pressing the button to turn it off. Powering on/off is the only way for music to start/stop playing. In other words, the Mplayer does not have a dedicated play/pause button.
On the right side of Mickey's head is an LED indicator that glows red or green, depending on what the Mplayer is doing: steady red = battery is charging, steady green = battery is charged, flashing red = data is being transferred over USB connection, quick red = player is turning off, quick green = player is turning on.
The USB 2.0 port on the bottom allows the player to stand upright and, of course, to charge the battery and transfer music from a computer.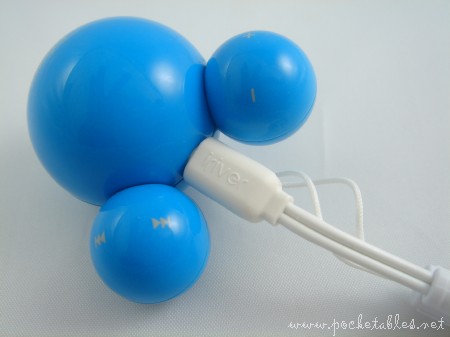 At the top is a standard 3.5mm headphone jack, and below that are lanyard loops.
Transferring content
The Mplayer is MSC/UMS compliant, which means that transferring music is as simple as connecting to a Mac or PC, then dragging and dropping albums and tracks, loose or in up to 400 different folders (8 depths), to the device.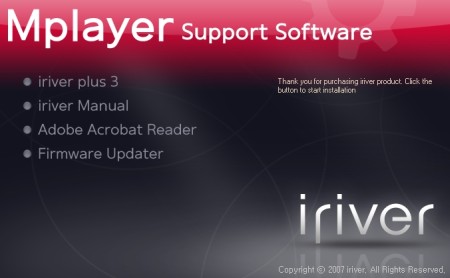 Software-free drag and drop is always my preferred method of music management, but I don't mind using iriver plus 3 (supplied) if I have to. Given that the Mplayer has only 1GB of internal storage and doesn't have any extra features that need management, though, the software really isn't necessary.
Audio
Unlike most (all?) of iriver's newer DAPs, the Mplayer doesn't have any SRS sound enhancements, play modes, or even a single EQ.
All it does is play music in whatever order it's been transferred at various volume levels. Without a visual volume indicator, I can't say for sure how many levels there are, but I think there are 40. The first 3 are completely inaudible and anything above 20 is way too loud for me. I've never known iriver to have low-volume issues, anyway, so I'm not surprised that even something like the Mplayer could blow out my eardrums.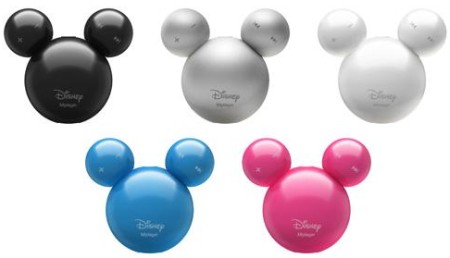 Sound quality is okay with my Sennheiser IEMs, but not as full or bright as on other iriver players I've tried. Everything is slightly muddled and, of course, bass is non-existent. The Mplayer obviously isn't powerful enough to drive a pair of high-end headphones, but I doubt that many audiophiles want a Mickey Mouse DAP, anyway.
Battery life
The non-removable lithium ion battery charges via USB in about 2.5 hours (1.5 hours for 80% charge). This is fairly reasonable on its own; however, music can't be played while the device is charging, so it could definitely feel like a long time.
I can't find any official ratings, but I was able to play 192kbps CBR MP3s at mid-volume for about 10 hours. The Mplayer lets out three sad beeps and promptly shuts itself off when the battery is drained; there's no warning when power is running low, so it's a good idea to be aware of your usage patterns.
Conclusion
The iriver Mplayer is a novelty DAP designed for die-hard Disney fans, iriver completists, and just about no one else. A unique design and clever controls are its strongest selling points, which is rarely enough to persuade consumers interested in sound quality, sophistication and sleekness, or extras like an FM tuner, EQs, and play modes.
Oh well. It's still a cute fashion accessory.
The iriver Mplayer is currently available for $87.50 at Warehouse123.