Transferring number to use iPhone took 43 hours
Before many new users of the iPhone can determine whether the ever-growing list of its shortcomings will affect their opinions of and initial experiences with the device, they need to get the darn thing activated first. Because without activation, the iPhone is little more than a sleek and shiny gadget to look at. None of its features can be used; in fact, it can barely even be turned on!
The issue seems to be affecting new AT&T customers, who are understandably dismayed that the new carrier they left their old carrier for hasn't exactly welcomed them with open arms.
I am one of these new customers. But unlike the many who have renamed their unactivated devices iBricks, I got mine activated within minutes of plugging it in. The problem, however, has been getting my old T-Mobile number successfully transferred, or ported, over to AT&T.
Almost immediately after completing the activation process via iTunes, I received an email from Apple titled "Transferring Your Mobile Number." I was congratulated because "AT&T [was] now transferring [my] existing mobile number to this iPhone" and told that "[my] iPhone [could] now make outgoing calls but [would] be unable to receive calls . . . until the transfer [was] complete." I was given an "up to 6 hours" timeframe during the activation process, which was fine because all of the other features (including making outgoing calls) were working perfectly.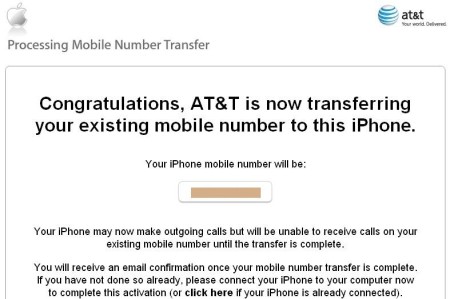 Now, you know from the mere fact that I've even written this post that the 6 hours came and went with no change in status.
T-Mobile and my Treo 650 were handling all of my incoming calls. T-Mobile, AT&T, my Treo, and my iPhone were taking care of my outgoing calls. I could call anyone from either phone and according to the callee's caller ID, my mobile number was the same.
Apple promised that I would "receive an email confirmation once [my] mobile number transfer [was] complete," but I didn't. Instead, I got several emails from AT&T about creating an online account and several text messages on my iPhone confirming just about everything I did in that account.
Clearly, AT&T thought I was theirs. All the while, of course, T-Mobile and my Treo were happily accepting incoming calls by themselves.
The last SMS I received from AT&T was at 3:38 a.m. this morning, about 29 hours after my iPhone had been activated. The message read "Welcome! Your phone is now ready to receive calls." My husband and I were still awake at 3:38 a.m., so I dialed my number from our landline with one hand while holding the iPhone in the other.
Ring! Ring! went . . . my Treo.
Liars!
So we went to sleep. And since it was Sunday, we slept in way past the socially acceptable sleep-in rule. Awaking from nearly 12 hours of sleep (what are we, newborns?), the first thing my husband did was call my number.
Ring! Ring! went . . . my Treo.
Yes, 41 hours and still no incoming calls on my iPhone.
Needless to say, at this point I was pretty annoyed (not to the point of other new owners who still can't do anything with their iPhones, of course, but still pretty annoyed). I did several searches on Google and really couldn't find anything about porting problems. I did find a bunch of phone numbers, though, so I prepared myself for spending the rest of my afternoon on hold with various customer service representatives.
But first, on a whim, I picked up our landline phone and dialed my number.
Ring! Ring! went . . . my iPhone.
Imagine that! My iPhone. Accepting an incoming call. And all it took was 43 hours.
Of course, while writing this post, I came across this Activating your iPhone guide from Apple that includes this little tidbit:
So if you're thinking of getting an iPhone and plan on porting your current mobile number to AT&T, just remember that doing so can actually take "up to several days," not 6 hours.