Acturion Datasys launches rugged Victum-Tablet 8 UMPC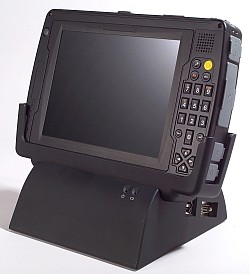 Acturion Datasys GmbH, a German company that specializes in industrial and military mobile computing, announced yesterday that its fully ruggedized (and unfortunately named) Victum-Tablet 8 UMPC is now ready for use in "home delivery services, mobile POS, technical maintenance personnel, search and rescue services, and law enforcement."
Also known as the xTablet T8600, the slate complies with military standards and sports an 8.4-inch 800 x 600 dual-mode active digitizer and touchscreen, PCMCIA and CF card slots, numeric keypad, hardware cursor keys, and a respectable set of I/O ports. In addition, the all-metal housing is completely sealed to protect its 1.2GHz Pentium M ULV processor, 2.5-inch hard drive (up to 160GB), 1.25GB (max) of RAM, and other internals from "harsh environmental conditions."
The Victum-Tablet 8's screen size, dimensions (10.6 x 7.2 x 1.6 inches), and weight (3.7 to 4.2 pounds, depending on battery) make its classification as a UMPC highly suspect and generally just wrong, especially when even Acturion's website lists it as a Tablet PC, but I suppose that's not the point of the original press release.
The "UMPC" runs Windows XP Tablet PC Edition but can also be configured with Linux. Other specs include integrated 802.11a/b/g wi-fi and Bluetooth 1.2, built-in speaker and microphone, and support for GPS and 3G cellular connectivity.
The slim pack and enhanced batteries should power the Victum-Tablet 8 for up to 4 and 7 hours, respectively.
Pricing details haven't been disclosed, but Acturion does use the word "inexpensive" to describe the device. Of course, compared to the GoBook MR-1 military-grade rugged UMPC that was recently priced at $4450, "inexpensive" is a completely relative term.
[via
Tablet PC Talk
]