First impressions of the Sony Vaio TZ
Since unboxing my Sony Vaio TZ170N a few days ago, I've spent more than 25 hours with the ultralight Vista Business machine on my lap, usually incredibly pleased at the subnotebook's performance and usability, but sometimes confused and pretty miserable.
The misery isn't due to the upper left corner of the TZ's bottom heating up to uncomfortable temperatures on my leg, either, as the rest of the unit remains completely cool after hours of continued use. No, the horror immediately following the unboxing was due solely to the initial boot time and subsequent setup that made for a very negative first impression. I know now that all the pain was worth it in the end, but at the time, I reread Sony Style's 30-day return policy and made sure to keep all the original packing materials.
Starting Vista for the first time
Although my TZ170N has twice the RAM as the TZ150N, LAPTOP Magazine's assessment that the latter "behaved as if it were broken before [they] deleted some programs and prevented others . . . from launching upon startup" still applies.
Here's a rundown of what happened as soon as I hit the power button.

First, I followed Vista's instructions and waited while Windows prepared to start for the first time. According to my stopwatch, which was my trusty companion throughout the process, this took 4 minutes and 30 seconds.

Then, my eyes were treated to a vibrant splash of blue and a request to continue waiting. After 4 minutes and 45 seconds, the colorful screen (which by then had already lost its appeal) was replaced by a blank black screen.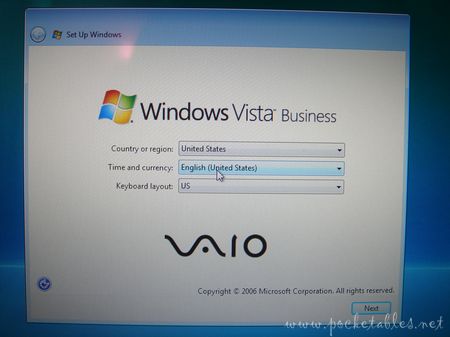 About 3 minutes later, I was able to setup Windows. The process was straightforward and took a minute or so to get through.
I was asked to select my wallpaper during setup, which I thought was odd at first but later understood why it was done: visual variation. I stared at my choice for the next 45 seconds.
After a flash of black, 20 seconds of waiting while Windows checked the computer's performance, and a quick welcome screen, the system began to prepare my desktop.

Even though all I really did was select a wallpaper, it still took 1 minute and 48 seconds for my desktop to be prepared.
Or so I thought.
The desktop according to Sony
An advertisement for Norton Internet Security appeared. It could be dismissed with a single click of the "Exit" button, but then it took another 3 whole minutes for everything on the desktop to load.
My god! Look at all that. (Hey, I think I see my wallpaper under there.)
If you've lost track of all the minutes and seconds, it took about 17 minutes to get to this point.
Out of all of the ridiculous pieces of trialware, bloatware, and Vaio-specific programs that Sony preinstalled, the absolute worst were the Spider-Man and Spider-Man 2 movies, which took up nearly 3GB of hard drive space.
Oh, and speaking of the hard drive, guess how much of the TZ's stated 100GB (about 97GB in 1024MB = 1GB terms) is available out of the box.
That's right. Only 62.3GB free of 84.8GB available.
Why!?
Well, Sony keeps an additional 8.3GB in a hidden partition for recovery purposes, which brings the actual capacity up to 93.1GB. Windows keeps a few gigs for itself, too, so even though it's initially alarming to see so much space "missing" space, everything is pretty much as it should be. Everything, that is, except for all the freeware slash trialware slash bloatware slash crapware.
Before shoveling through it, the first thing I did was create the recovery discs. It's straightforward through the preloaded VAIO Recovery Center, but it took considerably longer than I expected. With 16x Ridata DVD-Rs and the TZ's built-in ODD, it took 56 minutes to create two single-layer DVDs. The content could also be written onto a single dual-layer DVD, but I didn't have one on hand.
I briefly considered wiping the entire drive, doing a clean install of Vista, and wiping out the recovery partition, but I don't really need the extra space. My UX180P, for example, has only 30GB; I've had it for over a year already and I still have about 14GB free.
Uninstalling bloatware
You can see from the desktop photo above just how much extraneous software is loaded onto a factory-fresh Sony TZ, but there's actually a lot more than that. Here's a list of the stuff I uninstalled immediately:
Norton Internet Security
LocationFree Player
Napster
SonicStage (and related apps)
AOL Helper and Toolbar
Microsoft Ofice Small Business 2007 (and related apps)
QuickBooks
Adobe Acrobat 8 Professional (this alone was 1.15GB!)
Microsoft Streets & Trips 2006
Corel Paint Shop Pro Photo XI and Snapfire
Microsoft Works
DSD Direct
Microsoft SQL Server 2005 (partial)
VAIO Entertainment Center
VAIO Productivity Center
VAIO Center Access Bar
VAIO Media 6.0 (and related apps)
VAIO Photo 2007
VAIO Video & Photo Suite
Uninstalling all of that (and the aforementioned Spider-Man flicks) freed up more than 8GB!
I might get rid of more eventually, but 70GB of free space is more than enough for me right now. One thing I've noticed, though, is that I tend to lose gigs quickly because of Vista's preoccupation with backups. Before I disabled it, the hibernation file was 2GB; and before I deleted it, the system restore and shadow copies ate up nearly 3GB.
The payoff
I mentioned at the beginning of this rant that it's definitely worthwhile to push through the pain of getting the TZ to a not-so-factory state. And it is.
It's obviously still much too soon for me to write up a full review, but now that I'm nearing the 60-hour mark of TZ170N ownership, I think I can share the unorganized list of thoughts and impressions I jotted down in the notebook I kept beside me as I got to know the TZ.
Sleep/Resume is almost instant. Vista's default "off" state is called Sleep. It's essentially a combination of the Standby and Hibernate modes found in XP, and it's fast! Even with as many as 83 processes (according to the Task Manager) running in Vista Business, it takes about 5 seconds each for the system to sleep and resume. Five seconds!
Outstanding battery life. I haven't run any drain tests or done anything incredibly taxing to the system yet, but I'm easily getting about 6 hours of Firefox time via wi-fi. The battery isn't taking a big hit from Sleep mode either; it loses only about 2.5% of its charge per hour.
Power button placement. One of my early concerns was that the TZ could be easily turned on accidentally because of the odd placement of the power button. Fortunately, not only does the button require a very deliberate press, but it can also be reconfigured to do nothing. Opening and closing the TZ's ultra-thin lid can be used to turn the system on/off instead.
Zippy performance. Vista Business on 2GB of RAM and the U7500 Core 2 Duo processor runs exceptionally well. And I haven't even optimized anything! I'm taking full advantage of (and loving) the Aero interface and Windows Sidebar.
Excellent keyboard. I had read that the keyboard takes some getting used to, but that wasn't true for me. The keys are nicely sized and spaced out, typing is comfortable and quiet, and tactile feedback is great. It's 90% the size of a standard keyboard, which makes very little difference to my hands and fingers. According to the typing test I take when reviewing UMPCs and handtops, I'm typing at 91% of my normal speed.
No compatibility issues with old software. Maybe this is a given now, but I remember reading some horror stories about compatibility with older software when Vista was first released. Since this is my first Vista machine, all of my favorite software is old. I didn't install much (only about 10 titles), but nothing is better than when things just work.
Viewing angles. The LED-backlit 11.1-inch LCD (1366 x 768) is impossibly thin and extremely crisp, bright, and beautiful, but what actually struck me most were the viewing angles. They're fantastic from the side and bottom: none of that negative image nonsense.
Transfer rates. The TZ is equipped with a dual-layer ODD, a memory stick slot, and an SD card slot. I didn't test the SD slot yet, but I got 5.47MB/s and 2.86MB/s transfers from the ODD and MS slots, respectively.
Ultraportable and lightweight. I'm amazed by how small and light the TZ is. I can easily hold it by a corner in just one hand, something I commonly associate with UMPCs but never with notebooks.
Ventilation. The cylindrical battery has a small mound (with two feet) that sits beneath the TZ, keeping it from laying completely flat to allow air to flow freely between the bottom of the unit and whatever flat surface it's resting on. When the bottom is not propped up correctly (e.g., when it's on a lap), it heats up quickly. This seems to activate the fan on the left side, which runs so quietly that I usually need to press my ear up to the vent to hear if it's even on.
Lots more to come in the following weeks and months.