Kohjinsha adds SSD to SH6 UMPC series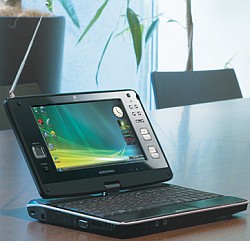 Several weeks after the nicely named Kohjinsha K600 handtop was officially launched as the atrociously labeled SH6KB04A, the Japanese company replaced the standard 40GB hard drive (100GB for the SH6KP10A model) with a 32GB solid state drive and called it the SH6KPS3ABX1.
Listed on the Kohjinsha website for 199,800 yen (about $1675), the SH6KPS3ABX1 retains the specs of the higher-end members of the SH6 clan: 600MHz Intel A100 CPU, 1GB RAM, Vista Home Premium, 7-inch 1024 x 600 touchscreen,  3-in-1 memory card slot (SD, MMC, and CF), Bluetooth, 802.11b/g, and so on.
The convertible-style UMPC comes in either black or white and can also be configured with Microsoft Office Personal 2007. But watch out. Because not only does the software suite add 20,000 yen (about $168) to the purchase price, but it also transforms the device's name from SH6KPS3ABX1 to SH6KPS3FBX1.
The "F" designation somehow corresponds to the software because the 100GB SH6KP10A, which also runs around as the SH6WP10A, becomes the SH6KP10F (and SH6WP10F) when Office is added.
Ridiculous naming conventions aside, I actually wouldn't mind giving another Kohjinsha a spin. My biggest gripes about the SA1F00A, the company's first UMPC attempt, were about the subpar keyboard and lack of a touchscreen. The latter issue has obviously been addressed, and according to the UMPCportal's SH6 mini-review, the former isn't a problem anymore either.
[via
Akihabara News
]