Review: Nokia N800 Internet Tablet (Part 1)
The Nokia N800 Internet Tablet is advertised as a handheld device that lets you "take the internet to new places." Its high-resolution widescreen display and simple wireless connectivity solutions work together to enable quick and constant access to the best of the Web (including Flash 9, instant messaging, and Skype) anytime and anywhere.
This already sounds impressive on its own, but a closer look reveals that the Linux-based N800 is more than just an "internet tablet."
How much more? Read the first half of my full review below to find out.
Don't feel like waiting? Jump ahead to Part 2 of the review.
System specifications
CPU

330MHz Texas Instruments OMAP2420
OS
Internet Tablet OS 2007 (Maemo Linux)
Memory
128MB RAM, 256MB Flash
Expansion
Two memory card slots: SD, SDHC, microSD, miniSD,
MMC, RS-MMC (up to 8GB each)
Supported
file formats
Audio: AAC, AMR, AWB, M4A, MP2, MP3, RA, WAV, WMA 
Video: 3GP, AVI, H.263, MPEG-1, MPEG-4, RV
Photo: BMP, GIF, ICO, JPEG, JPG, PNG, TIFF, SVG Tiny
Wireless
802.11b/g, Bluetooth 2.0
Display
4.1" touchscreen (800 x 480, 65K colors)
Size
5.67" x 2.95" x 0.51"
Weight
7.3 ounces
Take a look at my N800 unboxing for photos of the packaging and included accessories.
Design
The N800 is fairly sleek with its black housing, matte silver face, and glossy silver trim.
It seems to be made entirely of plastic, which slightly cheapens its feel but still manages to give off the impression of a solid build. Although it does let out a faint creak when squeezed too hard, it doesn't feel fragile (and you shouldn't be squeezing it to death, anyway!).
Size
At 5.67" x 2.95" x 0.51", the N800 is a nice size for one- or two-handed use.
It's bigger than most smartphones and PDAs, but still small enough to fit into the front pocket of most jeans, the side pocket on backpacks and laptop bags, the outside pocket of medium-sized purses, and so on.
Display
Since the Nokia N800 was released in January 2007, most expert and user reviewers have lavished praise on its 4.13-inch touchscreen.
Viewing angles, brightness levels, and the 800 x 480 native resolution are certainly exceptional features, but the paltry 65K-color support and touchscreen responsiveness aren't impressive.
The screen is actually a tad "mushy," meaning that when you tap on it with the stylus or your fingertip, it kind of "mushes in" the way, say, gel would if it were beneath a layer of plastic wrap. I don't know if this mushiness plays a part in the screen requiring deliberate taps to register an action, but responsive is definitely not at 100%. I wouldn't go so far as to say that it's hit-and-miss because it's better than that; in terms of accuracy and responsiveness, I'd give the N800's display about a 7 out of 10.
What I'm wondering, though, is whether the mushiness has anything to do with the fact my N800's screen may be defective.
First, there seems to be an abnormal amount of dark spots that are visible against light backgrounds. It's difficult to capture the spots on camera, but if you look at the picture above, you can kind of see that in addition to the darkened corners, there's a horizontally elongated splotch (about 1.25 inches long) on the left side, about a third of the way down from the top. That can't be normal!
Note: The dingy yellow tint you can see in the picture actually isn't perceptible in person, but it makes the dark areas stand out a bit more.
Second, look at this gigantic "oil spot" taking over the screen (it's only visible at an angle under direct light). It looks to me that the LCD is being pressed into place with too much force. I'm terrified of taking the N800 apart, but I have a feeling that if I could loosen whatever is holding the screen in place, the spot would go away.
Needless to say, I'm not blown away by the N800's display. Color reproduction does seem pretty accurate, though, and photos and movies look perfectly acceptable. The internet looks great, but really only because of the excellent 800 x 480 resolution, which eliminates much of the horizontal scrolling commonly associated with web browsing on mobile devices.
Controls
In addition to its touch-based interface, the Nokia N800 is equipped with navigational hardware controls, various ports, stereo speakers, and other physical features.
Most readily apparent are the buttons on the left side of the display.
The top one is what Nokia calls the scroll key, presumably because it can be used to scroll websites and documents. Scrolling is actually rather choppy using this key, so I would've given it a more conventional name (e.g., 4-way controller or D-pad). Either way, it can be used to move (in four directions) through menus and whatnot; the center button acts as the "Enter" or "OK" key.
Beneath the "scroll key" are actually three buttons masquerading as one. From top to bottom are the escape key (closes menus and applications, moves back in the browser), menu key (access application menus), and swap key (short press brings up a list of currently open applications for one-click switching, long press brings up the home screen).
Personally, I think the buttons are too flush against the N800's front panel. They wiggle around too much under my thumb and are just not very comfortable to use. With practice and over time, I'm sure the controls can make navigation quick and efficient. For me, however, everything is much faster just using the touchscreen (even if I have to tap a link multiple times); I don't even bother with the buttons.
Their inclusion is important (too bad they can't be remapped, though), and one of the nice things about them (if you don't use them) is that they blend in with the casing. They don't detract from the N800's overall appearance, so they're easy enough to ignore without begrudging their existence.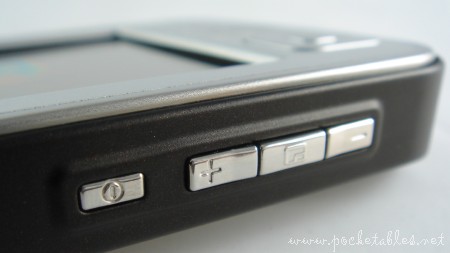 At the top of the N800 is a built-in mic, power button, and dedicated zoom/volume keys surrounding a fantastic (and indispensable) full-screen key. As its name implies, the full-screen key instantly switches the display between normal- and full-screen modes. It's really the only hardware control on the device that I use all the time.
A spring-loaded, rotating VGA webcam is housed in the left side of the device. The camera was designed primarily for making internet video calls, but Nokia offers a free application (appropriately called "Camera") that allows it to be used as a digital still camera.
On the right are the top portion of the stylus slot, 3.5mm headphone jack, power port, and USB 2.0 port.
The majority of the N800's backside is dominated by the back cover (a peek at what it's hiding below). At the top left is the rest of the stylus slot and bordering the bottom half of the entire device is an integrated stand.
Built-in stand
The stand "clicks" into two positions and is attached to the N800 with two screws.
The first position is ideal for when the display is at eye level, while the second is better suited for when the device is sitting on a table and you need to look down to see it.
The stand is sturdy but thin. I don't think it would take much force to crack in the middle.
Expansion slots
The Nokia N800 is equipped with not one, but two memory card slots! At the time of this writing and with the newest firmware (version 4.2007.26-8), each slot supports SD, microSD, miniSD, MMC, and RS-MMC up to 8GB. Note: SD cards that are bigger than 2GB must be SDHC compatible.

The first card slot is located on the bottom of the N800 and accessible when the built-in stand is in use.
The second slot is under the back cover, to the left of the battery.
When the N800 is connected to a computer over USB, both memory card slots show up as mass storage devices. Content can be moved between the N800 and computer via drag-and-drop.
Input methods
Preloaded onto the N800 are three on-screen input options: full-screen finger keyboard, on-screen keyboard, and handwriting recognition.
The full-screen finger keyboard is automatically launched when you tap on a text-input field with your finger. The keys are big and within easy reach, but the touchscreen's less-than-stellar responsiveness (detailed in the "Display" section above) negate its usefulness. It requires such deliberate thumb presses that typing becomes very slow. Because of this (and the resulting fingerprints on the screen), I don't use this keyboard at all.
Other users have said favorable things about it, though, so maybe it's just me.
Although I'm normally not a fan of hunt-and-peck typing with a stylus, the N800's on-screen keyboard is what I use most often when renaming files and folders or inputting URLs, user names, and passwords. The keyboard is called up when tapping an input field with the stylus; it includes a full set of options (e.g., cut, copy, paste) and is actually incredibly responsive. I'm not sure why this is the case, but I suspect it's because I interact more forcefully and deliberately with the screen when my brain is in hunt-and-peck mode.
Depending on your text-input settings, tapping an input field can also be set to automatically bring up the handwriting recognition panel. This option allows you to use the stylus to write directly on the screen in your regular handwriting (no cursive). The N800 is supposed to be able to "learn" your handwriting style, but I haven't had much success with it.
Out of the box, the handwriting recognition is actually pretty atrocious. When I handwrote "This is a test of the handwriting feature on the Nokia N800," the system returned "This is aest of he handwri'Tihq recugh,iur featureohthe Nokianoo." My handwriting won't win any penmanship awards, sure, but isn't it legible enough for the N800 to have been able to read it?
User interface
I mentioned in an earlier post that the N800 isn't very user-friendly out of the box and that the average consumer and/or tech newbie would be pretty dumbfounded. I still stand by these words and would like to add that the reason for my original assessment is the device's user interface.
Imagine for a moment that you are unfamiliar with Linux and applets and that all you know about the Nokia N800 is what you saw from the promo video. The first thing you see when you turn on the device for the first time (after the boot-up stuff) is this:
There's no denying that this is not user-friendly. It's actually rather intimidating, if you ask me, especially because at first glance, it isn't obvious that the applets (all those boxes covering up the large "desktop" area) can be changed. In fact, they can even be completely removed.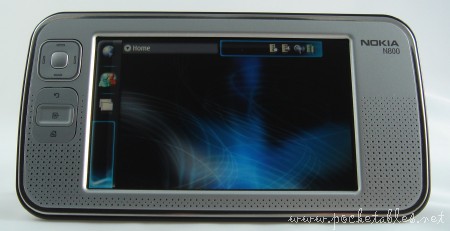 Now isn't this much more inviting? Without all the applets cluttering what Nokia calls the "home view," everything looks more familiar, almost like a regular computer. When approached like this, the N800 suddenly becomes very simple and straightforward to use.
At the top are status indicators (shown above are brightness, volume, WLAN, and battery; not shown are online presence, USB connection, alarm, and Bluetooth) and the application title area. On the left is the task navigator; tapping on any of the three icons (web browser at the top, contacts in the middle, applications at the bottom) opens a cascading menu similar to the kind you see on Windows PCs.
Oh, remember how the full-screen finger keyboard launches when you tap an input field with your finger? A similar thing happens when you tap one of the icons with your finger too. The menus become oversized and finger-friendly. How thoughtful of Nokia!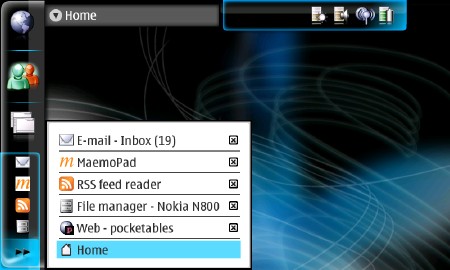 Below the task navigator is the application switcher, which is just like the taskbar on Windows machines. It shows icons of currently open applications and allows you to switch between them with a simple tap.
Applications
The Nokia N800 runs Internet Tablet OS 2007, which is based on a modified version of Debian Linux and is completely open source. What this means is that you can develop, install, and/or run just about anything you want. And you don't even really need to know much about Linux to take advantage of most of it.
Well, you obviously need to know quite a lot if you're going to write your own programs, but you don't need to know anything to use the preloaded Application Manager.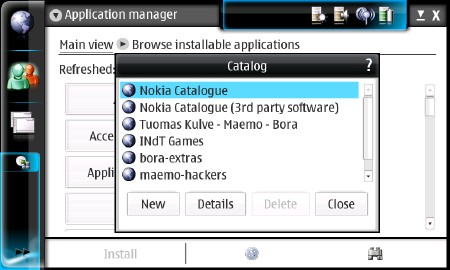 With it, you can install an unbelievable amount of applications (through catalogs and other resources) directly onto the device and completely independent of a computer. Why? Because the N800 is basically a full-featured Linux computer!
If expanding the device beyond its factory configuration doesn't interest you, don't worry. The N800 comes preinstalled with an excellent set of applications: Opera web browser, contacts, email, IM, internet calling, calculator, clock, notes, PDF reader, sketch, games, media player, image viewer, file manager, RSS feed reader. The newest firmware (version 4.2007.26-8, as of this writing) also adds Skype and Rhapsody to this list.