iPhone SIM could give HTC Advantage HSDPA
Update 10.24.07: AT&T's BroadbandConnect network is now available in Hawaii! I don't know when it happened, but I couldn't get online via wi-fi this morning, so I put my iPhone SIM in the Advantage to crawl on EDGE and watched in amazement as the old "E" icon was replaced with "3G" or "H" (it switches). I'm tethered via Bluetooth on my Vaio TZ right now!
If AT&T included Hawaii in the deployment of its BroadbandConnect network, I would have already turned my iPhone into an iPod touch and been cruising the web on my unlocked HTC Advantage
over a 3G mobile broadband connection as fast as "the speed of life." But they didn't.
So I'm not.
And it's not for lack of trying. Because even though Hawaii is missing from the list of lucky cities and the X7501 includes a network wizard that configures all the necessary settings automatically, I still followed the X7500-specific advice generously offered by a reader named orbitalcomp.
The Advantage X7501 is sold unlocked, so it should happily accept any GSM carrier's SIM card and make use of its voice and data connections with no problem.
What follows is just a pictorial of my experience with the iPhone SIM in a state without HSDPA through AT&T.
Removed SIM from iPhone:
Installed SIM into Advantage:

Turned on Advantage:

Got my hopes up:
For nothing:
Thought about the iPod touch: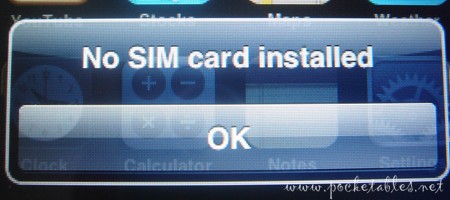 I'll be in California and Nevada later this year, so I'll try again then. I'm sure it works (there's no reason for it not to), but it's just one of those things I have to see for myself before I can get excited about the possibilities.
If all goes as planned, my HSDPA-enabled mobile gear setup for CES 2008 will be the Vaio TZ170N and the HTC Advantage. My SIM-less iPhone will stay at home.