One week with the HTC Advantage X7501
Now that it's been a full week since I unboxed the HTC Advantage X7501, I think it's a good time to share some of my early impressions.
I've also recorded a short video demonstrating the incredible strength of the magnets built into the device.
I'll start with that first, as it's one of most unique and talked-about features, and then just flesh out some of the notes I jotted down during the past week.
Magnets
If you're concerned about how easily the main unit can "fall off" the keyboard, watch the video (it's only 44 seconds) and put those fears to rest!
As amazing as it is, I obviously don't recommend holding the Advantage upside down by its keyboard. The magnets are strong, but it's important to remember that the pieces aren't bolted or fused together.
VGA vs. TrueVGA
The 5-inch touchscreen is listed as being a VGA display, but as with most Windows Mobile devices touting the same resolution, it isn't really VGA. Some say the device's true resolution is actually 320 x 240 stretched to 640 x 480, which is why an actual QVGA device and the Advantage show the same amount of information on their screens (the latter just uses bigger fonts and icons), but I'm not sure if this is technically accurate.
In any case, by default, most of the OS does not run in true VGA mode.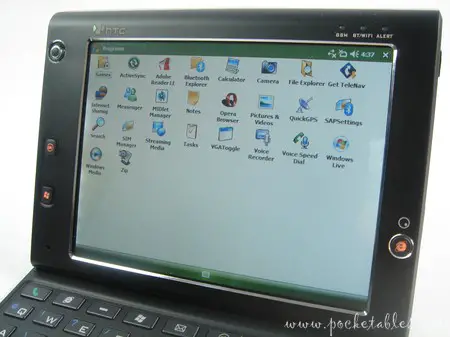 This is especially evident when using utilities such as MvRTrueVGA, which makes everything run in full VGA resolution.
There are a number of quirks and incompatibility issues when taking this route (it completely hung my system twice) and the benefits aren't very significant, especially because more applications are now either resolution-aware or configurable to take advantage of the screen estate. For example, Office Mobile and the three web browsers I've tried (Pocket Internet Explorer, Opera 8.65, and Minimo 0.2) can all run in full resolution without any TrueVGA utility installed.
Personally, I love the oversized icons. They're nicely optimized for fingertips and generally just nice to look at.
Syncing
The Advantage syncs to a computer via USB or Bluetooth using ActiveSync in XP or Windows Mobile Device Center in Vista.
I don't use Outlook or even have it installed, so I just sync to drag-and-drop content onto the device's internal memory (256MB ROM, 128MB SDRAM), miniSD card, or 8GB microdrive.
It's worth noting here that performing a hard reset does not affect the microdrive; there's a separate "Format Microdrive" option in the System Settings. I keep a copy of all my CAB files in a dedicated folder so that reinstalling third-party applications after a hard reset can be done quickly and without a computer.
Software
And speaking of third-party apps, here's a list of what I've installed so far:
Spb Mobile Shell
Spb Full Screen Keyboard
Spb Benchmark
Spb Imageer
TypePad Mobile
Minimo 0.2
eWallet
ListPro
Screen Capture
Resco Sudoku
Mobipocket
WisBar Advance 3
I was actually already impressed with the preinstalled programs (particularly Office Mobile, Opera, and Adobe Reader LE), but Windows Mobile's extensive catalog of robust applications really takes it to the next level.
Web Browsing
I'll go into more detail about the browsing experience at a later time, but since I touched on it in the Q&A session the other day, I'd like to say that I feel better about it now than I did then. In other words, my first impressions did not "stick" and transform into conclusive opinions.
I still have a few tests to run and more intensive sessions to go through, but I'm feeling a bit more positive. I'll run some side-by-side comparisons with a couple of mobile devices to see how the Advantage fares. I think the Nokia N800 may have it beat.
I'm liking Minimo a lot, but Opera seems to run a bit faster.
And that's about all my notes so far. I'll likely write a few more bits about the device before my full review because it seems the more I use it, the more I like it. Every day I learn something new and become more impressed by its power and functionality. I'm already irrevocably won over by the hardware and form factor.