Review: Kenwood Media Keg HD30GB9
Kenwood may not be known for digital audio players in the U.S., but its Media Keg series has a respectable presence in Japan. In fact, two new additions are already poised for release next month.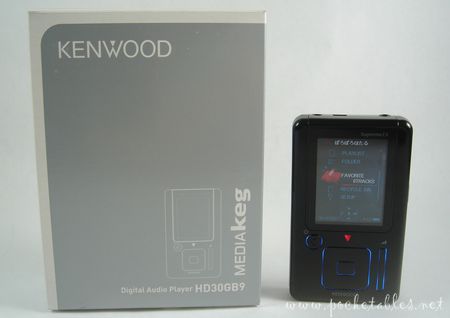 But unless you need the additional storage capacity or AAC support, the new players offer very little incentive to pass over its predecessor, last year's HD30GB9. Although astronomically priced at nearly $500, the built-in digital amplifier and Supreme EX sound technology may make it worthy of the audiophile's consideration.
If your ears demand nothing less than "true-to-life sound," read on for my full review and then head over to Warehouse123.com to experience it for yourself.
System specifications
| | |
| --- | --- |
| Capacity: | 30GB (1.8" hard drive) |
| Supported audio: | MP3, WMA, WMA-DRM, WAV, Kenwood Lossless |
| Display: | 2.2" TFT (320 x 240) |
| Dimensions: | 4.1" x 2.4" x 0.7" |
| Weight: | 4.9 ounces |
| Color: | Black |
Box contents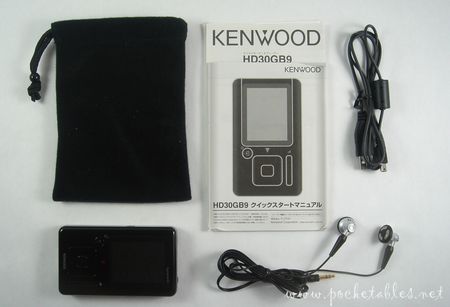 Included with the HD30GB9 are an oversized drawstring pouch, USB cable, earbuds, and Japanese paperwork. No CD-ROM is provided because the software and user manual are stored on the player's hard drive.
Design
The HD30GB9 is slightly toy-like in appearance, but its glossy black plastic housing and controls are still pretty stylish.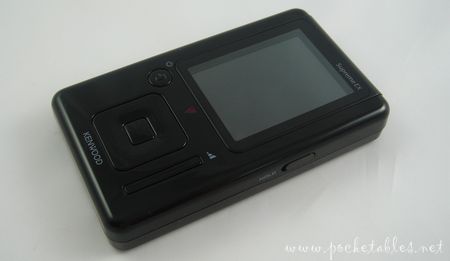 The plastic mercilessly attracts fingerprints, but wiping them off is simple and doesn't seem to scratch the player. It looks like scratches will build up over time, though, so I recommend buying a case or silicone sleeve as soon as possible.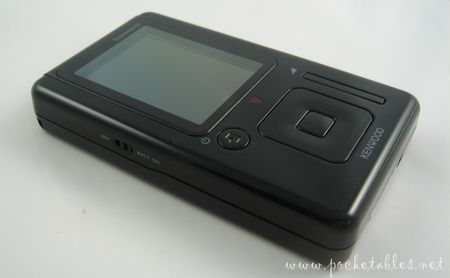 The player feels solid and fits comfortably in the hand.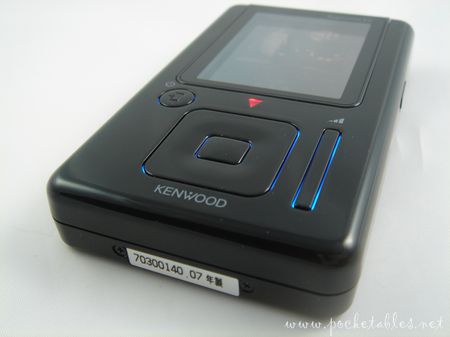 Build quality is good, but there's some definite movement and creakiness between the top and bottom pieces. This is likely because there are only two screws holding the panels in place (the top slides off).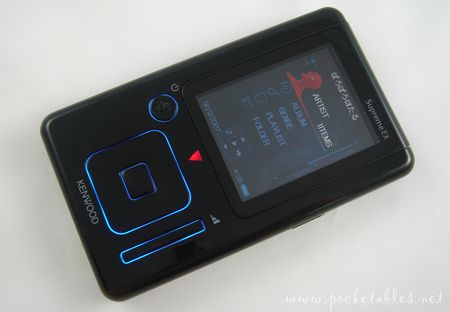 Most striking about the HD30GB9's design are the blue LEDs that light up around the controls. Though not unique to Kenwood players, it's still pleasing to the eye.
Size

In keeping with most of last year's HDD-based DAPs, the HD30GB9 measures 4.1 x 2.4 x 0.7 inches and weighs 4.9 ounces.
As you can see, it's nearly identical in size to the 30GB Creative Zen Vision:M (ZVM).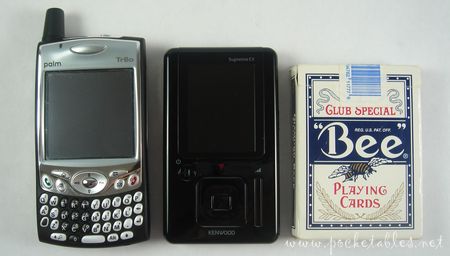 It's also about as thick as a pack of cards.
Controls
The Kenwood HD30GB9 features a self-explanatory though unconventional-looking set of navigational controls that are responsive and easy to press despite their being flush against (or "cut" into) the player's casing.
The round power button on the left brings up a context menu on the "Now Playing" screens, the multi-control in the center functions as directional and OK keys, and only the top and bottom of the thin strip on the right controls the volume (maybe it's just me, but I thought it was a ZVM-esque touch strip).
The function of the multi-control varies according to where you are in the system, but it isn't difficult to figure out because of the on-screen navigational icon.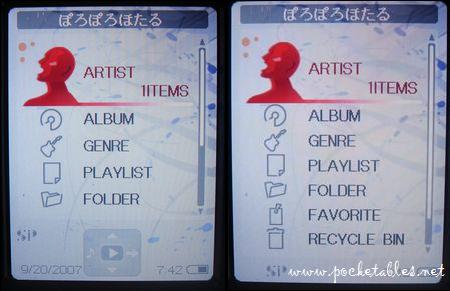 The icon can be hidden at will (Setup –> Navi Icon –> Off), which is a nice option for users who have the controls memorized and don't need visual assistance.
On the right side of the player is a dedicated hold switch.
On the left is a battery on/off switch. It goes without saying that the switch must be in the "on" position for the player to recharge and operate, but sometimes the devil is in the obvious.
A power port (AC adapter not included), USB port, and standard headphone jack are built into the top of the HD30GB9.
Display
For a player that doesn't support video playback or photo viewing, its 2.2-inch display is quite large.
Nevertheless, viewing angles and screen brightness are both good, and text is clear and easy to read. Album art, on the other hand, could use a boost in clarity and detail.
User interface
The HD30GB9's multi-control makes navigating through the user interface straightforward and dead simple.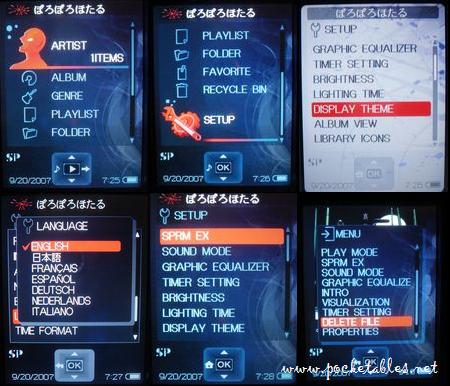 Music can be browsed by folders or by artist, album, and genre ID3 tags. Strangely, the only way to view all the songs stored on the device is through the "play all" option and list-view visualization mode in the context menu.
Playlist creation requires the use of a computer, but viewing track information, adding tracks to a "favorite" list, and deleting files do not. There's even a recycle bin in the main menu!
There are a few options to personalize the player's interface (themes, font sizes, etc.), but other than tha t, most of the customizations and settings benefit the aural experience.
Transferring content
Music can be loaded onto the device via Windows Media Player or the Kenwood Media Application stored on the HD30GB9's hard drive.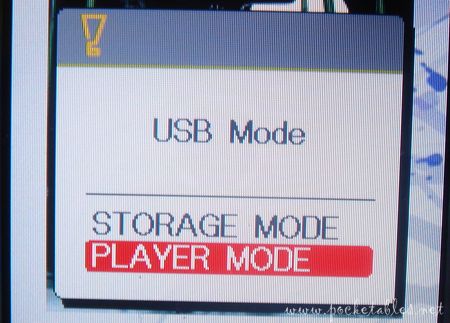 When the player is connected to a computer, a USB Mode windows appears on the display.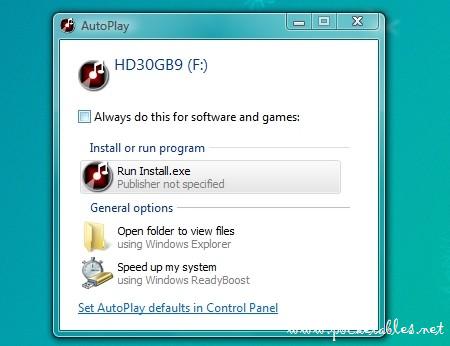 Selecting "Storage Mode" activates the software setup that enables content transfer. "Player Mode" is akin to the "Power & Play" mode on other DAPs.
The Windows-only Kenwood HD30GB9 predates Vista, so the application isn't compatible with the operating system out of the box. There may be updates available, but it was quicker for me to just use a different computer than to try to decipher the Japanese website and support page.
The Kenwood Media Application isn't difficult to use, but I always prefer drag-and-drop over music management programs.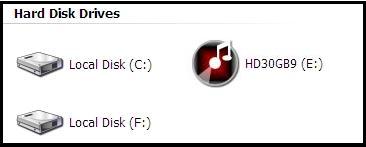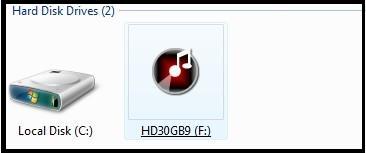 Drag-and-drop is not supported, so I don't know why the player shows up as a hard disk in both XP and Vista. Content can actually be dragged and dropped, but none of it is playable or even viewable on the device.
Audio
Since it is no secret that I am by no means an audiophile, I'll leave it up to Kenwood to explain the technology behind its exceptionally high sound quality:
     The [HD30GB9] is equipped with the newly developed "Clear Digital Amplifier EX" technology in its amplifier section. We have successfully realized high-quality reproduction of vibrant and clear sound by separating the pre-amplifier level and the power amplifier level that were previously combined in one-chip configuration. At the same time, we have also newly developed "Supreme EX," a technology that makes it possible to interpolate a spectrum of up to 44.1 kHz, far exceeding Supreme's previous spectrum (of between 14 and 22 kHz). With these latest technological innovations built in, the model is capable of reproducing true-to-life sound that is almost identical to the original sound, giving such a sense of realism that users feel as if they are listening to a live music performance, not only with compressed music but also with music stored in the form of non-compressed WAV files and musical data acquired by Kenwood Lossless, our original lossless compression system.
     In other sections of the model, we have adopted various technologies for enhancing sound quality, including "f-hole grand chassis," built on our vibration analysis technology, in the chassis section of the model, as well as a chip inductor in the coil section, which is aimed at preventing magnetic flux from interfering with other parts of the unit.
Okay.
From a non-technical consumer standpoint and based solely on what my ears hear through Sennheiser CX300S IEMs, the Kenwood HD30GB9 is the best-sounding digital audio player I have ever used. Sounds/instruments I have never heard on an Apple, Creative, iriver, or Sony player are right there on the HD30GB9. The music is full and rich and warm and crystal-clear, with or without Supreme EX enabled (seriously, is "SPRM" really the best abbreviation Kenwood could come up with?).
In addition to the preset sound modes, there are three five-band equalizers available for customization.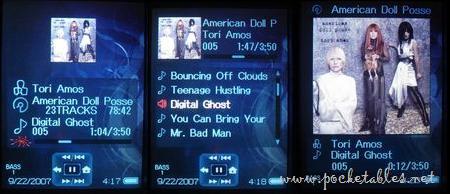 There are also three different "Now Playing" screens to choose from, which adds some visual variety to the listening experience.
Battery life
The HD30GB9's li-ion battery is removable (with the help of a Phillips screwdriver) and estimated to be capable of providing 24 hours of power for continual playback. I didn't run any formal drain tests, but based on my usage over the past week, a 20-hour rating seems more accurate.
Conclusion
At just shy of $500, the Kenwood HD30GB9 is priced way outside of the U.S. consumer market, where most HDD-based DAPs cost about half that. With extraordinary sound quality and that built-in digital amp, however, the player could find an audience within audiophile communities and among serious music lovers with discerning ears.
Available now at Warehouse123.com for $492.