Unboxing the HTC Advantage X7501
I'm sitting in a beautiful cloud of gadget euphoria right now because the HTC Advantage I first ordered in June, later canceled in favor of the Samsung Q1 Ultra, and ultimately re-ordered has finally arrived.
If happiness is contagious and you're in a bad mood, then join me below for an incredibly indulgent unboxing. My giddiness and outright joy are sure to rub off on you.
I'm seriously so happy that I can barely think or speak.
Packaging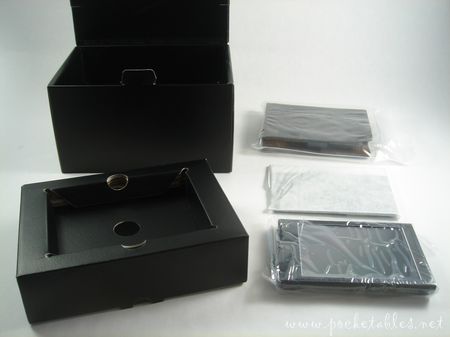 Contents
Wow! Look at all this stuff!
Included with the gorgeous Windows Mobile 6 Pro device are a 250-page user manual, quick start guide, Getting Started CD-ROM containing WM software, screen protector, leather carrying case, AC adapter, headset, battery, extra stylus, VGA-out cable, and USB sync cable.
Closer look
The magnetic connection between the keyboard and device is freakishly strong. When in close proximity, the keyboard practically jumps to attach to the copper connector at the bottom of the Advantage. (Yes, I tend to exaggerate when I'm excited.)
I love that the keyboard doubles as a protective cover for the 5-inch touchscreen. The clear end of the cover is to allow at-a-glance viewing of the subdisplay, which can be configured to show weather, current time, and various notifications.
Leather case
This has got to be one of the best gadget cases to ever be included as a standard accessory.
A gigantic magnet is sewn into the right half of the case to keep the keyboard in place.
The case is held shut by the magnets. There's very little chance of either the Advantage or the keyboard falling out of the case if it were to accidentally open, but I'd still rather have a strap with a button or magnetic closure.
Size
The Advantage measures 5.26" x 3.86" x 0.63" (0.79" thick with keyboard).
Here it is next to my UX180P.
And that just about does it for now. All I've done since so far is to insert the battery and plug it into an outlet (check out the LED surrounding the joystick below), so this is definitely not the last time you'll see the Advantage here at Pocketables.
The 8GB device is packed with connectivity options (HSDPA, quad-band GSM, Bluetooth 2.0, 802.11b/g) and stuffed with so many features that it's no wonder the user manual is 250 pages. I'm actually part of the crazy minority that reads product manuals from cover to cover, so I have a lot of reading to do. I also haven't used a Windows Mobile device since WM2003.
The amber LED just turned green, so I'm off to hit the power button for the first time. I just hope I'm not one of the unlucky ones.
Update: Lots more on my dedicated HTC Advantage X7501 news and reviews page.